The discussion about digital experience in the industry to-date has largely focused on customer experience, which is the boundary where value is exchanged between a company and those that it serves and provides value.
Much less effort has been spent on what is actually just as vital: The digital experiences that workers themselves use to carry out their work on behalf of themselves and their customers.
What's more, just like customer experience, employee experience benefits greatly from having the information and applications that serves it up organized to function consistently across multiple digital touchpoints (Web, tablet, mobile, etc.), across end-to-end processes, and collaborating easily in team contexts.
I've argued over the years that the most natural home for a better organized and more holistic employee experience is the enterprise social network or collaboration platform.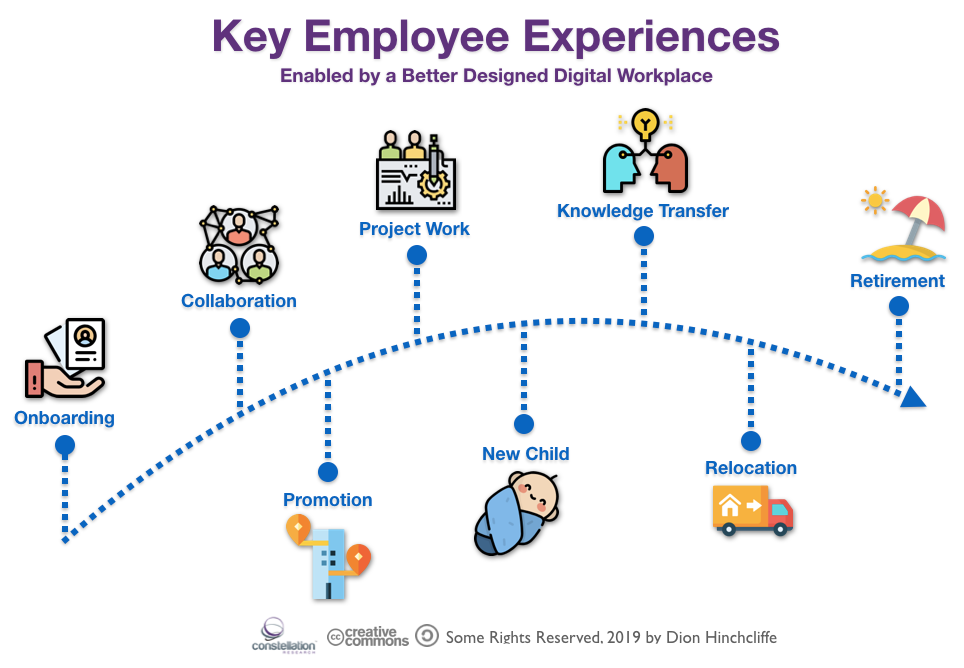 Unfortunately, too many workers that in their day-to-day jobs still have to focus on spending much of their time feeding their work systems manually, cobbling together an ad hoc experience across dozens of apps, just to prepare to begin their jobs for the day, instead of focusing on the more strategic higher-order knowledge work at hand.
The solution, however, hasn't been evident until fairly recently. It's been hard to integrate systems and create a better employee experience across them. Because of this unclear path forward, most of workplaces are still not expending any real effort in developing a more workable and usable overall employee digital experience.
We can now see this as one of the major opportunities to deliver real effectiveness and results to the way workers get the jobs done.  We can see this emerging in platforms like SAP Jam, which when combined with SAP SuccessFactors, proactively provides work patterns for learning and training, sales, ERP, IT, project management, team collaboration, and so on.
To address all this, it's evident that organizations need a more connected experience strategy based on an integrated hub of employee experience to cope with the increasingly dense and rich landscape of digital workplace tech.
Areas where we can improve the employee experience by connecting processes, information, applications, and people together more seamlessly include:
Employee lifecycle - Major steps and activities in the life of the worker can be better structured, integrated and delivered (see visual above.)
Process completion - Enabling workers, even inexperienced ones, to use dozens of applications, data sources, and people to carry out complex processes to a successful finish with a high completion rate.
Employee engagement - Enable workers to work together better and use digital tools address common issues in the employee lifecycle that can cause challenges, from the issues of onboarding and relocation to social responsibility and corporate purpose.
The opportunity is clear: By applying coherent purpose and design to the full end-to-end employee experience (pre-hire, employment, and post employment), yet also proactively allowing 'eccentric activity' all around the margins that will drive needed the digital competition for new ways of working and therefore rapid forward progress. We can simplify, streamline, and direct the design of our workplaces (digital and physical) as it relates to technology to realize a far better employee experience than most organizations have today.