Introducing the AstroChart™ of Business Trends for The New C-Suite
Aimed directly at executives, leadership, and key decision makers, Constellation's brand new AstroChart™ of Business Trends for The New C-Suite provides an accessible visual guide to the highest order business trends and their journey of adoption in the digital enterprise.  The vertical axis rates adoption from mainstream to early adopters to bleeding edge.  The horizontal axis estimates the impact on an organization's business model, from incremental to transformational to exponential. A key objective of an AstroChart is to move beyond the hype and constraints of the traditional two-dimensional rating grid.
Curated from hundreds of data points from conversations and interviews with and surveys of CXOs and board members over the last year, Constellation has assembled an actionable and highly-impactful AstroChart of how current business trends in the digital enterprise -- specifically at boardroom and C-Suite level -- are evolving and maturing. As is typical for an AstroChart, these trends will be updated approximately every 180 days and will reflect what's placed into our Futurist Framework and PESTEL model as well as industry inquiries and our primary research.
The New C-Suite Will Build the Future Organization
As a concept and coverage area for Constellation, The New C-Suite represents a leadership-centered focus on the business and technology issues most impacting the digital enterprise today at the most strategic level. This view is tailored especially for CIOs, CDOs, CMOs, CEO, CHROs and other C-level roles. Consequentely, the topics included on this AstroChart either have a) broad applicability to the majority of organizations in the near-term or are b) more cutting-edge yet our analysis shows will become a major priority soon enough.
In terms of inclusion, the Business Trends AstroChart for the New C-Suite covers strategic business topics that are either deeply affected by the modern digital revolution or are actually being created and/or made by possible by it. CXOs are encouraged to become familiar with and fluent in these topics as they will drive both top-level opportunity and disruption today for most organizations in the vast majority of industries and geographies.
As an aid and planning guide for CXOs, the New C-Suite Business Trends AstroChart will have some occasional overlap with other Constellation AstroCharts, such as the overall Business Trends AstroChart, though the topics themselves may have updated positions, depending on the maturity and impact the trends have at a leadership level. We believe this guide will cut through the noise by outlining what matters to the most senior digital leaders.
Figure 1. Constellation's AstroChart of Business Trends for The New C-Suite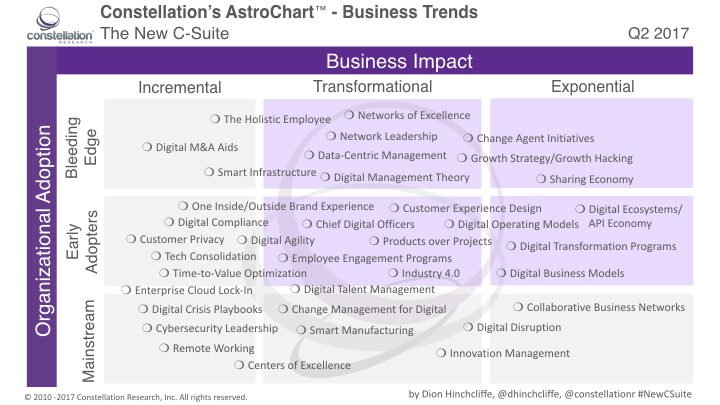 The Business Trends C-Suite Astrochart Shows Broad Impact of Digital on Today's Rapidly Evolving Enterprise
Analysis of the nine categories in The New C-Suite AstroChart provides guidance and source material for strategic planning of market leading organizations as well as those organizations intending to improve their strategic digital posture or maintain a fast follower position.  The nine categories include:
Bleeding edge – Exponential. Still on the emerging edge for the enterprise, new startups and a few traditional organizations are using rethinking supply and demand in completely new digital terms that will redefine economic models of what's possible for decades.
Bleeding edge – Transformational.  The pervasive reality of digital in everything organizations do, including how they collaborate, communicate, and work is enabling vast new possibilities in how we manage, organize, and operate them. New digital management theories are beginning to emerge, methods to harness change agents at scale have developed, next-gen corporate growth strategy/hacking are now vital enterprise imperatives, and data has become the center of how both strategic and tactical decision making is accomplished.
Bleeding edge – Incremental.  A new view of employee that is much more personal, nurturing, and work/life balanced is starting to be realized. How companies are recombining and realigning through mergers and acquisitions is also being transformed by digital. Smart infrastructure, from smart cities and buildings to autonomous vehicles, are providing a new competitive edge for manufacturing to logistics, to name just two major industries being remade.
Early adopter – Exponential. Digital transformation programs are now top of mind, leading to new life-affirming digital business models that will sustain organizations into the future. Digital ecosystems, enabled by the steadily growing API economy and demonstrated in the world-beating digital value chains of Apple and Amazon, are now the ultimate strategic objective for most organizations today.
Early adopter – Transformational.  The primacy of the digital customer is the reality today and companies are designing their product and service experiences entirely around the customer experience. Digital leadership is evolving with critical roles such as the Chief Digital Officer (though now increasingly a title added to the CIO, for key evolutionary reasons), just as companies begin to use digital to tackle the long-term issue of employee engagement using digital-enabled programs. Industry 4.0 is now a leading strategic blueprint for organizations as well.
Early adopter – Incremental.  Many leading digital enterprise trends are not in the most transformative areas, but are critical for modernization, including being a true unified digital brand experience inside/outside of the organization, dealing with increasingly complex digital regulation and compliance, protecting the privacy of customers, accelerating digital delivery through increased agility, consolidating the silos of tech that have emerged along the way towards enterprise-wide digital transformation, and getting IT to arrive to point of value generation much more quickly than in the past.
Mainstream – Exponential.  While having been conducted through consortia and NGOs for decades, cross-enterprise collaboration at scale has now become a disruptive force, while employing digital networks to share costs and innovation for competitive advantage has begun to be used in many tactical forms as well. Digital leaders must look well beyond the scale of corporate initiatives to achieve their goals now and in the future.
Mainstream – Transformational.  Cultivating the talent of the future, while rethinking staffing and talent sourcing with the growth of the gig economy and related trends has become a major obstacle to fuel the growth of the Fortune 500 and Global 2000. Smart manufacturing is enabling entire robot factories while innnovation management, a staid mainstay of R&D and product development even today in many organizations, is being energized, rethought, outsourced, and co-created in the digital age.
Mainstream – Incremental.  Dealing with cloud vendors and the challenges they bring to the table as they end up sourcing most or nearly all of IT in the future, while coping effectively and repeatable with digital crises are critical topics to get right the first time, even if they're not necessarily transformational issues for The New C-Suite. The Center of Excellence, while still performing as a concept, is reaching the end of it's lifecycle but still has legs, and cybersecurity of course, has become one of the hottest topics in the boardroom, requiring focus and leadership like never before, and now must even become part of your brand.
Plan Your Corporate Strategy With The Constellation's AstroChart for Business Trends for The New C-Suite
Digital leaders can stay abreast of strategic business trends by adoption rates and business model impact using Constellation's AstroCharts. Use the AstroChart to develop your overall boardroom strategy and to benchmark your organization's adoption. Constellation notes the following:
Organizations should take an assessment of their board room priorities and use the AstroChart to determine portfolio management.
Market leaders tend to bet 50% of their portfolio on disruptive projects
Market leaders tend to bet 30% of their portfolio on bleeding edge projects
Fast followers tend to bet 80% of their portfolio on early adopter projects
Exponential – bleeding edge bets require a very informed or founder driven board, innovation fund, or startup partners(s)
Become The New C-Suite
Would you like to take advantage of the Constellation's AstroCharts for The New C-Suite? How have you built out your strategic investment map? Have you prioritized and fully resources your digital efforts? Learn how organizations can apply this business trends roadmap and Constellation's unique frameworks to disrupt digital businesses.
Note: This chart, as well as the pending Tech Trends for The New C-Suite are part of a forthcoming research report that details how these trends must form the foundation of the next generation of your organization.
Please add your comments, suggestions, notes on additions/omissions, and other commentary below. You can also reach me via email: dion (at) ConstellationR (dot) com or @dhinchcliffe on Twitter.
Finally, please let us know if you need help with your digital business and transformation efforts. Here's how we can assist:
Developing your digital business strategy
Connecting with other digital leaders
Accessing the latest digital best practices
Understanding the vendor space
Identify options for implementation partners
Validating roadmaps and playbooks
Providing advisory and education to CXOs and boards
Additional Reading
Constellation's AstroChart For Business Trends, Q4 2016
CEN Member Chat: Trends for 2017 - Using the AstroCharts for Strategic Planning