Constellation's ninth annual innovation award program is open for nominations. Submit before the summer heats up!
What do shipping giant UPS, medical device manufacturer Royal Philips, Nordic bank SEB, The Federal Communications Commission, NBCUniversal, MGM Resorts, Mercy Hospital St. Louis, The Little Potato Company and the Kenya Revenue Authority have in common? They have all seen executives honored for digital innovation and transformation though the Constellation Research SuperNova Awards program.
Now in their ninth year, the SuperNova Awards have spotlighted hundreds of deserving nominees and honored scores of standout winners. It's one of the tech industry's longest-running and most prestigious awards, but this year marks a change. Constellation is moving the nomination period up into the spring (where it was previously during the summer). The goal is to cast an even wider net and to take better advantage of the spring show season, when so many innovators are sharing their success stories at tech events. The new deadline is July 5.  
The SuperNova Awards are for technology users, not vendors, but vendors can nominate their deserving customers. It doesn't matter whether it's a household-name company or little-know startup. We're looking for great case studies that detail examples of innovation or transformation. Are you (or your client) making waves in an industry? Have you (or your customer) made major leaps over the competition based on technology or programs you put in place? Do you (or a client) have an amazing team that should be recognized for your/their accomplishments? Submit nominations here!
Our nomination form will help you document end-user case studies in nine categories:
AI and Augmented Humanity

- Machines that possess the learning capabilities of humans. This category addresses the business outcomes and preparations being made for a future in which software can improve itself.

Blockchain

- Share where you have used blockchain concepts and principles to craft new business models and enable new businesses.

Data to Decisions

- Employing data to make informed business decisions. (analytics, big data, predictive data science)

Digital Marketing Transformation and Sales Effectiveness

- Data-driven digital marketing and revenue generation (configure price quote, mobile marketing, account based marketing, sales by design)

Digital Safety, Governance, and Privacy

- Enabling customers to dictate how personal information is used, strategies for effective compliance, privacy best practices

Future of Work: Employee Experience

- Strategies to deliver the best possible employee experience to maximize wellness and productivity

Future of Work: Human Capital Management

- Technologies that enable organizations to utilize the workforce as a competitive asset. (talent management, benefits, HR core)

Internet of Things -

A network of smart objects enables smart services. (sensors, smart 'things', device to purchase, fog computing)

Next-Generation Customer Experience -

How organizations keep brand promises as business shifts to systems of engagement and mass personalization. (crm, customer experience)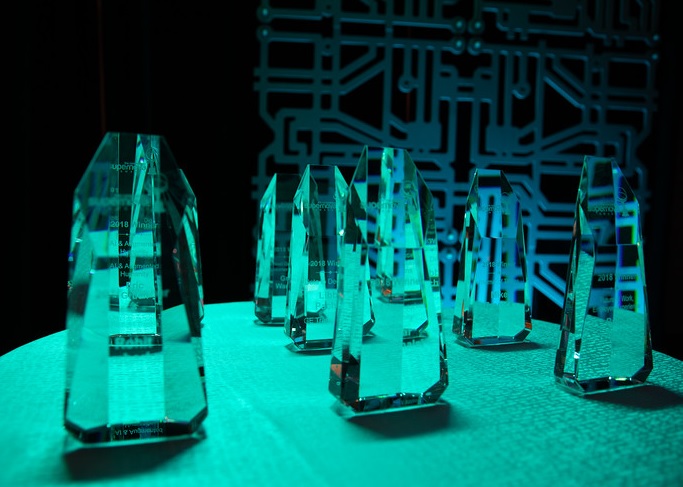 Winners are announced live at Constellation's flagship executive innovation summit – Constellation Connected Enterprise (CCE) in a gala awards dinner. Finalists are invited to attend CCE, with registration for the event covered by Constellation (finalists must cover their own travel and hotel costs for the event). Some finalists will be selected to speak on panels at this exclusive executive innovation summit. As an added benefit, winners and finalists are often highlighted (with permission) in Constellation Research case studies and reports.
Submissions are now open! Please take a look at the nomination form, compile the detailed information requested and submit your application by the Friday, July 12, 2019 deadline.