Constellation announces the winners of the 2015 SuperNova Awards at Constellation's Connected Enterprise.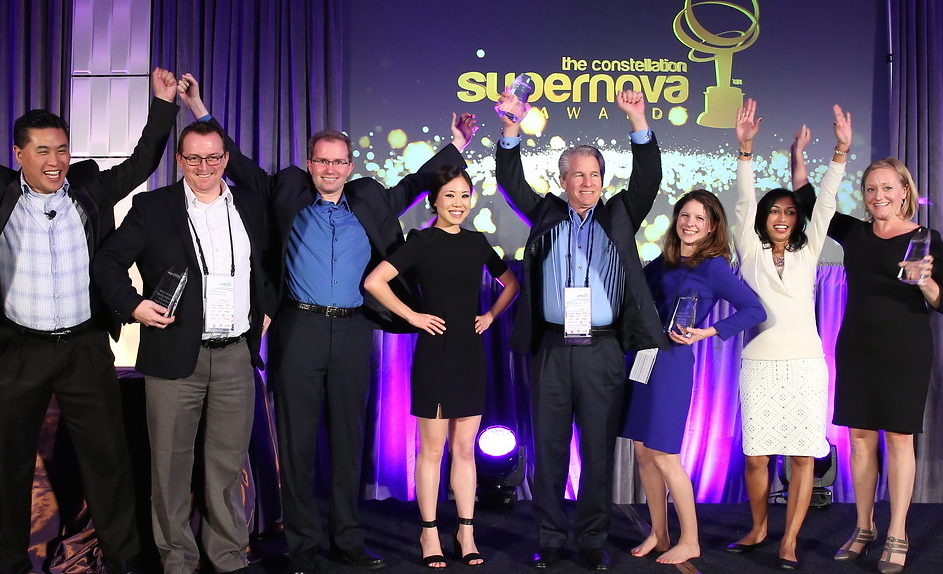 Constellation announced nine SuperNova Award winners last night at the SuperNova Awards Gala Dinner. 
The Constellation SuperNova Awards are the first and only awards to celebrate the leaders and teams who have overcome the odds to successfully apply emerging and disruptive technologies for their organizations. The SuperNova Award winners demonstrated great leadership in selecting, implementing, and deriving business value from disruptive technologies. More information about the winners below. 
All applications were evaluated by the SuperNova Award Judges, comprised of industry thought leaders, and then put to a public vote. 
2015 SuperNova Award Winners
Consumerization of IT & The New C-Suite - Martin Brodbeck, CTO, Sterling Backcheck
Martin Brodbeck won the SuperNova Award for his implementation of SnapLogic Infrastructure-as-a-Service solutions to streamline Sterling Backcheck's automated transactions service. He moved the entire system from a complicated, custom-built, open-source system to one streamlined cloud-based transactions system. The project shortened the customer onboarding time to just days. Frictionless transactions in the cloud translate to faster time to revenue for Sterling Backcheck.
Data to Decisions - Alda Mizaku, Lead Business Solutions Analyst, Mercy
Mizaku and her team won the SuperNova Award for leading a big data analytics project to improve the delivery of patient care and bridge the gaps between the clinical and coding worlds. Part of the strategy included automation of secondary diagnosis detection targeted to improve the accuracy of provider documentation. This strategy seeks to more accurately reflect care that has already been provided and help bubble up comorbidity factors. This project, which uses a combination of data warehouse tables, ETL logic, and custom reporting led to a diagnosis increase of 36%.  
Digital Marketing Transformation -Naveen Gunti, Sr. Director of e-Commerce Technology and Operations, Tumi Holdings, Inc.
Naveen Gunti won the SuperNova Award for his use of Adobe Marketing Cloud to improve Tumi's online customer experience. The implementation enabled customers to view dynamic images of Tumi products on the Tumi website. The resulting increased customer engagement on the website led to an increase of on-site time by 40%.
Future of Work, Human Capital Management -Asha Aravindakshan, Operations Director, Global Talent, Ashoka
Asha Aravindakshan won the SuperNova Award for leading the implementation of FinancialForce HCM at Ashoka. Prior to the implementation, Ashoka used Excel spreadsheets to manage their global workforce. Recognizing adoption as an essential element required for the success of the new HCM system, Aravindakshan led a movement to conduct performance reviews on FinancialForce. 97% of Ashoka's employees engaged with FinancialForce in response to this performance review incentive. Thanks to Aravindakshan's leadership, Ashoka can now address the HCM needs of an international workforce.
Future of Work, Social Business - Steve Nava, Sr. Director Field Service, Luminex
Steve Nava won the SuperNova Award for leading the implementation of ServiceMax to improve communication and collaboration of field service engineers at Luminex. The implementation was so successful that it transformed Luminex's field service department into a solutions-oriented business.  Luminex's fix rate increased to 98%, and the invoice cycle went from 28 days to 96 hours. 
Matrix Commerce - Jordan Kivelstadt, CEO, Free Flow Wines
Jordan Kivelstadt won the SuperNova Award for being one of the first companies to deliver wine in kegs. He used Netsuite to address the specific supply chain issues presented by this model. Free Flow Wines is disrupting the wine industry as more restaurants are choosing to serve wine in kegs. This year, Free Flow Wines expects to deliver the equivalent of 300,000 cases of wine. 
Next Generation Customer Experience - Dan Wallis, Director of KP OnCall, Kaiser Permanente
Dan Wallis won the SuperNova Award for leading the implementation of Oracle Service Cloud to support a system that helps to automatically diagnose health conditions via the web. This project has allowed Kaiser Permanente to better serve their customers by reducing costs and wait times. Now Kaiser patients can accurately self-diagnose conditions without visiting a doctor or calling a nurse call center. 
Technology Optimization & Innovation - Dr. David Bray, Chief Information Officer, Federal Communications Commission
Dr. David Bray won the SuperNova Award for his overhaul of the FCC's legacy Consumer Help Center. He implemented cloud-based Zendesk to modernize the Commission's Help Center. The Zendesk implementation helped the FCC replace 18 outdated complaint forms, activate 24/7 complaint tracking, and improve transparency. The cloud-based solution selected and implemented under Bray's leadership led to a savings of 5/6 over a custom-built, in-house solution. 
Technology Optimization & Innovaiton - Erica Stevens, VP of Supply Chain and IT, Dylan's Candy Bar
Erica Stevens won the SuperNova Award for her implementation of Netsuite at Dylan's Candy Bar. This implementation transformed Dylan's into a ubiquitous channel retailer. Dylan's is now able scale and pivot its retail operations to meet the needs of their customers on many channels including web, mobile, and brick and mortar.
The Rewards
One one-year subscription to Constellation's research library
Congratulations to the winners! Continue to be brave, innovative, and disruptive!