My recent best practices report on AIOps titled "A CIO's guide to AIOps" just got published.   What started out as an AIOps use cases document morphed into an AIOps emerging trends document.  However, when feedback was sought from CIOs and CTOs in our research panel, they suggested best practices and how to strategize AI and IT Operations in a broader sense to be included in the report.
This 30 page report is now available to all Constellation Research subscribers. The report has five major sections:
What is AIOps?

Benefits of AIOps for CIO's (or any enterprise)

AIOps core use cases

Recommendations and best practices for the CIO

And, more importantly, what are the gotchas and my final thoughts.
With the COVID-19 pandemic forcing every business to move online, the majority of enterprises have had to accelerate the maturation of their digital operations. Out of business necessity, every surviving enterprise has devised a way out of the crisis by adding people, processes, and technology in an approach that was most cost-effective and yet offered them a quick way to sustain their business through the pandemic. Consequently, IT and digital operations have become an integral part of every enterprise. IT leaders face massive challenges to be efficient because they have either:
Added too many tools and have become siloed.

Increased complexity.

Collected more data than they can handle.

Lost knowledgeable IT resources.
The time has come for the IT leaders to reimagine their IT and make it more efficient. IT is finally starting to turn the technology it has been proliferating across enterprises on itself. One such solution set is artificial intelligence for IT operations (AIOps). The following report gives leaders an idea of what to look for in an AI solution for properly retooling to mature their digital operations.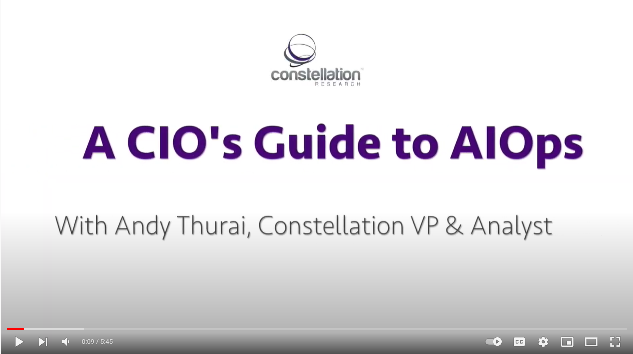 If you are a CIO/CTO and struggling with this issue, I would love to talk to you. I would love you to be part of my growing panel of IT executives that I speak to regularly and share notes with. More importantly, let me know if I missed anything in this report so I can do a follow-up report.
Do you have thoughts, suggestions, or opposing views to my assessments? What are the common pitfalls you see with your customers or your enterprise implementations? Do you use AIOps for a use case that I haven't covered? Have you faced an issue while implementing AIOps that is not listed in the report? Did you derive a benefit that is not listed in the document? Let me know.
Please reach out to me. I look forward to engaging with you.
Full report canbe downloaded from here