Adobe Move To Microsoft Azure Signals Closer Partnerships Ahead

On September 26th, 2016 at the Microsoft Ignite conference in Atlanta, Adobe CEO Shantanu Narayen, and Microsoft CEO, Satya Nadella, announced a strategic partnership between the two companies.  Constellation sees the announcement from three points of view:
Adobe makes Microsoft Azure the preferred cloud platform.  Adobe intends to move Adobe Marketing Cloud, Adobe Creative Cloud, and Adobe Document Cloud onto Azure over the next few years.  Adobe will gain access to Microsoft's machine learning services through Microsoft Cortana Intelligence suite and also access SQL Server.

Point of View (POV): While Adobe currently uses multiple providers and data centers for its cloud operations, the move to Microsoft Azure will provide a global, Tier-1 environment for work loads as well as security.  More importantly, Adobe gains another tool for machine learning.  However, access to SQL Server remains questionable as performance issues for SQL Server on Azure remain for heavy transactional apps.
Microsoft Dynamics 365 Enterprise Edition adopts Adobe Marketing Cloud.  Dynamics 365 Enterprise Edition brings three Azure hosted Microsoft Services together with Office 365 and the Office Graph and LinkedIn:  Dynamics CRM Online, Project Madeira (financials), and Dynamics AX ERP suite.  As the preferred service for Dynamics 365 Enterprise Edition, Microsoft signals that they will resell Adobe Marketing Cloud in Azure.  Full details have not been disclosed on yet on pricing and general availability..

(POV): Observers and insiders believe that while the Marketing features acquired from Marketing Pilot will continue to be available from Dynamics CRM, the long term shift will cede Marketing capability to Adobe.  As Adobe builds out more functionality in the Adobe Marketing Cloud, expect development from the Microsoft Dynamics team to focus on intelligent business applications that integrate more tightly with Adobe for the marketing function.  One of the key features with Dynamics 365 is the ability to license by applications or role based licensing.  Constellation believes customers will benefit if this licensing model extends to the Adobe offering.
Both vendors agree to data model standardization.  For marketing and business applications, the two firms greed to coordinate on data model design.  Both vendors also agreed to provide shared, extensible data models to customers, partners, and developers.

(POV): Microsoft and Adobe have decided to counter Salesforce.com with a joint coordination on the marketing front and the artificial intelligence front through the alliance.  After Microsoft's failed attempt to acquire Salesforce, the move to align on not only cloud delivery, but also business applications will provide a formidable challenge to Salesforce.
Figure 1. Adobe and Microsoft CEOs announce partnership at Microsoft Ignite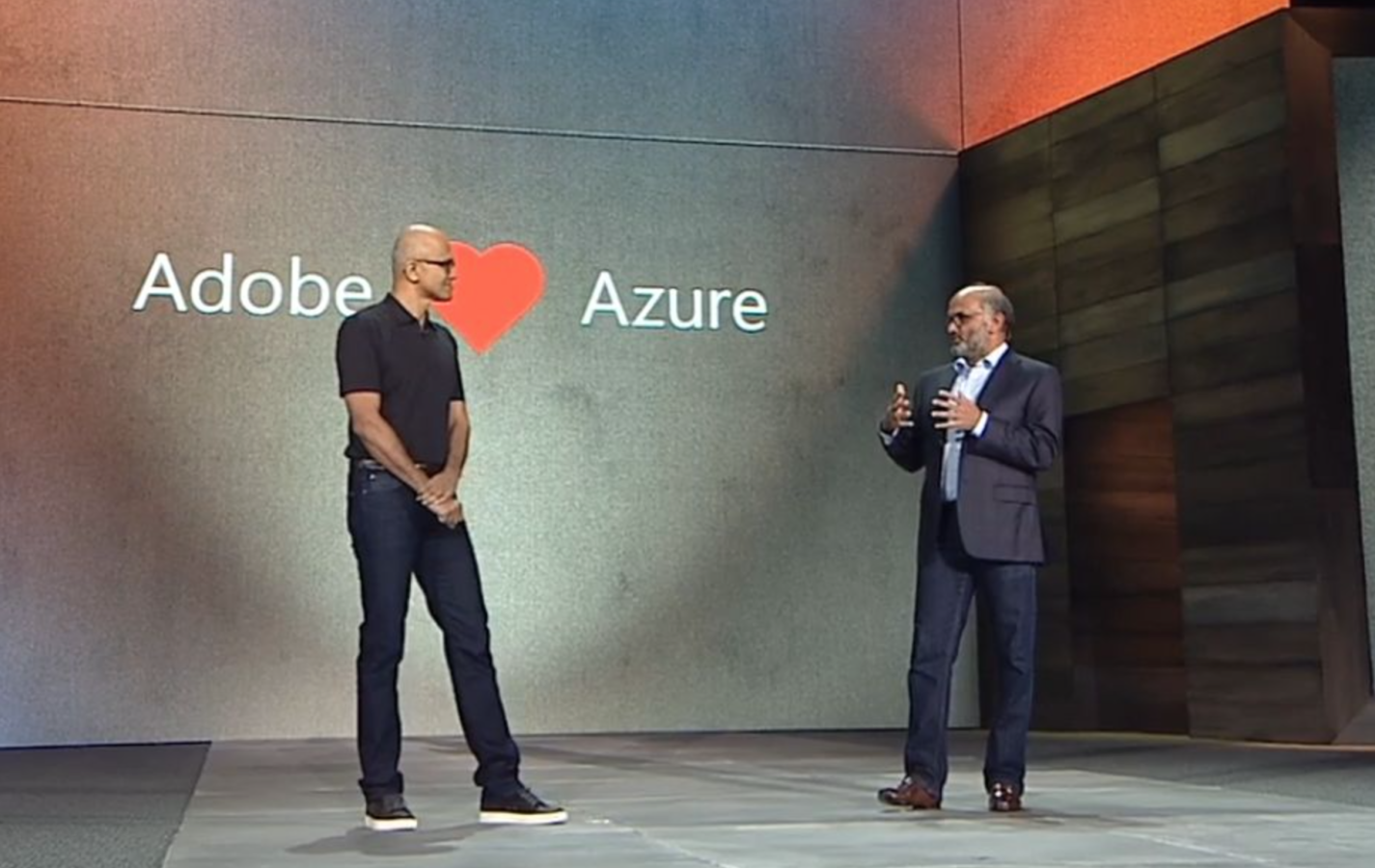 The Bottom Line: The Marketing Cloud Wars Heat Up and Commerce May Be Next
While customers have a few big choices in the Marketing Cloud from Adobe, IBM, Marketo, and Salesforce, the partnership between Adobe and Microsoft hints at more consolidation in the cloud wars around marketing functionality.  Adobe gains a strong partner in cloud delivery and enterprise scale and Microsoft gains a key asset in workloads and business applications.  Customers may actually benefit from this tighter integration as CRM shifts from core components of sales, service, and marketing into commerce.  As digital technologies transform CRM, the long term focus is not on selling products and services, but on delivering brand authenticity and outcomes, or experiences, from campaign to commerce engagements.  The ultimate result is either a conversion rate or click through.  All Microsoft and Adobe will need now is to add commerce to the mix and customers will have a more complete solution.  Why? commerce is the outcome of good CRM and CX not vice versa.
See the video on Future Campaign to Commerce vision below:
Your POV
Are you ready to try Adobe as a Microsoft customer.  Will Adobe customers move more towards Microsoft Dynamics 365? How will you build your strategy with Adobe and Microsoft?  Add your comments to the blog or reach me via email: R (at) ConstellationR (dot) com or R (at) SoftwareInsider (dot) org.
Please let us know if you need help with your Digital Business transformation efforts. Here's how we can assist:
Developing your digital business strategy
Connecting with other pioneers
Sharing best practices
Vendor selection
Implementation partner selection
Providing contract negotiations and software licensing support
Demystifying software licensing