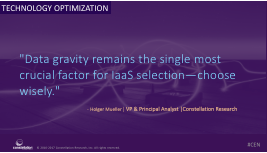 Holger Mueller, Constellation Research VP & Principal Analyst, covers both Next Gen Apps as part of our Technology Optimization business theme and Future of Work for Human Capital Management (HCM). As I mentioned in a post on his thought leadership quotes on Future of Work in terms of Human Capital Management, he's has a few unique skills beyond being a seasoned analyst, which can be unexpectedly handy at times, especially for the globetrotters in our executive network.  
We provide weekly thought leadership quotes for anyone interested in non-mainstream, disruptive thinking from our seasoned Constellation analysts. The full archive remains accessible for our Constellation Executive Network members.
Technology Optimization - HOLGER MUELLER |  VP & Principal Analyst | Constellation Research 
"Data gravity remains the single most crucial factor for IaaS selection—choose wisely."
"Even the most conservative enterprises overlook privacy concerns when it comes to #IoT."
"Enterprises will build more software in the next 10 years than they have in the last 30."
"21st century best practices haven't been defined. Get ready to build strategic software in-house."
"We are in phase 2 in the move to the public cloud where every vendor needs cloud revenue for stock market valuation."