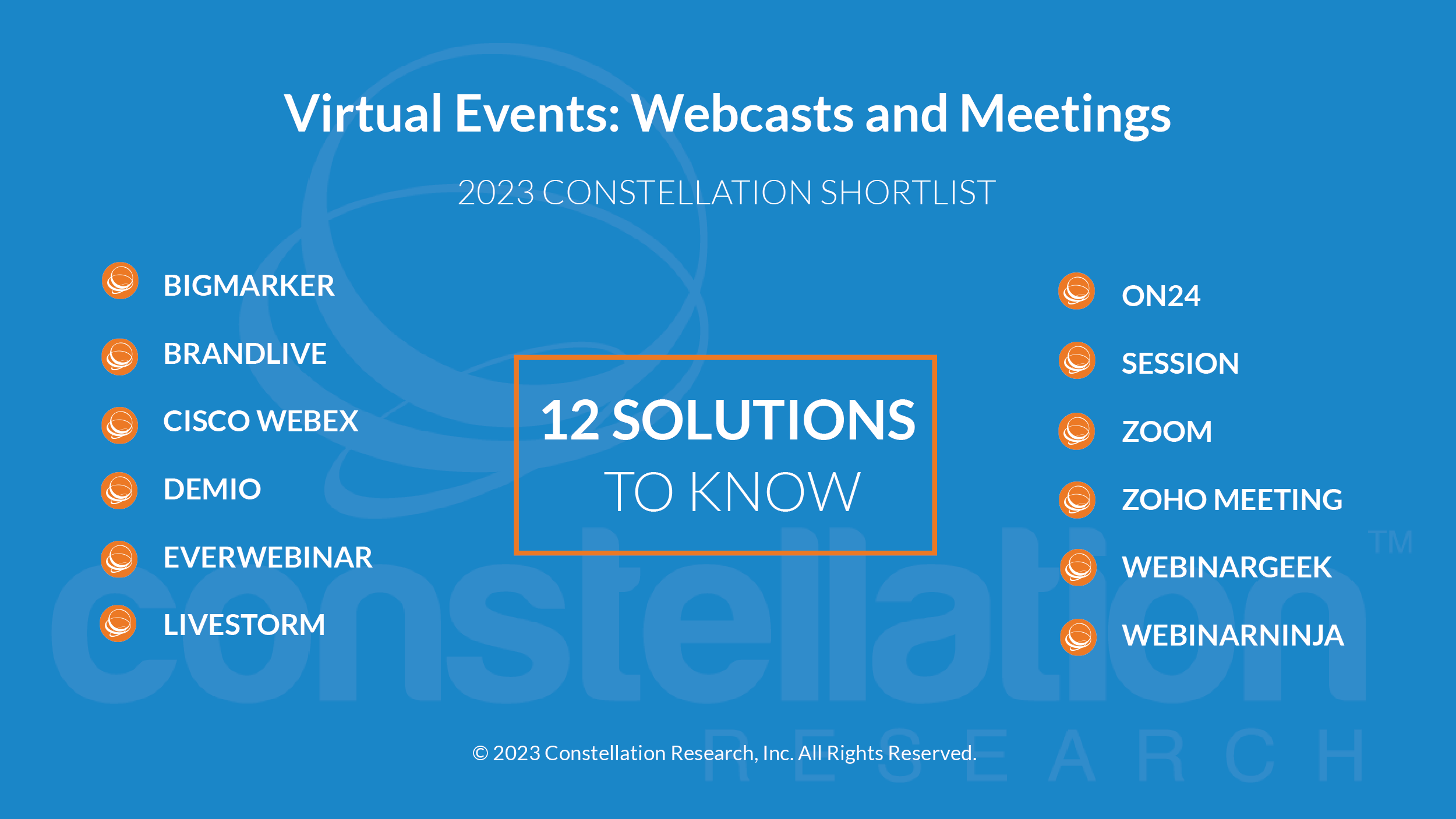 About This Constellation ShortList™
More than any time period, the pandemic and post-pandemic world has pushed and challenged webinar platforms, turning them from "mass broadcast" video and audio "presentation" platforms of old into highly interactive, scalable, dynamic multimedia experiences that allow audiences to engage with speakers and with each other. They became the primary channel of connection.
We businesses re-enter the realmof live events, webinars have once again shifted in focus, but the importance of these virtual events has not diminished: they are still a critical. The pandemic taught organizations that webinar (or webcasting) tools were central to sales, support and marketing initiatives, but also took on new importance as education, collaboration and HR on-boarding solutions. For any team looking to engage directly with an audience, webinars became core to basic engagement when gathers was not possible. 
Users are looking for secure, flexible, scalable and customizable interfaces and consoles that deliver connection and interaction between speakers and audience while maintaining focus and attention on speakers and their content. Increasingly the capacity for live interaction via messaging, open chat and innovative networking with "break out" environments that enable more one-on-one conversation as sidebar to primary discussion is what buyer's demand today. Webinar tool buyers are also looking for connectors and integrations that better connect webinar demand generation and engagement activities with larger, more holistic data, personalization and journey orchestration strategies.
Threshold Criteria
Constellation considers the following criteria for these solutions:
Capacity to host live audio (audio and slide/content), play video and prerecorded sessions
Registration with flexible form fields for lead capture, including organizing an event series
Customized branding and console configuration
Quick, stable, reliable connectivity with toll-free, international calling and access
Multihost, scalable speaker and producer interface
Pre- and post-event communications, alerts, calendar invitations and reminders
Multibrowser responsive user experience, installed app for Mac and Windows, native mobile apps
Live audience engagement tools, polls, voting, chat, comments, screen mark-up, Q&A
Integration into key engagement systems including social, mobile messaging and marketing automation
Integration into customer and employee data repositories including CDP, CRM and HCM tools
Recording and rapid on-demand availability, commerce-ready gateways and monetization
Integration with digital asset management solutions for rapid video aggregation and editing capabilities
Security, role-based access and authorization, customer viewer controls
Analytics and robust reporting, viewers (live vs. on-demand), attention, downloads
Support, training and community for customers
Accessibility features, including real-time voice transcription and translation
The Constellation ShortList™
Constellation evaluates more than 30 solutions categorized in this market. This Constellation ShortList is determined by client inquiries, partner conversations, customer references, vendor selection projects, market share, and internal research. (In alphabetical order)
BigMarker

Brandlive

Cisco Webex

Demio

EverWebinar

Livestorm

ON24

Session

Zoom

Zoho Meeting

WebinarGeek

WebinarNinja
Frequency of Evaluation
Each Constellation ShortList will be updated at least once per year. There could be an update after six months, should the analyst deem it necessary.
Evaluation Services
Constellation clients may work with the analyst and research team to conduct a more thorough discussion of this Constellation ShortList. Constellation can also provide guidance in vendor selection and contract negotiation.
Download Research
Click to Download Report