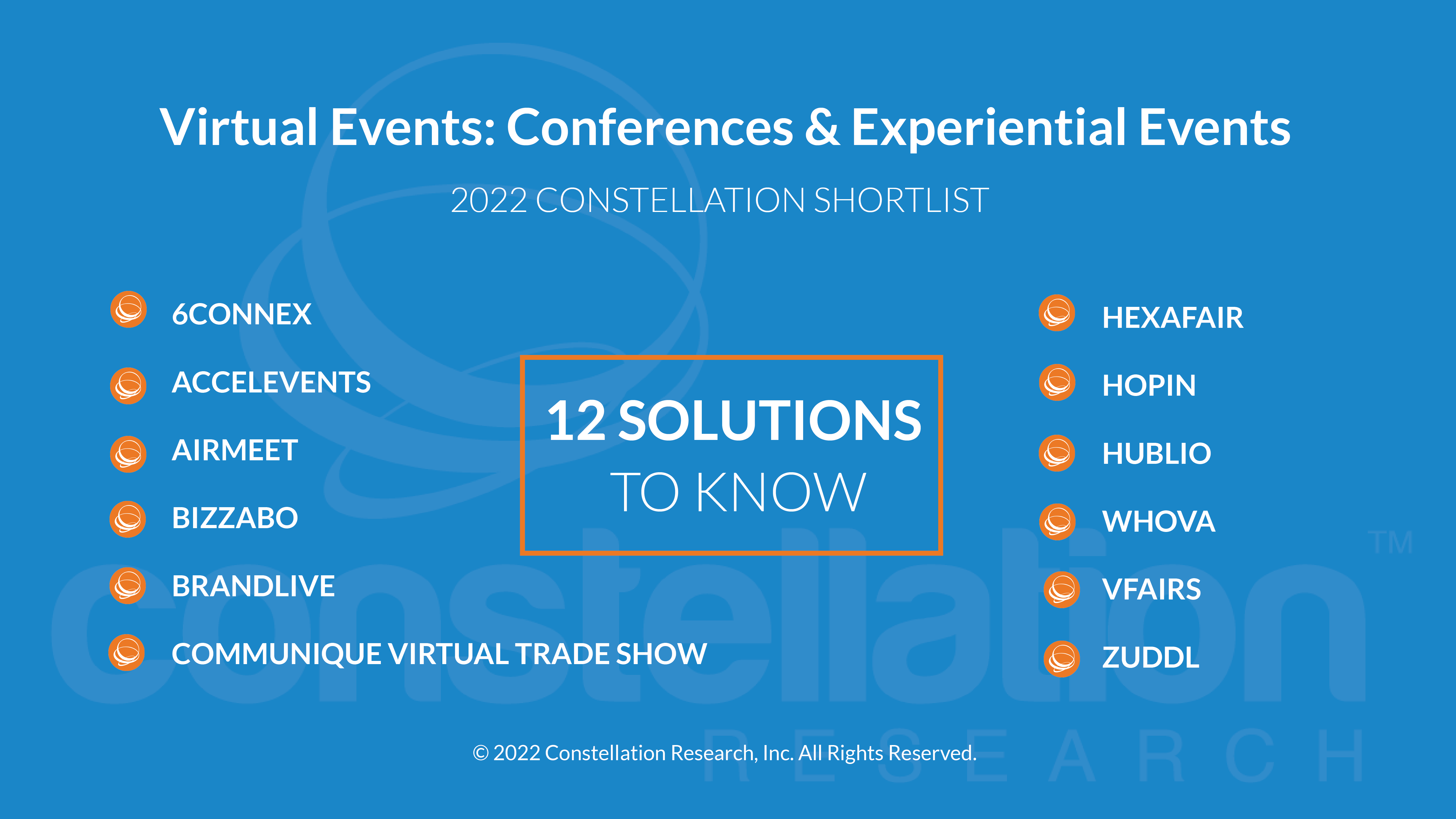 About This Constellation ShortList™
Virtual events have entered another stage of evolution as large festivals and conferences re-emerge in live formats with rich, virtual events along for the ride in a new age of hybrid events. The new challenge for digital event platforms will be to continue to host dynamic speakers sharing informative content…while simultaneously bringing virtual viewers into the live engagement without sacrificing experience. Virtual platforms must fully integrate into overarching visions and strategies for events still navigating a path to what modern event engagement will be.
Platforms and providers of virtual trade shows, conferences and events offer the same dynamic, visually engaging, compelling interface with real-time connectivity, sharing and points of interaction to mimic live relationship-building experiences. Organizations are seeking connected and comprehensive conference platforms that are capable of delivering on both experiences and opportunities for monetization, while also delivering the foundation to manage the entire event process from ticketing and registration, sponsorships and paid content syndication.
Constellation analysts are on the lookout for rapid innovation and improvements in this category due in large part to evolving work, travel and event opportunities as post-pandemic operations continue to take shape. Integrations across the larger experience stack have become a necessity as teams expect fast and flexible connections to everything from customer relationship management (CRM), customer data platform (CDP) and even customer service and contact center solutions.
Threshold Criteria
Constellation considers the following criteria for these solutions:
Capacity to seamlessly host large scale, multispeaker, multimedia events
Support for many formats and modalities from video and audio to virtual reality
Multiple room style and formats for keynotes, breakout sessions, roundtables and one-on-one meetings
Robust streaming for both live and on-demand across multiple simultaneous streams
Registration with flexible form fields for lead capture
Easy-to-customize agenda and interfaces from virtual lobbies to rooms, booths and stalls
Commerce and monetization of ticketing, sponsored content and engagement zones and interactive trade show booth formats

 

Customized branding and console configuration
Quick, stable, reliable connectivity with toll-free, international calling and access
Multihost, scalable speaker and producer interface

 

Pre- and post-event communications, alerts, calendar invitations and reminders
Multibrowser responsive user experience, installed app for Mac and Windows, native mobile apps
Live audience engagement tools, polls, voting, chat, screen markup, comments, Q&A
Attendee profiles, avatars, preference center, attendee directory and interest matching
Self-service experience building for attendees including schedule and community engagement
Interface that's easy to use, update and customize for sponsor "booth" experience
Integration into key systems, social, marketing automation, CRM, CDP and outbound communications platforms
Session recording and streaming playback
Security, role-based access and authorization, customer viewer controls
Analytics and robust reporting, viewers (live vs. on-demand), attention, downloads
Support, training and community for users

Accessibility features including real-time voice transcription and translation
The Constellation ShortList™
Constellation evaluates over 30 solutions categorized in this market. This Constellation ShortList is determined by client inquiries, partner conversations, customer references, vendor selection projects, market share, and internal research.
6Connex

Accelevents

Airmeet

Bizzabo

Brandlive

Communique Virtual Trade Show

HexaFair

Hopin

Hublio

Whova

vFAIRS

Zuddl
Frequency of Evaluation
Each Constellation ShortList will be updated at least once per year. There could be an update after six months, should the analyst deem it necessary.
Evaluation Services
Constellation clients may work with the analyst and research team to conduct a more thorough discussion of this ShortList. Constellation can also provide guidance in vendor selection and contract negotiation.
Download Research
Click to Download Report