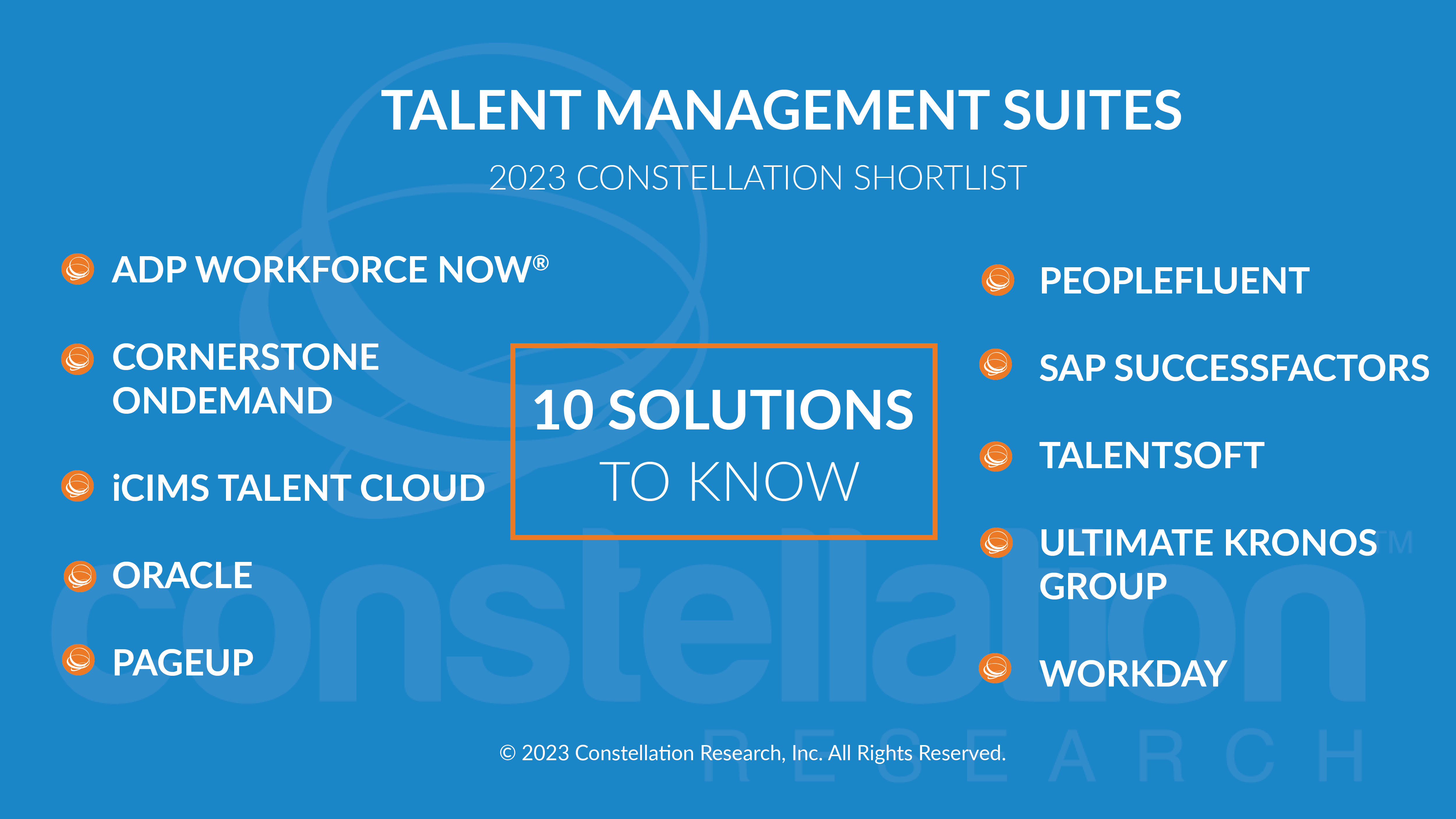 About This Constellation ShortList™
Talent management suites focus on the strategic aspects of human capital management (HCM) in acquisition and management. These suites help chief human resources officers and chief people officers with recruitment, onboarding, performance management, learning, succession planning and compensation management. Constellation estimates the software market size will be $29.7 billion by the end of 2027 growing at a 8.3% CAGR.
Key HCM business processes include planning to sourcing, acquiring to onboarding, assessing to developing and performing to rewarding. These processes reflect the four pillars: recruitment, performance management, learning and development, and compensation management.
The market has seen consolidation over the past decade as vendors shift from best-of-breed solutions to integrated talent management suites and integrated talent management. Today's solutions break through the functional fiefdoms of HR and bring together modern user experiences paired with the latest cloud delivery models. Prospects have elevated the need for DEI capabilities over the past 12 months.
Threshold Criteria
Constellation considers the following criteria for these solutions:
Talent acquisition
Onboarding
Performance management
Workforce planning
Career development
Goal planning
Compensation management
Succession planning
Ongoing learning management and development
Diversity, equity, and inclusion support
Analytics and reporting
Machine learning and artificial intelligence
The Constellation ShortList™
Constellation evaluates more than 35 solutions categorized in this market. This Constellation ShortList is determined by client inquiries, partner conversations, customer references, vendor selection projects, market share and internal research.
ADP Workforce Now®
Cornerstone OnDemand
iCIMS Talent Cloud
Oracle
PageUp
PeopleFluent
SAP SuccessFactors
Talentsoft
Ultimate Kronos Group
Workday
Frequency of Evaluation
Each Constellation ShortList is updated at least once per year. Updates may occur after six months if deemed necessary.
Evaluation Services
Constellation clients can work with the analyst and research team to conduct a more thorough discussion of this Constellation ShortList. Constellation can also provide guidance in vendor selection and contract negotiation.
Download Research
Click to Download Report