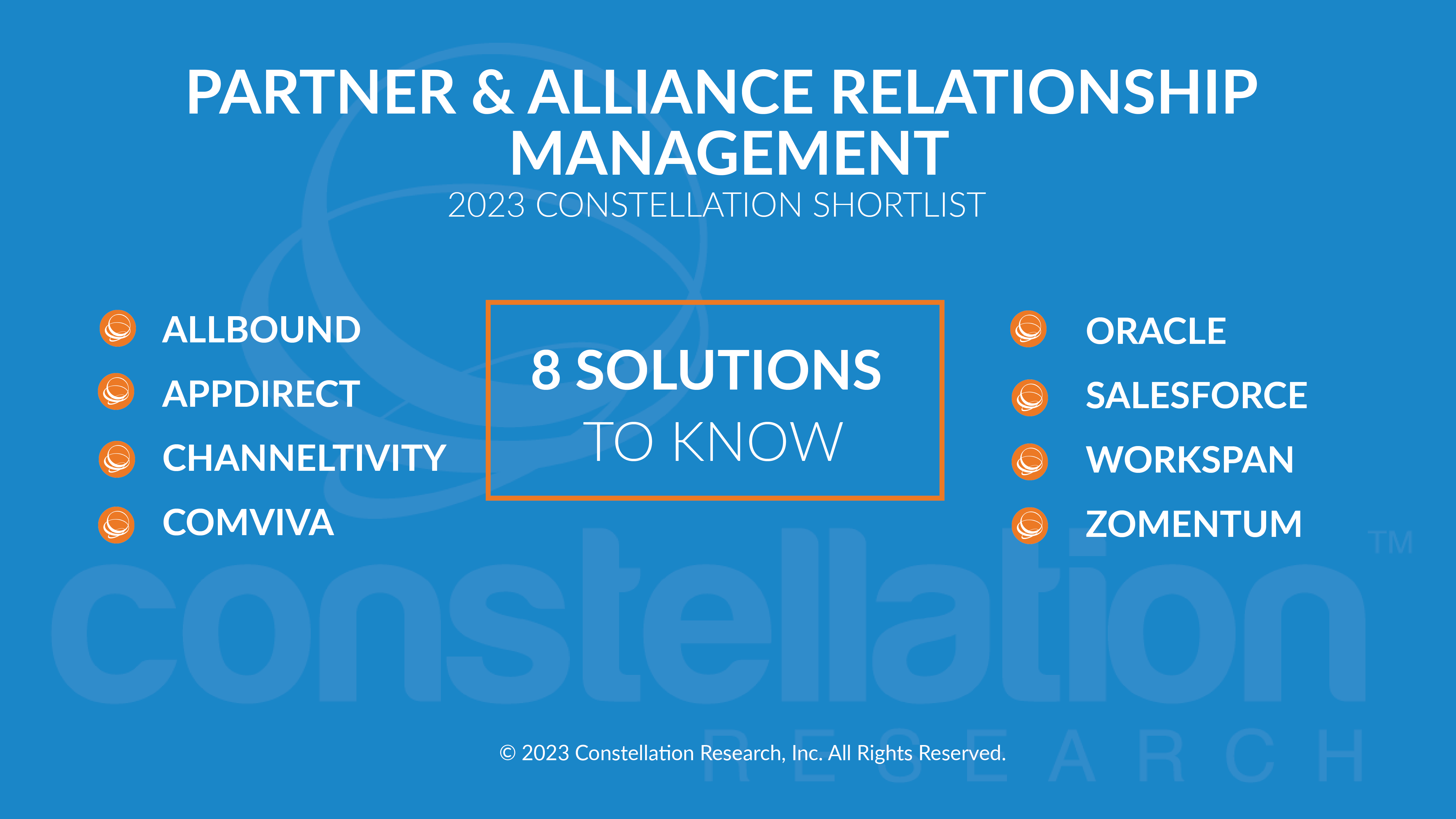 About This Constellation ShortList™
Partnership and Alliance Relationship Management (PARM) software allows vendors to manage partnerships, alliances and indirect channels throughout the customer process. Successful deployment of PARM software enables vendors to leverage indirect channels and augment direct efforts.     
PARM brings together the entire ecosystem required for indirect selling, coordinated marketing, training and skilling, community development, offering management and incentive management. Key stakeholders include resellers, independent software vendors (ISVs), distributors, system integrators and services partners. While traditionally limited to the sales cycle, PARM can be utilized by any department of an organization that touches the front-office and back-office customer life cycle.  
One of the big advancements in PARM over the past year includes the ability to orchestrate alliance and network ecosystem programs. With better collaboration and project management, organizations utilizing PARM now have the ability to gain leverage with partners and create win-win dynamics.
Threshold Criteria
Constellation considers the following key criteria for these solutions:
Profile management
Partner recruiting
Onboarding and registration management
Partner locator and matching
Partner monitoring
Sales management
Campaign management
Content management
Material reverse logistics
Marketing development funds management
Communications management
Training and certification management
Support and ticketing system
Community management
Rebate and entitlement management
Performance, rewards and gamification
Orchestration of alliance and ecosystem network programs
Analytics and reporting

Governance support
The Constellation ShortList™
Constellation evaluates more than 30 solutions categorized in this market. This Constellation ShortList is determined by client inquiries, partner conversations, customer references, vendor selection projects, market share and internal research.
Allbound
AppDirect
Channeltivity
Comviva
Oracle
Salesforce
WorkSpan

Zomentum
Frequency of Evaluation
Each Constellation ShortList will be updated at least once per year. There could be an update after six months, should the analyst deem it necessary.
Evaluation Services
Constellation clients may work with the analyst and research team to conduct a more thorough discussion of this ShortList. Constellation can also provide guidance in vendor selection and contract negotiation.
Download Research
Click to Download Report