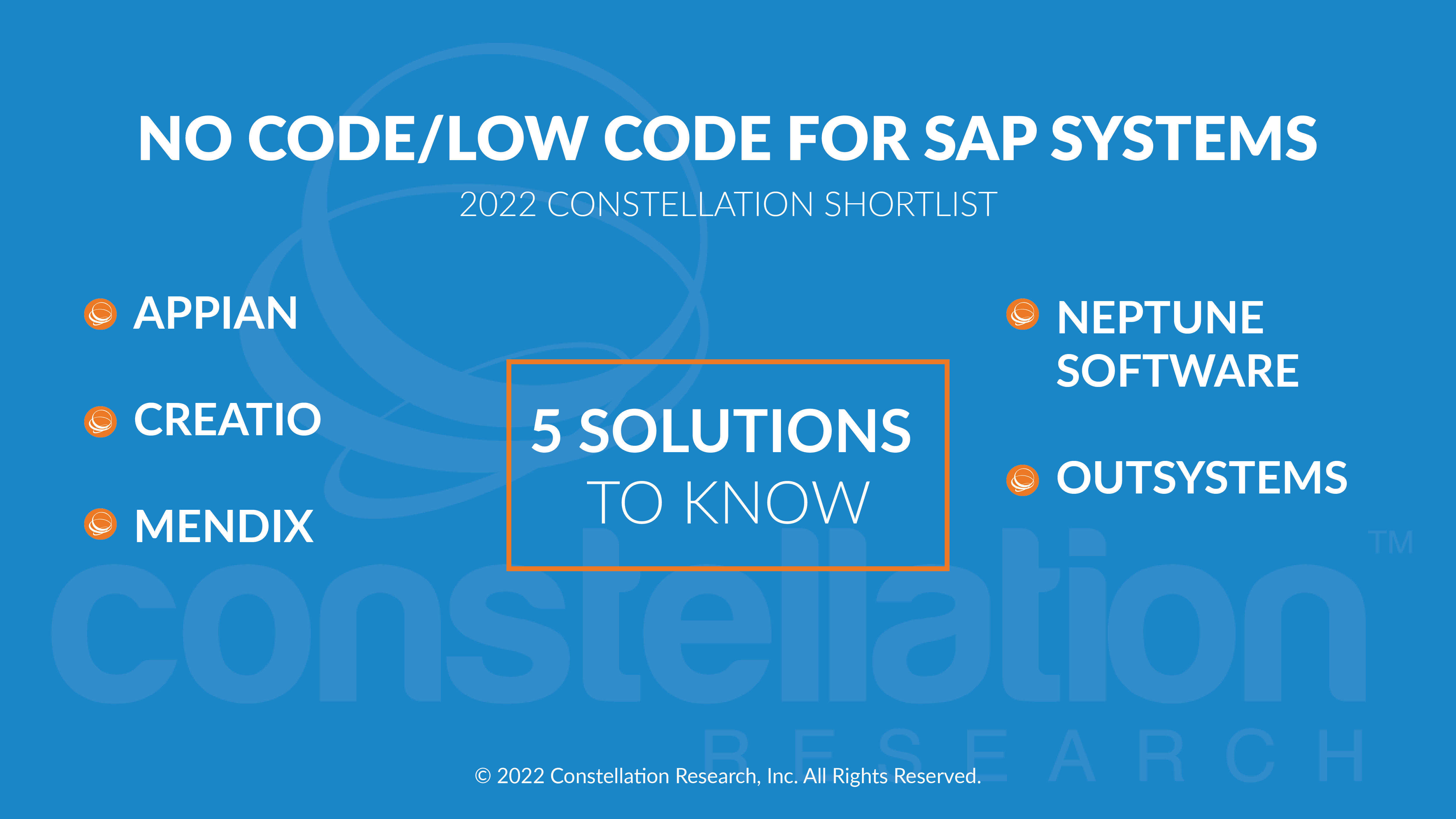 About This Constellation ShortList™
SAP is the market leader for business applications. In the current times of business best practice uncertainty, enterprises need to be able to extend these applications, integrate them with other solu- tions, and sometimes even build separate applications that work on SAP's platform and/or integrate with SAP products. Vendors included also offer stand-alone applications but have a substantial market share and mind share with CxOs making decisions about SAP strategy and applications.

For inclusion in this Constellation Shortlist, vendors need to be dedicated to the no-code/low-code space; have a cloud-based offering; and support the key EAP use cases of extend, integrate, and build. The extend use case refers to the ability to extend SAP applications on various levels. The integrate use case requires that the included vendor provides out-of-the-box capabilities to inte- grate with SAP. And finally the build use case refers to the ability to build stand-alone capabilities that can stand next to SAP-shipped or other custom applications. Besides meeting several other clerical shortlist criteria listed below, these vendors are fully dedicated to making business users more productive, putting them in charge of their automation destiny.
Threshold Criteria
Constellation considers the following criteria for these solutions:
Being a cloud-based solution

Ability to support the three Constellation enterprise application platform (EAP) use cases:

Ability to perform the EAP use cases with no- code/low-code tools

Focus on business users as a key user constitu- ency in the overall user group of the vendor

Multiple integration points with SAP systems to enable seamless operation of the apps

A roadmap for how to extend alignment and integration with SAP platforms

An interest in better usage of the platform by SAP system integrators

A roadmap and better capabilities for bringing AI/ML to these applications

At least 500 customers

Support for multiple languages

Presence on at least two continents

The Constellation ShortList™
Constellation evaluates more than 40 solutions categorized in this market. The Constellation ShortList is determined by client inquiries, partner conversations, customer references, vendor selection projects, market share and internal research.
APPIAN

CREATIO

MENDIX

NEPTUNE SOFTWARE

OUTSYSTEMS
Frequency of Evaluation
Each Constellation ShortList is updated at least once per year. Updates may occur after six months if deemed necessary.
Evaluation Services
Constellation clients can work with the analyst and the research team to conduct a more thorough discussion of this ShortList. Constellation can also provide guidance in vendor selection and contract negotiation.
Download Research
Click to Download Report