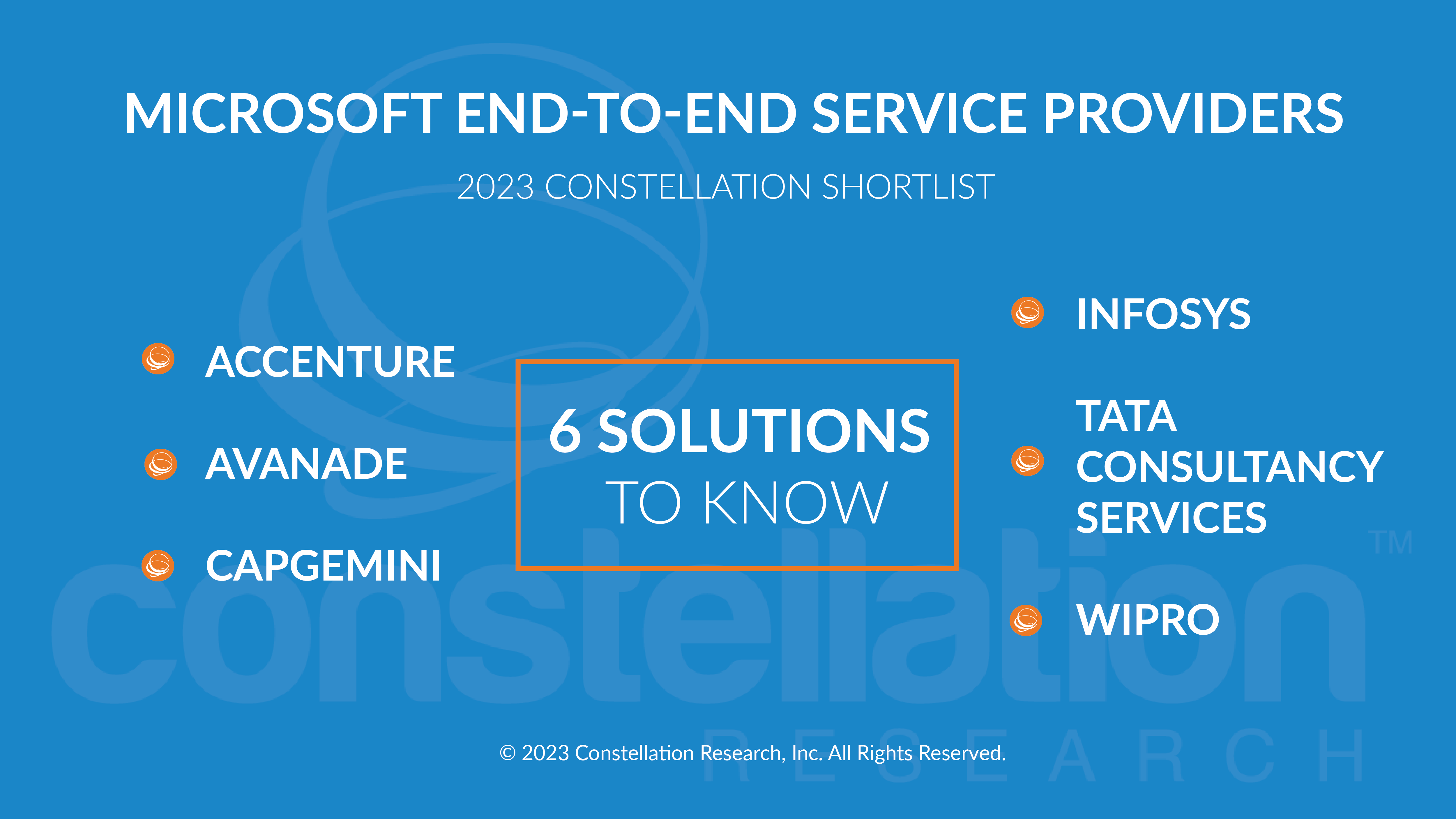 About This Constellation ShortList™
The rise of megavendors and the complexity of managing them are driving customers to seek service providers that can deliver on end-to-end vendor capabilities. Microsoft's market position as a major technology stack and status as one of a handful of cloud services providers create a unique market for service providers to deliver on customer needs.
Successful offerings bring together an entire suite of offerings that span across the infrastructure-, platform-and software-as-a-service layers. Most service providers will provide a stable of resources that are focused on the latest disruptive technologies. In addition, industry expertise and support for global geographies are requirements for this Constellation ShortList.
Threshold Criteria
Constellation considers the following criteria for these solutions:
Provide development capacity for .NET Framework
Deploy and support Microsoft Office 365
Provide development capacity in Microsoft Visual Studio
Provide development capacity in Microsoft SQL Server
Provide development capacity in Windows Communication Foundation (WCF)
Deploy and support Dynamics 365 and Biz Apps skill sets
Manage MS Teams
Deliver full-stack Azure competencies
Support system center operations manager (SCOM)
Provide resources on disruptive technologies such as the Internet of Things, blockchain, artificial intelligence/machine learning and metaverse
Provide unique industry solutions
Provide geographically specific offerings
The Constellation ShortList™
Constellation evaluates more than 10 solutions categorized in this market. This Constellation ShortList is determined by client inquiries, partner conversations, customer references, vendor selection projects, market share and internal research.
Accenture

Avanade

Capgemini

Infosys

Tata Consultancy Services

Wipro
Frequency of Evaluation
Each Constellation ShortList is updated at least once per year. Updates may occur after six months if deemed necessary.
Evaluation Services
Constellation clients can work with the analyst and research team to conduct a more thorough discussion of this Constellation ShortList. Constellation can also provide guidance in vendor selection and contract negotiation.
Download Research
Click to Download Report