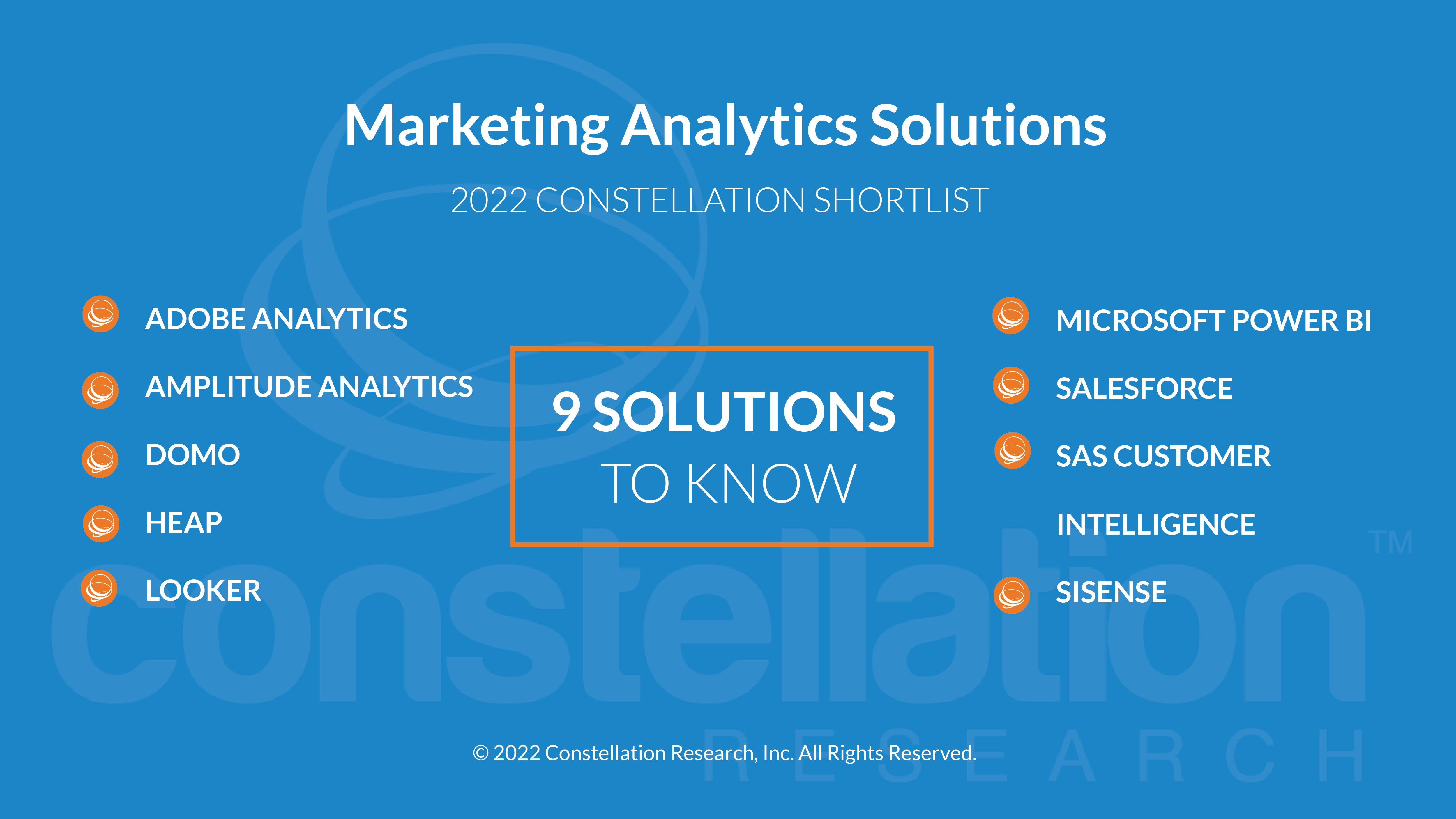 About This Constellation ShortList™
The call for the chief marketing officer to serve as the growth driver and orchestrator for the modern enterprise has amplified the need for marketing analytics tools to quickly evolve from campaign performance trackers into more robust business intelligence and decision tools. Modern marketing analytics solutions must be capable of reporting on budget, performance, and optimization while also delivering robust intelligence on customers, resources, and opportunities.
Legacy functions of marketing analytics solutions—including the ability to synthesize and normalize data from a multitude of internal and external channels— continues to be core to consideration. However, platforms must also deliver powerful BI functionality that empowers marketing to embrace a culture of data-led decisions. As marketing engagement has become more predictive and data more prescriptive, marketing analytics tools must also follow suit to give marketing a clear blueprint and roadmap for growth acceleration and profit optimization.
Top of mind is the ability to interrogate customer and campaign data in a self-service, visually appealing, easy-to-dissect interface. Artificial intelligence (AI) helps ingest and manage data and automate connector updates but also surfaces intelligent insights for rapid decision-making. This list includes solutions that are powerful for marketing data scientists, yet are simple for non-technical marketers to stand up and operate.
Threshold Criteria
Constellation considers the following criteria for these offerings:
Ease of use and setup for nontechnical users with functional options for developers and analysts
Ability to ingest and report on marketing and advertising data across all online and offline interactions and campaigns
Robust marketing attribution, forecasting and predictive analytics capabilities
Customizable role-based dashboards
Easy-to-create (and share) visualizations across a wide range of chart and graph types
Integration with sales force automation, marketing automation, advertising platforms and other customer data sources for consolidated customer engagement visibility
Extensibility through ecosystem of third-party integration apps
Facilitate data collaboration and interrogation with other marketers and cross-functional teams
Triggered workflows and automated actions to turn intelligence into optimization actions
Security, authentication tools, role-based access, data governance and lineage tracking
Intelligent models built from user-defined core business metrics
Anywhere accessibility across desktop and mobile
AI and ML to assist with data ingestion, analysis and decision intelligence

Product vision and roadmap

Post-sale support and community
The Constellation ShortList™
Constellation evaluates over 40 solutions categorized in this market. This Constellation ShortListis determined by client inquiries, partner conversations, customer references, vendor selection projects, market share and internal research.
Adobe Analytics
Amplitude Analytics
Domo
Heap
Looker
Microsoft Power BI
Salesforce
SAS Customer Intelligence
Sisense
Frequency of Evaluation
Each Constellation ShortList will be updated at least once per year. There could be an update after six months, should the analyst deem it necessary.
Evaluation Services
Constellation clients may work with the analyst and research team to conduct a more thorough discussion of this ShortList. Constellation can also provide guidance in vendor selection and contract negotiation.
Download Research
Click to Download Report