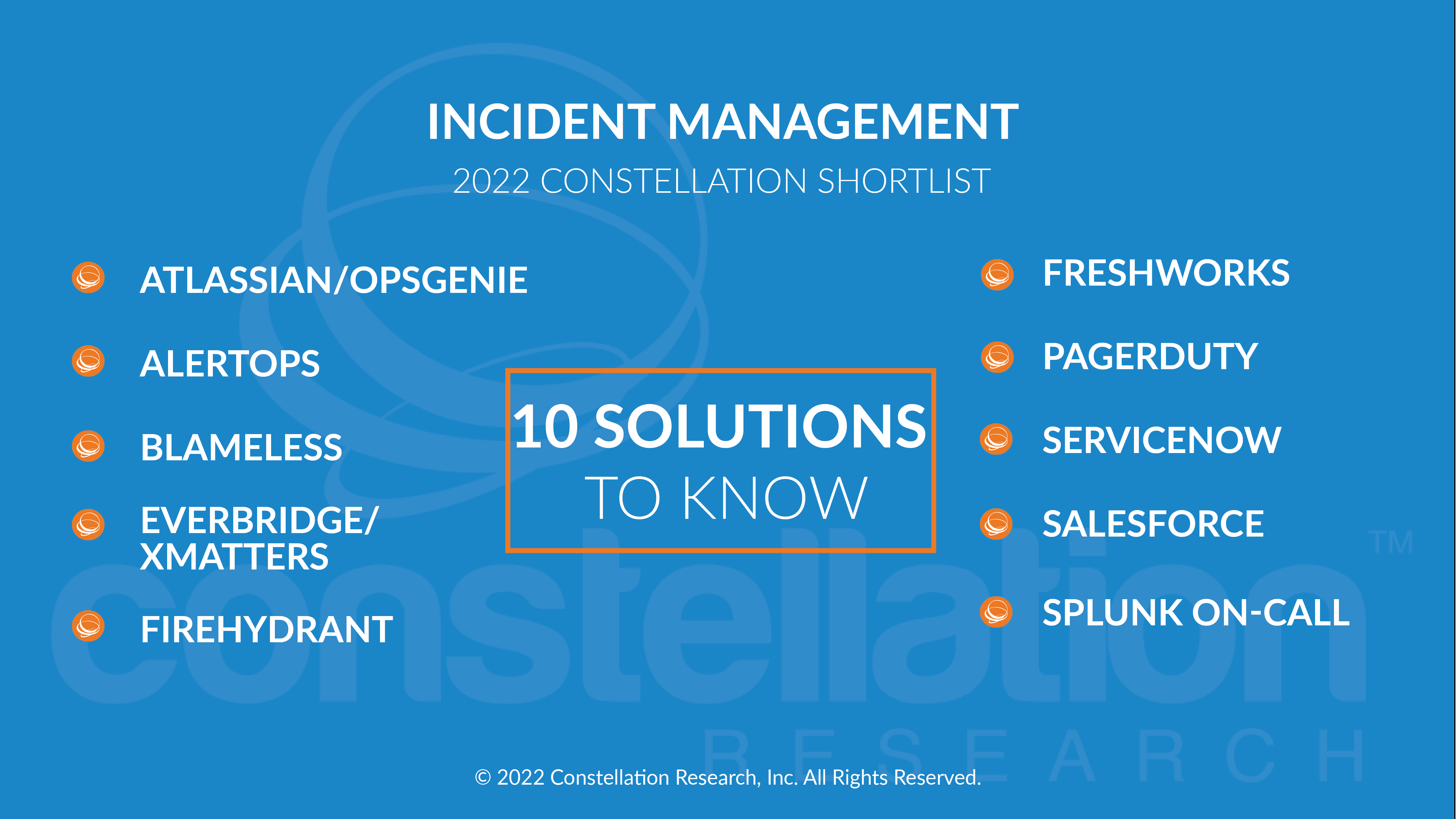 About This Constellation ShortList™
Unplanned downtime is a nightmare for every IT executive. Long- drawn war rooms drain valuable resources and businesses lose opportunities and risk brand damage. Particularly with many choices and alternatives for any service, reducing churn by providing reli- able services is a top agenda for any digital business. Having siloed teams, siloed monitoring/observability tools, multicloud operations, hybrid locations, blend of legacy, shortage of skilled IT analysts, and new tools all add to the issue.

While a lot of organizations invest a lot of money in observability and monitoring solutions, still the incident triaging and resolution
is a very manual process in most organizations. A perfect system should consume alerts from multiple sources, identify the root cause (with the help of AIOps), route the incident and appropriate actions to the responsible resource, provide a detailed context and possi- ble solutions to the incident, and potentially automatically resolve the issue if possible. These systems should also be able to properly prioritize, based on business context and value, and assign/escalate the incident based on that. In other words, while observability, mon- itoring, and AIOps can help identify the incident and the root cause faster, incident management allows for resolving the matter quickly.
Threshold Criteria
Constellation considers the following criteria for these solutions:
Automatic incident triaging to reduce manual toil
Automated incident response
Business context-based incident escalation
Event intelligence ingestion
Incident prioritization and proper assignment
Centralized on-call management
DevOps tools integration
The Constellation ShortList™
Constellation evaluates more than 40 solutions categorized in this market. This Constellation ShortList is determined by client inquiries, partner conversations, customer references, vendor selection projects, market share and internal research.
ATLASSIAN/OPSGENIE
ALERTOPS
BLAMELESS
EVERBRIDGE/ XMATTERS
FIREHYDRANT
FRESHWORKS
PAGERDUTY
SERVICENOW
SALESFORCE SERVICE CLOUD
SPLUNK ON-CALL
Frequency of Evaluation
Each Constellation ShortList will be updated at least once per year. There could be an update after six months, should the analyst deem it necessary.
Evaluation Services
Constellation clients may work with the analyst and research team to conduct a more thorough discussion of this Constellation ShortList. Constellation can also provide guidance in vendor selection and contract negotiation.
Download Research
Click to Download Report