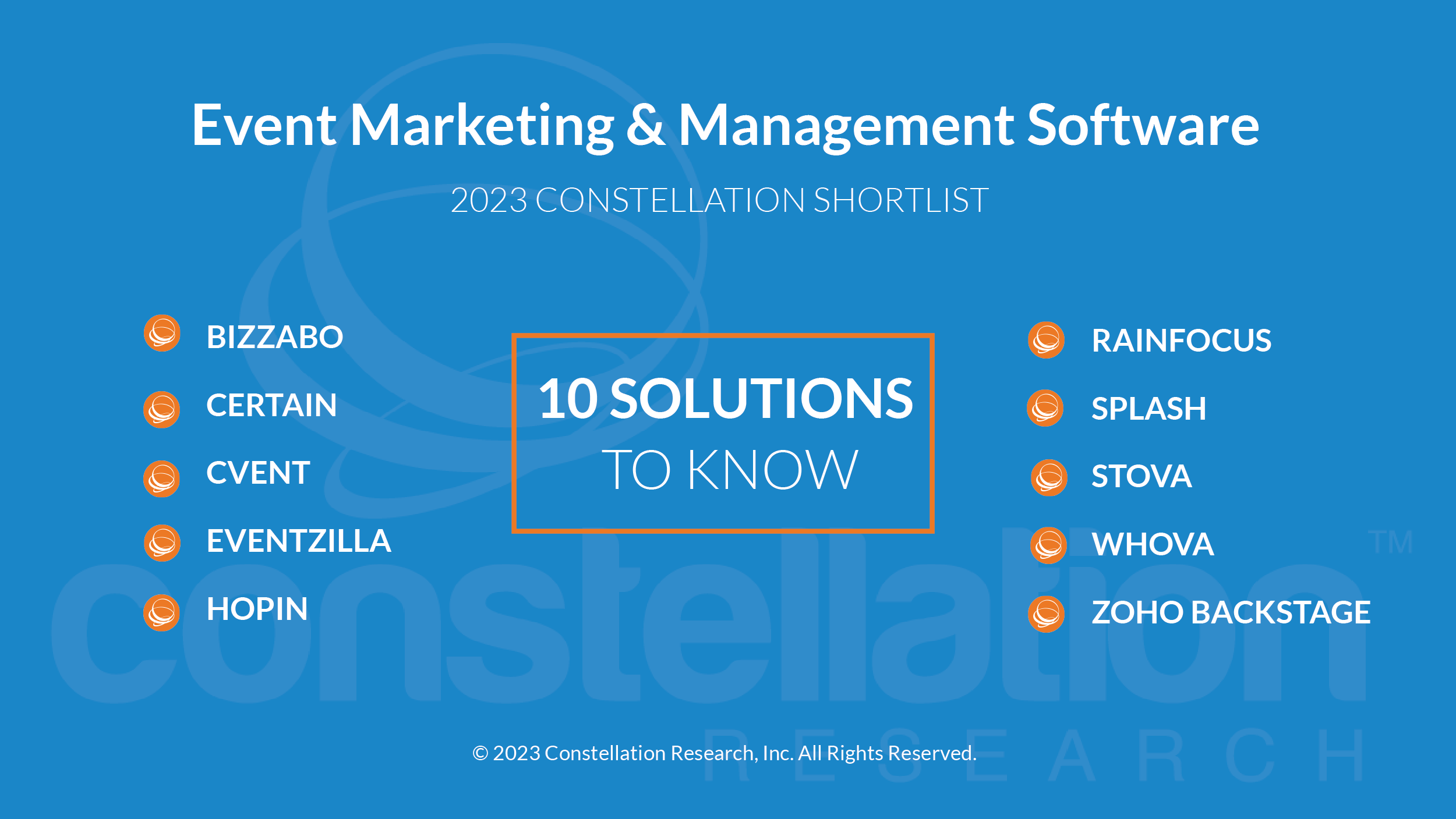 About This Constellation ShortList™
As quickly as events went online at the start of the pandemic, they have begun to return to in-person venues. The need to orchestrate, manage and measure the impact of events remains constant, but the size, scale and scope of events to be managed has gained in complexity. The flow and operations of a "hybrid" event is still being formulated, but one thing is clear: event leaders do not intend to leave anyone behind no matter where or how they choose to participate.
From event registration to venue selection, logistic workflows, mobile app development, asset creation, audience development, in-event engagement, budget tracking, and post-event analytics and reporting, event marketing solutions must optimize and track the entire event value chain. Events have also become a critical component of a marketing team's content development process as venues become backdrops and sets for features, interviews and opportunities to extend storytelling.
Event management tools must seamlessly connect with CRM and marketing automation systems to integrate with sales planning and marketing strategy. Increasingly, marketing teams are looking to pull real-time event data into customer data platforms (CDP) to add to their robust view of customers and prospects. With a blend of live and online event content being deployed, recorded and archived for on-demand access, integration with digital asset management (DAM), virtual event hosting tools and web content management tools is also an increasing request. Reporting functions must measure and report on event impact and, through the introduction of AI tools, track the overall impact of event programs.
Threshold Criteria
Constellation considers the following criteria for these solutions:
End-to-end event management and tracking
Customizable, easy-to-deploy event registration
Option to personalize digital registration and event experience
Capacity to manage live, virtual and hybrid event formats
Cross-team and function collaboration with internal and external stakeholders
Venue sourcing, planning and proposal management
Digital promotion campaign (email, social) capabilities
Event website-building functionality, including commerce engine to monetize events
Lead retrieval, management and delivery
Shared workflows and project management tools
Speaker and content submission management
Exhibitor management, services and sponsorship management tools
Logistical planning tools, seating, planning

 

Event engagement before, during and after event
Mobile ready, including capacity to deploy mobile event apps
Event content and asset management, including agendas, speaker bios, collateral, badges and signage
Integration and API connection to key marketing, sales, ERP and analytics tools, and platforms
Budget tracking, management and tools for spending optimization
Security, role-based access and authorization, customer viewer controls
Integration with content development and virtual event platforms
Analytics and robust reporting
Support, training and community for users
The Constellation ShortList™
Constellation evaluates more than 25 solutions categorized in this market. This Constellation ShortList is determined by client inquiries, partner conversations, customer references, vendor selection projects, market share and internal research. In alphabetical order:
Bizzabo

Certain

Cvent

Eventzilla

Hopin

RainFocus

Splash

Stova

Whova

Zoho Backstage
Frequency of Evaluation
Each Constellation ShortList will be updated at least once per year. There could be an update after six months, should the analyst deem it necessary.
Evaluation Services
Constellation clients may work with the analyst and research team to conduct a more thorough discussion of this ShortList. Constellation can also provide guidance in vendor selection and contract negotiation.
Download Research
Click to Download Report