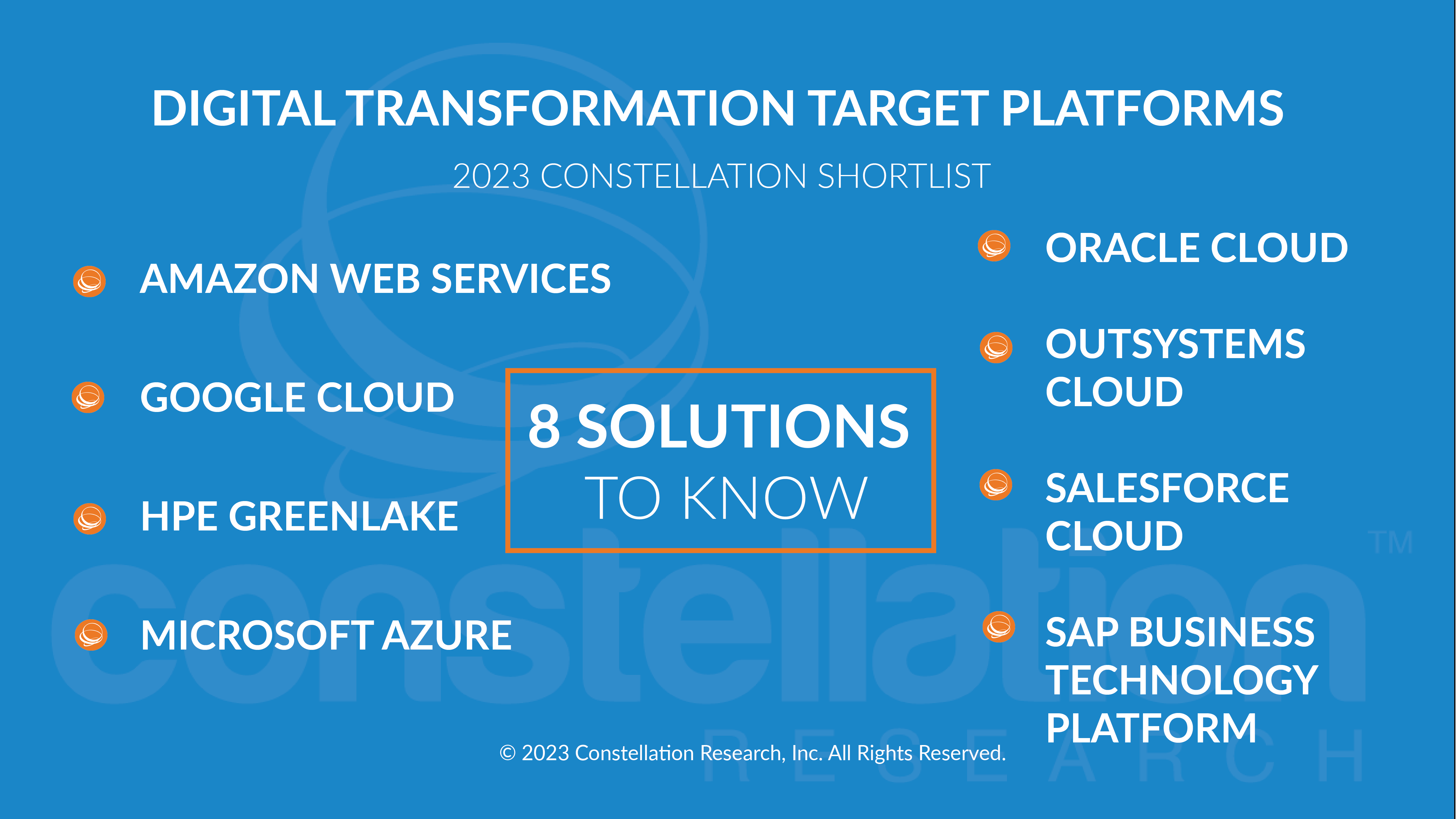 About This Constellation ShortList™
A digital transformation target platform is an enterprise-class suite of technology capabilities aimed at addressing most of the needs of organizations that are reorganizing around strategic new digital products and services. Such target platforms provide robust and mature primary technologies for the public cloud as well as higher-order cloud services, including support for digital business models such as e-commerce, subscriptions and open APIs. Digital transformation target platforms form a top-to-bottom digital business stack, along with a clear proven path from strategy and transformation to migration and operations.

Solution must also help with delivering customer experience in the target platform to reflect the top priority that most CxOs currently have placed on modernizing their market-facing digital capabilities.

These platforms differentiate from a pure-play enterprise public cloud platform or a managed cloud service by providing digital business transformation capabilities such as industry accelerators, digital business reference models/blueprints, low-code support, business models-in-a-box, design thinking support, migration tools/services and other means of enabling the overall digital transformation process.

These platforms have global presence with regulatory and compliance support across most of the globe. They also have the ability to support the scale and combined transformational/operational needs of enterprise organizations of the largest size and complexity. Included platforms s upport most of the key emerging technologies enterprises will need to adopt. Examples: Next-gen mobility, advanced analytics, Internet of Things, AI, blockchain and microservices.
Threshold Criteria
Constellation considers the following criteria for these solutions:
Mature enterprise-class public cloud capabilities (IaaS, PaaS, SaaS, managed services)

Helps realize digital business models, customer experience and operations

Supports the digital transformation process di- rectly in a meaningful way

Focuses on business outcomes as much as technology transformation

Regularly incorporates contemporary emerging technologies

Tends to favor open source and open standards

Production scalable and secure on more than three continents

Supports global data protection standards

Ability to help manage and control cloud operating costs

Vendor offering maturity, stability and industry staying power
The Constellation ShortList™
Constellation evaluates more than 30 solutions categorized in this market. This Constellation ShortList is determined by client inquiries, partner conversations, customer references, vendor selection projects, market share and internal research.
Amazon Web Services


with Accenture Cloud First | Capgemini Cloud Platform | Deloitte Cloud Services | PwC Cloud Transformation

Google Cloud
with Accenture Cloud First | Capgemini Cloud Platform | Deloitte Cloud Services | PwC Cloud Transformation

HPE GreenLake




with HPE PointNext | Deloitte Hybrid Cloud

Microsoft Azure
with Accenture Cloud First | DXC Cloud Platform Services | Capgemini Cloud Platform | Deloitte Cloud Services | PwC Cloud Transformation
Oracle Cloud
with KPMG Powered Enterprise
OutSystems Cloud Platform
Salesforce Cloud
with Accenture Salesforce Business Group
SAP Business Technology Platform​​​​​​​


with SAP AppHaus | HPE Pointnext | DXC Cloud Platform

Frequency of Evaluation
Each Constellation ShortList is updated at least once per year. Updates may occur after six months if deemed necessary.
Evaluation Services
Constellation clients can work with the analyst and the research team to conduct a more thorough discussion of this ShortList. Constellation can also provide guidance in vendor selection and contract negotiation.
Download Research
Click to Download Report