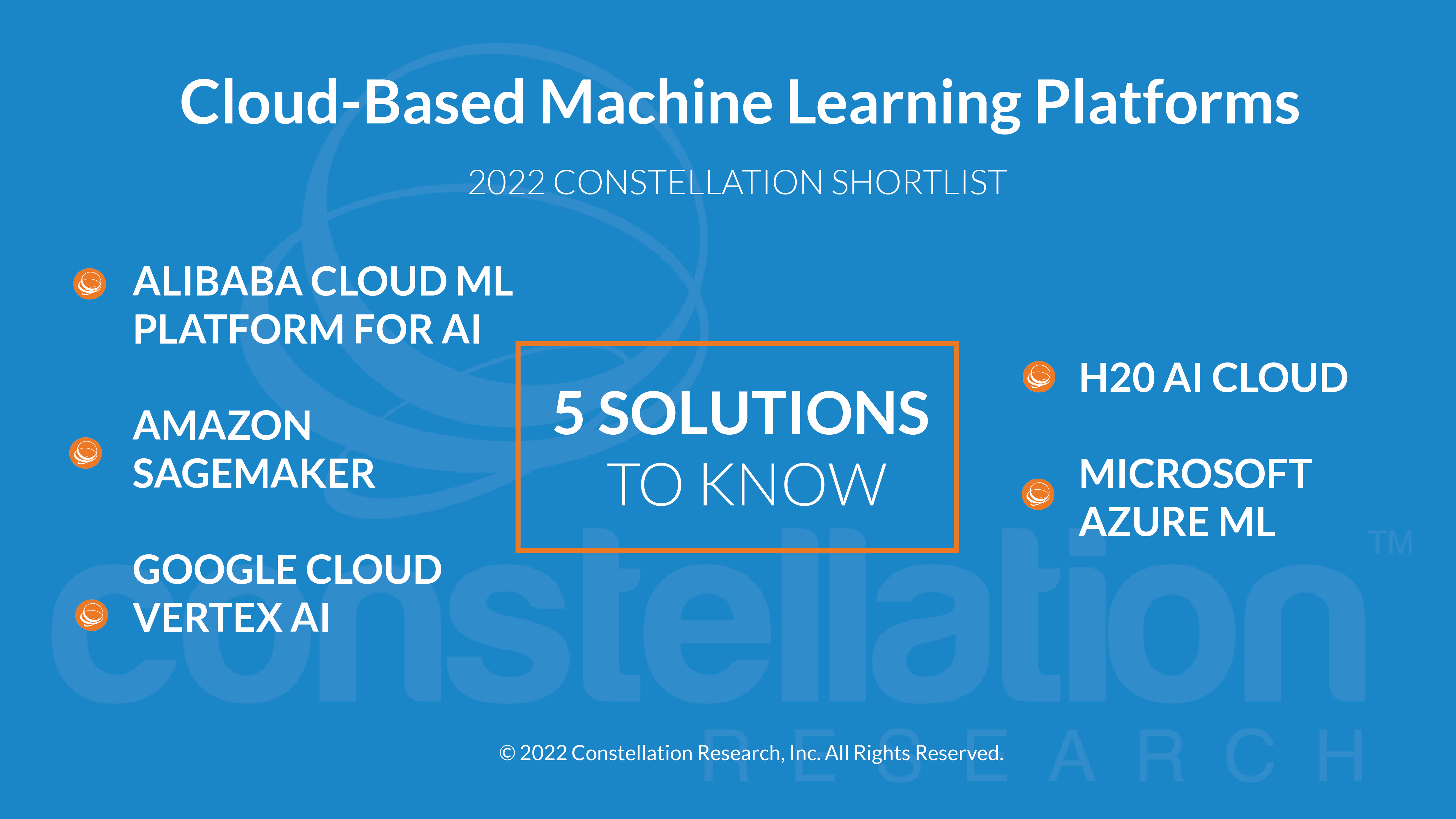 About This Constellation ShortList™
For organizations with data science teams, these cloud options offer all the tools, notebooks, diverse data science libraries, and collaborative monitoring tools they'll need to build, deploy, and manage custom machine learning (ML) models. What's more, these platforms are steadily introducing no-code/low- code and automated capabilities that enable data-savvy team members to build and deploy ML models without deep data science expertise. This ShortList focuses on cloud-based machine learning platforms for building, deploying, and manag- ing models though both traditional and automated methods.

New to this ShortList in Q3 2022 is Alibaba Cloud Machine Learning Platform for AI, which provides end-to-end machine learning services, including data processing, feature engineer- ing, model training, model prediction, and model evaluation. Also added to this ShortList in 2022 is the H2O AI Cloud, which is unique in the market in offering an end-to-end fully managed cloud platform that can also be run by customers on premises, affording hybrid flexibility.


Threshold Criteria
Constellation considers the following criteria for these solutions:
Extensive tooling, notebooks, data science library options, and monitoring and management features geared to help data scientists build, deploy, and maintain models

Low-code/no-code and automation options that enable data-savvy users to build models without coding or deep data science expertise

Collaborative capabilities supporting model development, deployment, and ongoing performance monitoring

Taps massive public cloud compute/storage/net- work capacity and can satisfy country-specific data-residency requirements
The Constellation ShortList™
Constellation evaluates more than a dozen solutions categorized in this market. The Constellation ShortList is determined by client inquiries, partner conversations, customer references, vendor selection projects, market share and internal research.
ALIBABA CLOUD MACHINE LEARNING PLATFORM FOR AI
AMAZON SAGEMAKER
GOOGLE CLOUD VERTEX AI
H20 AI CLOUD
MICROSOFT AZURE MACHINE LEARNING
Frequency of Evaluation
Each Constellation ShortList is updated at least once per year. Updates may occur after six months if deemed necessary.
Evaluation Services
Constellation clients can work with the analyst and the research team to conduct a more thorough discussion of this ShortList. Constellation can also provide guidance in vendor selection and contract negotiation.
Download Research
Click to Download Report