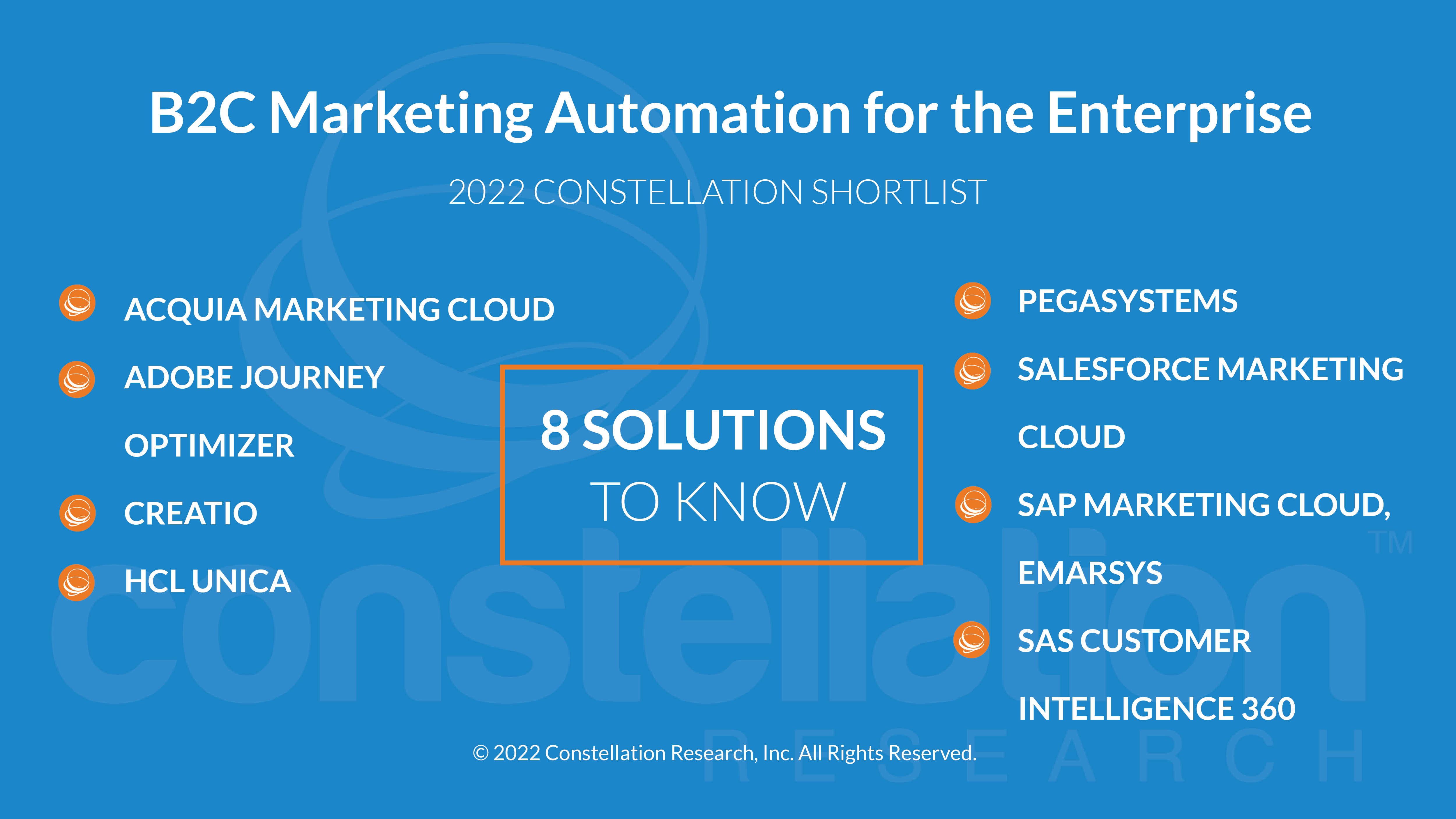 About This Constellation ShortList™
Engaging with consumers in the fast-moving digital-first world demands new experience strategies based more on the consumer and less on the channels. Today's marketer is looking for modern automation engines to deliver on an age-old marketing promise: delivering the right message, at the right time, to the right customer. Marketing automation isn't just about engagement at scale: The demand is for precision at scale.
Business-to-Consumer (B2C) marketing teams expect capabilities to track and predict customer behavior, facilitate product marketing, improve personalization, and build and nurture customer relationships at scale and speed—all while navigating data privacy regulations. Scalability is top of mind as brands race to rapidly expand global reach to achieve growth. Data analytics tools must track and validate the impact of marketing efforts on customer conversion. Artificial intelligence (AI) and machine learning capabilities are par for the course. Smart, "trainable" tools are being applied to market segmentation, channel management, and campaign performance. Solutions to power "self-service" AI-driven interactions that better put the customer in the journey driver's seat are on the new consideration list.
And all of this must come in a sleek, easy-to-deploy, and easier-to-manage system that can span large, global teams across multiple brands and multiple lines of business. Tools are expected to be flexible and scalable, with the ability to quickly integrate into current stacks and systems all while earning both marketing and IT's seal of approval.
Threshold Criteria
Constellation considers the following criteria for these offerings:
Ease of use, user interface with role-based dashboards and views
Quickly and easily design and deploy cross-channel campaigns
Intuitive visual journey workflow creation and management
Robust segmentation capabilities, rules-based offer management
Integrated customer profiles
Customer preference, identity resolution and management
Multimedia asset creation, utilization and robust digital asset management
Facilitate and track advertising mediums, retargeting
Social listening and engagement capabilities or integrations
Expanded messaging capability to include valued channels like WhatsApp and SMS
Integration with display advertising engines to coordinate engagement across media and channels
Web, mobile and digital campaign personalization
Behavioral tracking and testing
Multichannel campaign attribution
Marketplace for integrations and connections across the larger CX stack
Workflow and collaboration tools
Integration and visibility to commerce systems and teams
Product vision and road map, emphasis on AI and attribution
Aggregated analytics and role-based reporting
Integration with commerce, data, and enterprise resource planning systems
The Constellation ShortList™
Constellation evaluates 50 solutions categorized in this market. This Constellation ShortList is determined by client inquiries, partner conversations, customer references, vendor selection projects, market share and internal research. The enterprise category is defined as companies with a broad geographical reach, multiple lines of business, and/or more than 3,000 employees.
Acquia Marketing Cloud

Adobe Journey Optimizer

Creatio

HCL Unica

Pegasystems

Salesforce Marketing Cloud

SAP Marketing Cloud, Emarsys

SAS Customer Intelligence 360
Frequency of Evaluation
Each Constellation ShortList will be updated at least once per year. There could be an update after six months, should the analyst deem it necessary.
Evaluation Services
Constellation clients may work with the analyst and research team to conduct a more thorough discussion, vendor selection and contract negotiation.
Download Research
Click to Download Report