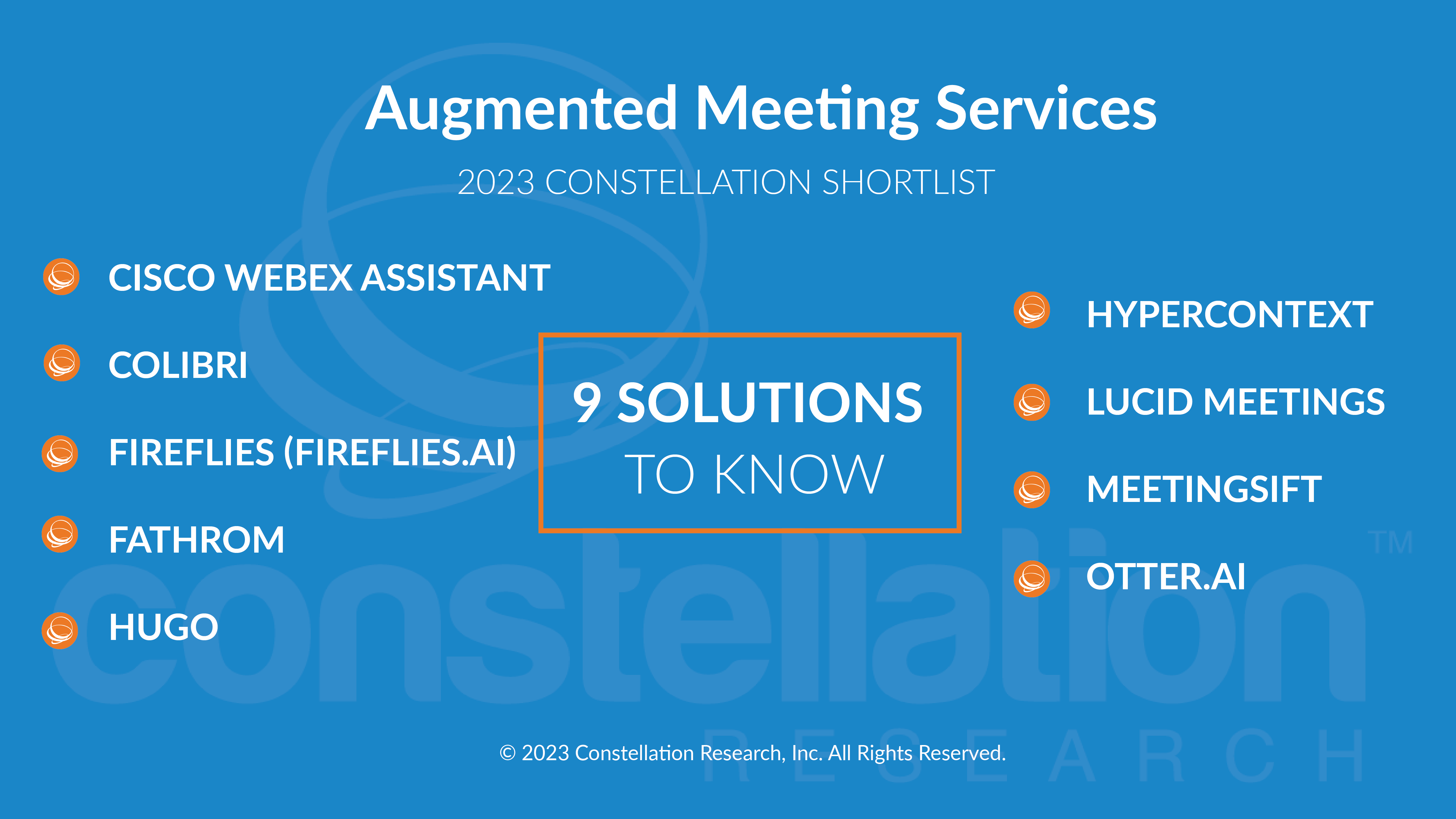 About This Constellation ShortList™
Despite all of their challenges, meetings—both in person and online—remain one of the most important components of teamwork. They enable people to discuss ideas, make decisions and build relationships. Unfortunately, meetings are still so plagued with difficulties and friction—both technological and cultural—that many employees dread the mere thought of attending.
Thankfully, dozens of software vendors now strive to solve the common issues with digital meetings, helping evolve them from fraught with difficulty to actually useful. The entire meeting life cycle is being enhanced, from purpose and preparation, to facilitation and execution, to follow-ups and next steps. Technologies such as artificial intelligence and augmented reality are being used to improve everything from finding the best time and location, to automating note-taking and task assignments, to using facial recognition for sentiment analysis and improving engagement, and even for strategic knowledge capture.

This Constellation ShortList highlights the key vendors making big strides in this fast emerging and highly important sector as more meetings than ever are held in digital channels.
Threshold Criteria
Constellation considers the following criteria for these solutions:
Administrative controls
Ease of setup, scheduling and meeting delivery
Analytics/metrics/usage dashboards (personal-, team- and meeting-specific)
Collaboration features: collaborative note-taking, chat, voice, video, annotations and commenting, real-time reactions, sharing to other tools
Facilitation features: automated note-taking, audio transcription, keyword flagging, sentiment analysis and people/object recognition in videos, surveys
Follow-up features: assignment tracking, automated summaries, recommended next steps, future meeting scheduling, knowledge capture
Integration with business applications: calendar, enterprise project/task management, corporate goal tracking, web conferencing and customer relationship management
Preparation features: agenda/goal setting, participant profiles and selection, background material preparation, facility/equipment booking
Search and discovery capabilities

Security: access roles, administration roles, encryption
The Constellation ShortList™
Constellation evaluates more than 40 solutions in this market. This Constellation ShortList is determined by client inquiries, partner conversations, customer references, vendor selection projects, market share and internal research.
Cisco Webex Assistant

Colibri

Fireflies (Fireflies.ai)

Fathrom

Hugo

Hypercontext

Lucid Meetings

MeetingSift

Otter.ai
Frequency of Evaluation
Each Constellation ShortList is updated at least once per year. Updates may occur after six months if deemed necessary.
Evaluation Services
Constellation clients can work with the analyst and the research team to conduct a more thorough discussion of this ShortList. Constellation can also provide guidance in vendor selection and contract negotiation.
Download Research
Click to Download Report