If a non-partner brand were to stand outside Citi Field before a World Series game giving away free products to fans, you better believe that their security staff would immediately escort them off the premises. This type of "guerrilla marketing" can often happen around major sporting events and always presents a challenge to the property to enforce.
Well earlier today, I received the following email from California Pizza Kitchen with the subject line "Kids Eat Free On Game Days!" When I opened the email, it features the promotion "In Honor of the Mets, Kids Eat Free" where kids can get a free meal with the purchase of an adult meal.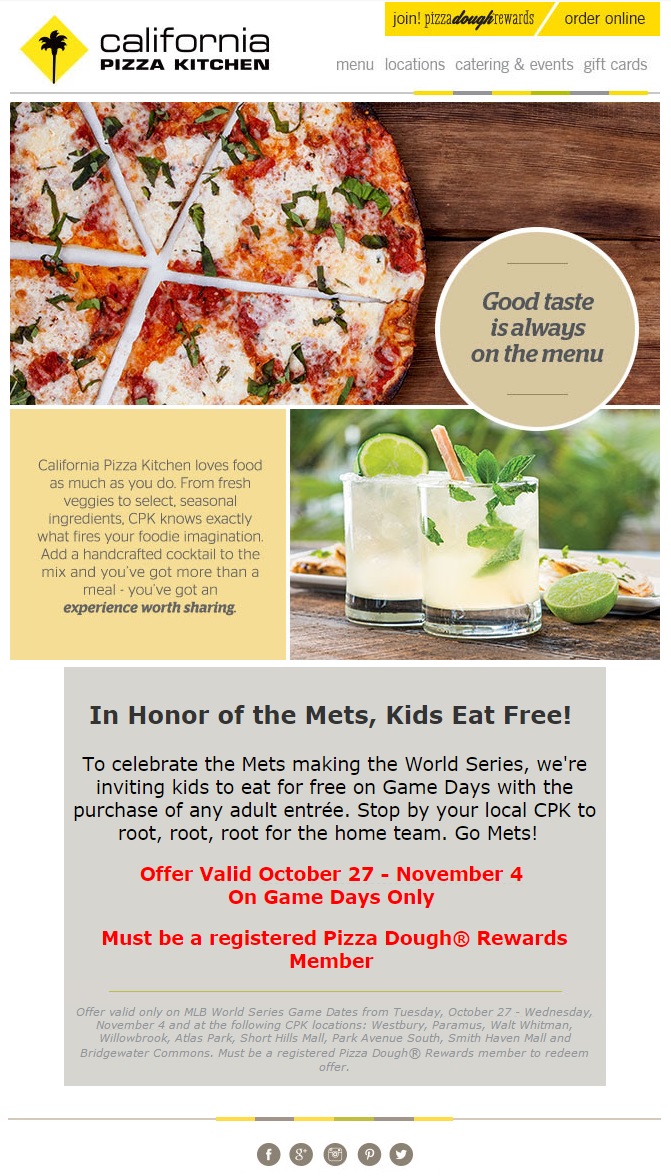 So what do you think of this tactic? From the brand's perspective, they technically aren't doing anything wrong. They aren't using team marks and don't claim to be an official sponsor of the Mets, but they are definitely trying to use the team's success to drive sales, which could be quite effective with the Mets Fever going around the NY metro area.
From the team's perspective, they can't simply escort the non-partner off the premises, since this is purely in the digital space. The brand doesn't appear to be violating any rules, so a cease and desist is probably overkill. Maybe this could provide the team an opportunity to explore a future partnership with CPK. Clearly they see value in using the Mets to drive fans to their restaurants, so imagine how much more effective it could be as an official partner with the backing of the team.