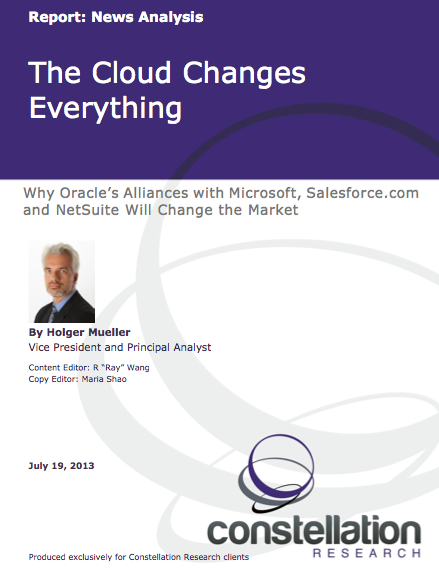 Constellation Research, Inc. the research and advisory firm focused how disruptive technologies transform business models announced the publication of "The Cloud Changes Everything" by Constellation Vice President and Principal Analyst, Holger Mueller. This research report recaps the events of June 20 through June 27 in which Oracle entered into several strategic relationships with Microsoft, Salesforce, and Netsuite, and examines the implications of the Oracle alliances for the market, customers, partners and competitors.
Report highlights:
The strategic alliances entered into by Oracle from 6/20-6/27
The drivers and benefits of the three alliances between Oracle and Microsoft, Salesforce.com and NetSuite
Implications for vendors and the market
Implications for customers and partners
"This series of Oracle alliances has created a lot of confusion in the market. This report sheds light on the recent movements of these giants, and provides insight on how these movements will affect the different players and the market in general," said Holger Mueller, Vice President and Principal Analyst, Constellation Research.
ABOUT HOLGER MUELLER
Holger Mueller is Vice President and Principal Analyst covering [Technology Optimization and Future of Work. Holger's current research focuses on [IaaS and PaaS with forays to SaaS, Analytics, BigData and mobile.
COORDINATES
Profile: http://www.constellationr.com/users/hmueller
Twitter: @holgermu
Linkedin: www.linkedin.com/in/holgermueller/
Geo: San Diego, CA
THE REPORT
The Cloud Changes Everything can be found here: http://www.constellationr.com/research/cloud-changes-everything
Press Contacts:
Contact the Media and Influencers relations team at [email protected] for interviews with analysts.
Sales Contacts:
Contact our sales team at [email protected].