Zoho outlined a broad set of products as well as a generative AI roadmap that fuses OpenAI's ChatGPT with its own Zia AI engine. Overall, Zoho, known best as a business operating suite for small businesses, is reaching for midmarket and larger enterprises as well as "solopreneurs" as it expands from its core SMB market.
The news, delivered at its Zoholics user conference in Austin, comes at an interesting time. For starters, larger enterprises are looking to optimize their tech spending and CXOs may look more to Zoho. In addition, the layoffs at technology firms mean that many productive employees are going to be starting their own small businesses and Zoho is a strong turnkey option.
Indeed, Zoho has a three-year 65% CAGR among midmarket and enterprise customers, which represents a third of its business. Zoho has more than 90 million users across more than 600,000 global businesses of all sizes. Zoho CEO Sridhar Vembu said the company's "humble roots in SMB" have given it the ability to be a seamless enterprise vendor.
Liz Miller: Truly Confusing? Truly Different. Truly Zoho.
The following items will get a deeper dive from Constellation Research analysts on scene, so we'll keep it brief. Here's everything that Zoho announced.
Zoho launched ChatGPT for Zoho, which will combine OpenAI's software with Zoho Zia. ChatGPT will be integrated with Zoho Desk, Social, Writer, Mail, Assist, SalesIQ and Landing Pages.
According to the company, this ChatGPT integration will be the first of many to address image creation, translation and speech to text.
Zia, Zoho's AI engine, will be utilized for analytics, reports, sales prediction and other prescriptive actions.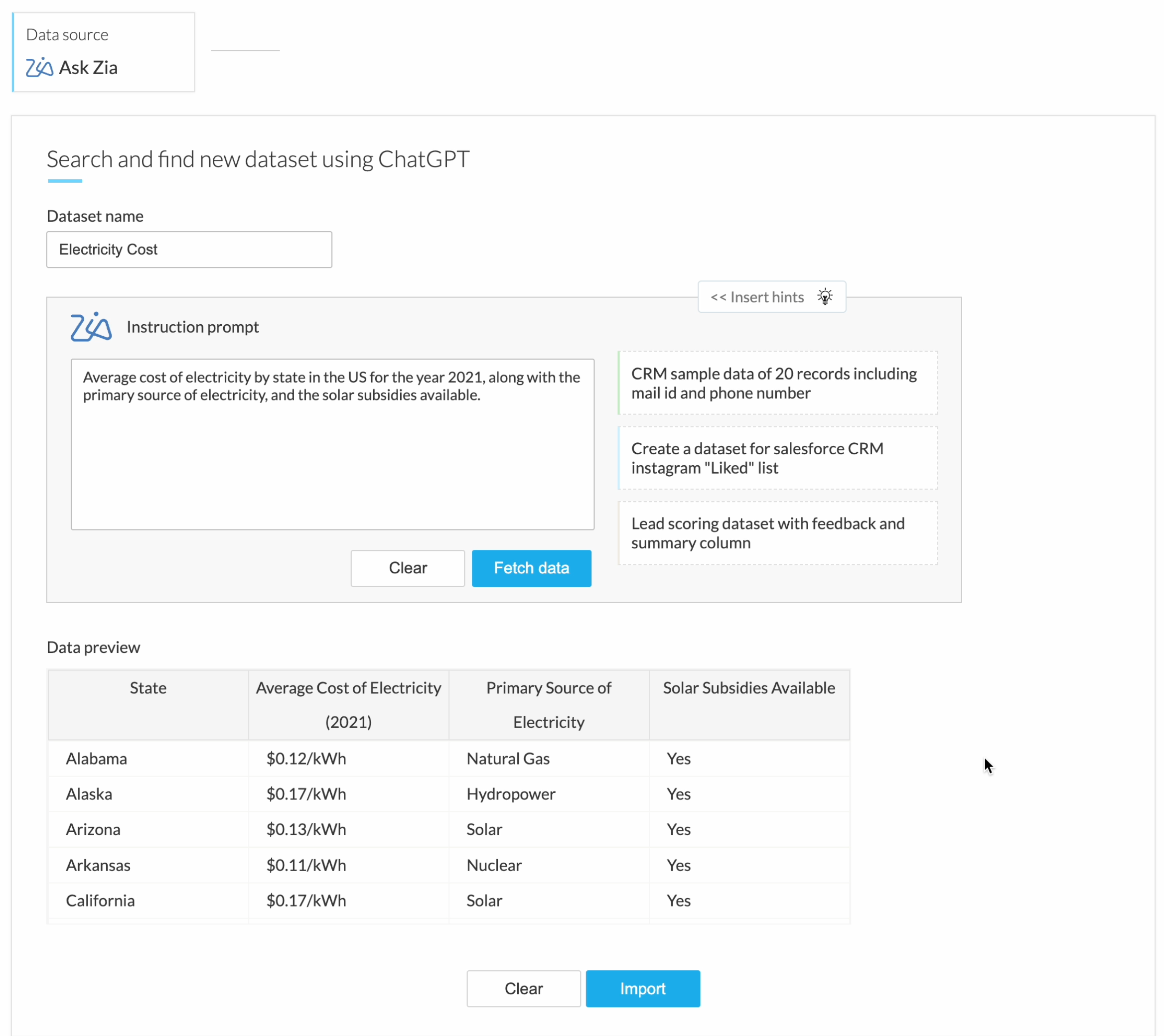 Midmarket and large enterprise investments
Zoho said it will expand its Zoho Marketplace reach and extend integration with enterprise incumbent software. Large enterprises can leverage more than 1,800 extensions and build their own workflows to Zoho applications.
This extensibility will be available through no-code and low-code deployments. These low-code tools have been integrated into Zoho design, data collection, orchestration and access control tools to name a few. Among other moves:
The company launched Zoho Contracts to address the contract management lifecycle, a common enterprise pain point. The goal is to offer contract authoring, approval, negotiations and signatures in one spot with Zoho's Zia AI engine providing automated workflows and reminders.
Zoho said it will integrate Zoho DataPrep with Zoho CRM to transform and cleanse customer data, integrate with third party systems and weed out data issues.
On the security front, Zoho outlined enhancements to Zoho OneAuth and Zoho Directory as well as launched Ulaa, a web browser with built-in privacy.
Zoho said it will invest in its Enterprise Business Services (EBS) organization to expand its global and industry reach. Zoho's services group serves multiple verticals today.
The company is developing its partnerships with systems integrators including Tata Consultancy Services, Deloitte, PricewaterhouseCoopers, Infosys, Tech Mahindra, Hexaware and Wipro.
Zoho will also add new regional offices to support large enterprises. It will also better support large global procurement offices by accepting multiple currencies for payment.
Targeting freelancers and solopreneurs
Zoho also announced the public beta for Zoho Start, Zoho Publish, Zoho Tables and Zoho Solo.
The general idea is to make it easier to start businesses. Zoho Solo is a unified mobile-first system for running a business priced at $9.99 a month. Zoho Solo will be connected to the following:
Zoho Start, a tool for filing legal paperwork to start a business. Zoho Start will include integrations with Zoho Books for financing, Zoho Domains for online presence and Zoho Voice for telephony.
Zoho Publish, which will publish business contact information on listing services, Google Maps and review sites.
Zoho Tables, a spreadsheet for mobile business.
Zoho Start is in public beta with availability in Texas with California and Delaware on deck. Pricing starts at $99 plus the state filing fee.