First Stop Scheduled for April 22 in Melbourne
Executives Learn How to Identify Disruptive Trends and Craft Digital Business Models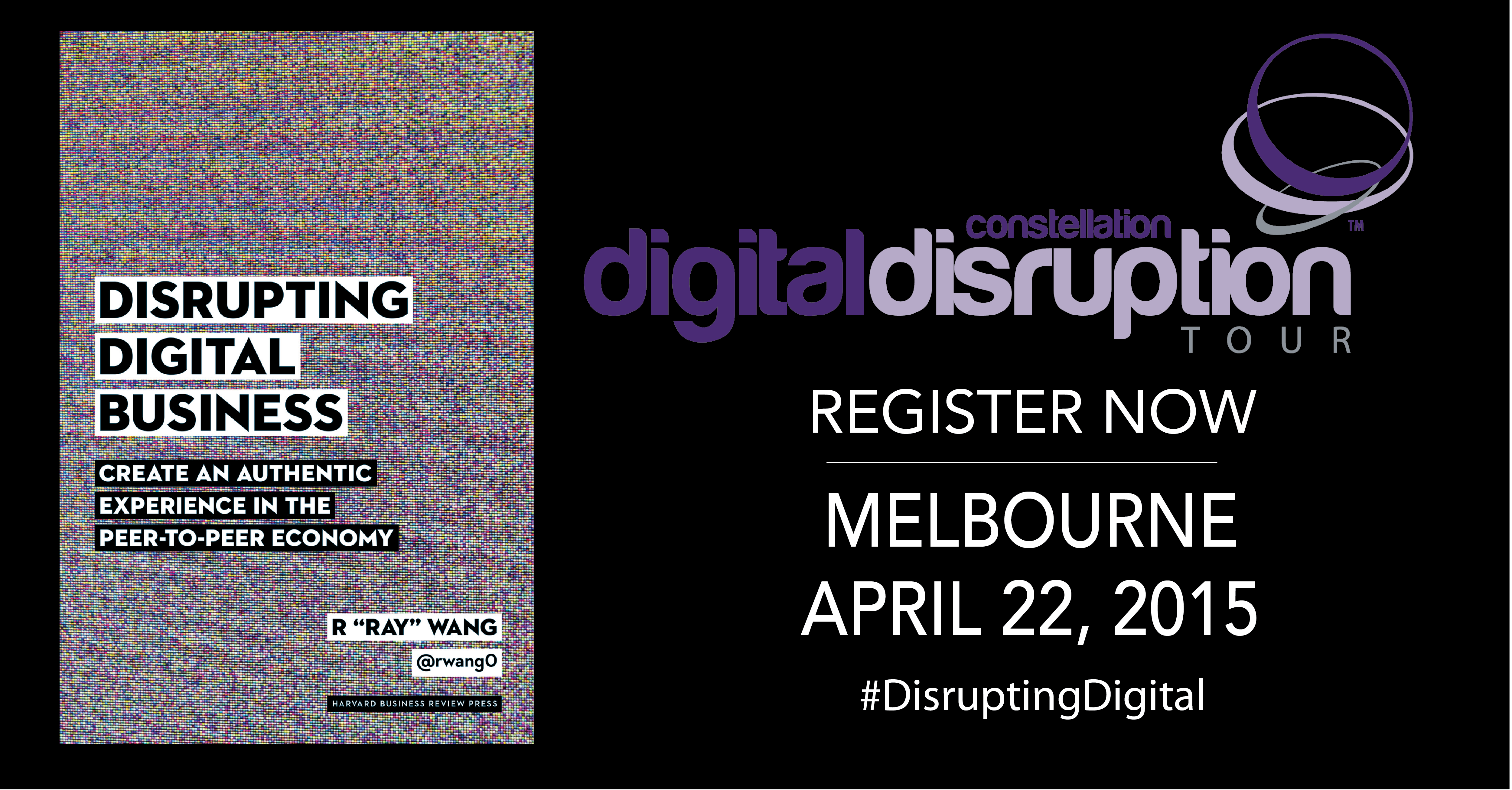 Today Constellation Research announced that registration is live for the inaugural Digital Disruption Tour, a series of executive-level seminars that show attendees how to effectively conquer disruptive forces in the era of digital business. The first stop of the tour is scheduled for April 22, 2015 in Melbourne, Australia at The Deck.  Constellation will host subsequent events in San Francisco, Atlanta, London, and Amsterdam. Speakers including Constellation analysts, early adopters, and founder, R "Ray" Wang will will identify disruptive trends that business leaders must address in the digital era. R "Ray" Wang will share insights from his book Disrupting Digital Business, published by Harvard Business Review Press.
Many of the rules that governed business in the 20th century do not apply in the digital era. Since 2000, fifty-two percent of the Fortune 500 has fallen off the list as a result of mergers, acquisitions, bankruptcies, or replacements. Success in the digital era requires a new business education and a new skill set that enables the executive to create business models that take advantage of the digital economy. The Digital Disruption Tour will identify the trends governing business in the digital era, and equip executives with the knowledge to excel in digital business.
The Constellation Digital Disruption Tour is particularly suited to senior executives from non-technology companies.
"The impact of digital disruption is real. Savvy leaders will recognize the great opportunity the digital economy presents, learn all they can about the new business landscape, and be prepared to dominate digital disruption," said Constellation Research founder, R "Ray" Wang. "Digital Dariwinism is unkind to those who wait.  The Constellation team is looking forward to preparing the brightest minds in business for the challenges of the digital economy."
Digital Disruption Tour Dates:
April 22, 2015 - Melbourne, Australia

May 4, 2015 - San Francisco, California

May 14, 2015 - Atlanta, Georgia

June 18, 2015 - London, United Kingdom

June 22, 2015 - Amsterdam, Netherlands
 
To register for the Digital Disruption Tour please visit http://www.constellationevents.com/.
Follow the Digital Disruption Tour on Twitter with the hashtag #cxotour.
For sponsorship opportunities, contact [email protected]
---