Today in NYC Microsoft announced the preview version of Microsoft Teams, their new Group Messaging application.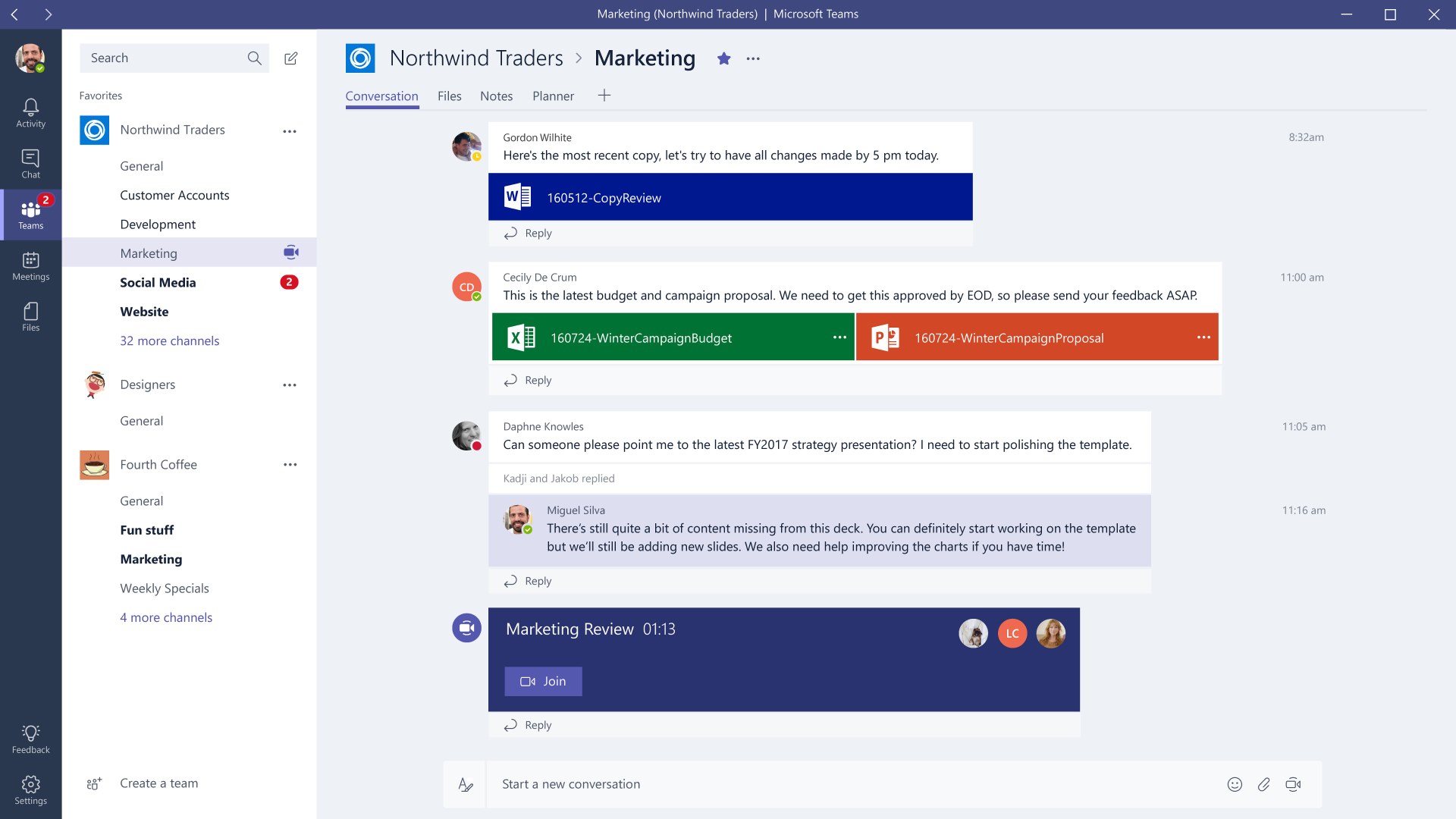 Microsoft CEO Satya Nadella and Office CVP Kirk Koenigsbauer discussed how communication is changing to be more conversational, and Teams is focused on providing a more modern chat centric approach to collaboration.
"We built Microsoft Teams because at Microsoft we see both tremendous opportunity and tremendous change in how people and teams get work done. More transparency and openness in decision making. Flatter organizational structures to keep information flowing, and team members working from everywhere. With Microsoft Teams, we aspire to create a more open, digital environment that can meet the evolving and diverse needs of today's teams. Microsoft Teams fosters easy connection and conversation to help people build relationships. One that makes work visible, integrated, and accessible across the team, so everyone can stay in the know."
MyPOV: Microsoft already has quite a complex portfolio of communication and collaboration products including Yammer, (Office 365) Outlook Groups, Skype and even GroupMe. Microsoft's stance on this is that different people/teams work in different ways, and each tool is designed for different needs and audiences. After speaking with several Constellation Research clients who use Office 365, as well as customers attending Microsoft's Ignite Conference, my analysis is that customers don't agree. There is too much overlap, which causes training issues (which tool do I use and when) and information silos (conversations in one place but not in another). But having too many options is a better problem to have than not having any.
Microsoft has done a wonderful job over the last 2-3 years at enhancing the Office 365 portfolio, but they need to narrow down the communication choices, not increase them. Microsoft Teams could be the answer. If Microsoft decides that Teams is the priority going forward, and focuses on making Teams integrated across the complete Office 365 portfolio, the result would be a more consistent and seamless experience, where information is available to the right people within the right context.
A Highly Competitive Market
It's impossible to have a conversation about Group Messaging without mentioning the hottest vendor in the market, Slack. Slack now claims 4 million active daily users, and is the vendor that kick-started the "Group Messaging" revolution. Is Slack worried about Microsoft Teams, apparently not based on today's "Dear Microsoft," blog post, where they emphasize "Slack is here to stay"
But Slack is far from alone in this space. There are so many choices in Group Messaging now that Constellation Research has divided them into two categories: 
- Constellation ShortList™ Enterprise Group Messaging: Standalone, including: Flowdock, Glip, HiBox, HipChat and Zinc.
- Constellation ShortList™ Enterprise Group Messaging: Unified Communication, including: ALE Rainbow, Avaya Aura, Cisco Spark, Mitel MiTeam, Unify Circuit, Shortel Connect.

Adding to this complex market are IBM's recently announced preview of Watson Workspace, Workplace by Facebook, and Google's combination of messaging clients, Duo and Allo.
With so many choices, competitive differentiation rarely comes down to a simple checklist of features. Some of the key items that make a product successful are:
- the size of its partner ecosystem and the breadth/completeness of its product integrations
- the security/scalability of its infrastructure
- the domain experience it provides for specific industry/vertical use-cases
- the user interface/experience

As for partner ecosystem, Microsoft states: "We have over 70 Connectors and 85 Bots to date.", which is similar to Cisco announcement of 70+ partners in their new Spark Depot (app 
As for security: Microsoft states: "Microsoft Teams provides built-in security and compliance that businesses require. It meets a broad set of global compliance and data protection requirements, including ISO 27001 and 27018, SOC 1 and SOC 2, HIPPA, EU Model Clauses and more.  Data is encrypted at all times, with full transparency into where data is stored.  And, multi-factor authentication provides enhanced identity protection to ensure data stays safe within the team."
With respect to user interface, Microsoft is follow's Slack's lead by making sure Teams has an element of fun to it. They provide several emoji and gifs, all of which are customizable.
1) Microsoft needs to focus on the integration of Teams with the rest of the Office 365 portfolio. They are off to a good start, already showing how each Team includes OneDrive, OneNote and Planner. They now need to focus on Microsoft Dynamics integration to show how business processes and workflows can be a seamless part of the Team experience.
2) Since Teams is built on Skype, then need to showcase the seamless transitions from text based chat to 1:1 or group voice or video calls. No vendor has really nailed the "improve meeting experience", perhaps this is Microsoft's onramp to working on that challenge.
3) One of Microsoft's strengths (and revenue streams) continues to be the creation of Office documents (Word, PowerPoint, Excel). Microsoft needs to make sure Teams has the most seamless and powerful team collaboration experience around content creation, sharing, coauthoring, publishing and discovery of any product out there.
4) They need to leverage the new cognitive computing/AI features of Microsoft Cortana to automate/augment as many team collaboration processes as possible.
5) Make the content in Teams actionable. One of the issues with open and transparent collaboration is that it quickly gets noisy and people get lost and overwhelmed. Microsoft needs to make sure posts in Teams can be linked to tasks in Planner (for team) and Wunderlist (for personal).   
6) Consolidation. Hopefully Microsoft will put a stake in the ground, pull off the bandaid and focus on reducing the complexity and overlap of their portfolio. If that means sunsetting some products, then they should do so.

It's an exciting team for reinventing personal productivity and team collaboration, and Microsoft has a strong incumbent base to work with and grow, but the competition from standalone vendors like Slack, to unified communication vendors like Cisco, and the large collaboration vendors like Google and IBM are not sitting still.