Critical and creative thinking, problem solving, and design are the top skills employers are banking on as generative AI is widely adopted through 2028, according to an Amazon survey.
The survey, which lands roughly a week ahead of AWS' re:Invent conference, was based on 1,340 employers and 3,297 employees in the US.
Amazon outlined some key takeaways about usage--92% of respondents expect to use AI applications by 2028 with IT being the biggest beneficiary--but many of those items were known. Yes, we know generative AI will have a huge impact on multiple departments and routine tasks will be automated.
What's left out of many of these generative AI discussions is what skills will be necessary in the new work landscape. When you consider two years ago folks were preaching coding to kids. Today, generative AI does a lot of the heavy lifting. With that backdrop, Amazon's more detailed data in its PDF caught my eye.
In the report, Amazon wrote:
"Critical thinking is essential to evaluate the accuracy and relevance of AI outputs, while problem-solving helps optimize the capabilities of AI systems by defining and structuring analyses appropriately on available data. Ethics and risk management is also ranked as the fourth most important skill needed to use AI effectively. That's because while AI can mimic many human skills and competencies, it still falls short in other areas, like emotional intelligence, contextual understanding, common sense, adaptability, ethics, and intuition."
Here's the data from the survey. More than half of respondents say thinking well will be key to using AI well. Technical skills were cited by 47%.
Also see: How Generative AI Has Supercharged the Future of Work | Generative AI articles | Why you need a Chief AI Officer | Software development becomes generative AI's flagship use case | Enterprises seeing savings, productivity gains from generative AI 
Not surprisingly, a lack of skills, knowledge and career paths were cited as barriers to AI adoption.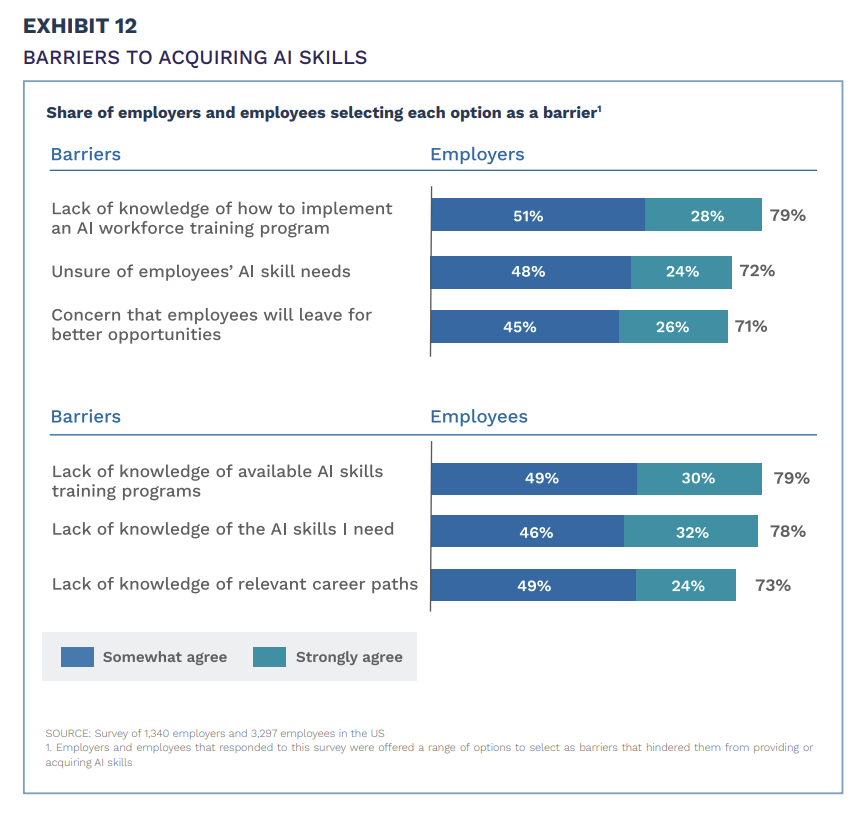 Other key items from the report include:
The interest in AI skills crosses multiple generations with GenZ and Millennial employees interested in developing AI skills checking in at 81% to 84% with Gen X at 78%. Indeed, 65% of Boomers were interested in AI skills too.
47% of respondents said IT was the department expected to benefit the most from AI skills, followed by sales and marketing, finance and business operations.
62% of employers expect generative AI to boost innovation and creativity, but only 52% of employees do. The two sides were roughly aligned on automating tasks.