UserTesting launched UserTesting AI, tools that will provide customer experience insights and pain points, and AI Insights Summary, which will use GPT to put verbal and behavioral data in plain English.
AI Insights Summary, outlined at UserTesting's customer conference, is interesting because it enables UserTesting to use generative AI to feel your pain with new designs and experiences. UserTesting provides tools and research to improve product and customer experiences.
According to UserTesting, AI Insights Summary will provide summaries as well as evidence since each insight points back to source video and data.
Constellation Research analyst Liz Miller, checking in from UserTesting's THiS23 conference, said UserTesting's approach with AI Insights Summary can save companies money by limiting rework as designs are tweaked to improve experiences.
"One of the things CEO Andy MacMillan emphasized in his keynote here at THiS23 something that a lot of us in digital experience and design know all too well: the most costly part of the design process is the cost of reworking what didn't quite land as expected," said Miller. "AI Insight Summary is a tool that can help address that issue."
Miller said AI Insight Summary's ability to synthesize multiple streams of data and bring evidence will enable a researcher, marketer, CX or UX team to double click into video and clips from research panels. These drilldowns can provide a lot of feedback and nuances to improve design.
"While lots of 'conversation summary' tools exist today--and many of them have been supercharged thanks to generative AI--this AI tool has also been trained in research," she said. "It is intentionally looking for those patterns, connections and actions. Imagine connecting a summary that outlines what a customer did, WHY they did and how they FELT while they were doing it."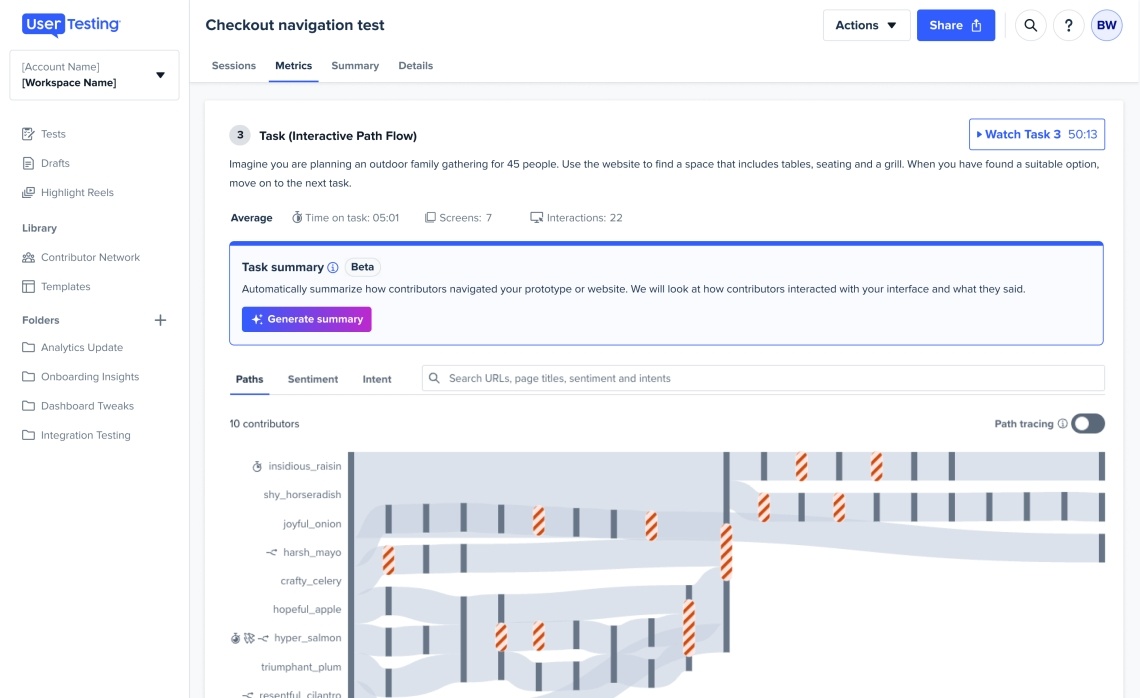 Indeed, AI Insight Summary can show how many users completed a purchase, became frustrated and interacted with images and guides. AI Insight Summary processes verbal, design and behavioral data and then converts it to transcripts to identify anomalies and various findings.
Other key points about UserTesting AI and AI Insight Summary:
UserTesting AI highlights areas for improvement and friction points in workflows and processes in digital experiences.
AI will be embedded in UserTesting AI throughout the states of research processes with a focus on sentiment, intent analysis, interactive path flows and friction.
Research teams can leverage generative AI to focus on more strategic work.
AI Insight Summary is in beta.
Miller added that AI Insight Summary is a good indication of where experience research can go. "These are the complex processes in research and UX research that are ripe for AI innovation," said Miller. "These innovations are allowing designers and product owners to ask very different questions and establish processes where repeatable, trusted and verifiable research insights can just be built into the design lifecycle."