Work coordination platforms have been busy adding generative AI, retooling infrastructure to scale better for enterprises and growing revenue at a rapid clip.
The category is notable because these platforms are a window to how work is actually executed. As a result, these platforms are churning out data that enables enterprises to optimize. As Constellation Research analyst Dion Hinchcliffe has said: "The cornerstone to the significance and value of work coordination platforms is that they are at the heart of the real work that is getting done."
In recent weeks, three key vendors on the Constellation ShortList™ Work Coordination Platforms have reported results and previewed upcoming conferences. Here's a tour and what you need to know about Smartsheet, Asana and Monday.com results.
Smartsheet
Smartsheet reported second quarter revenue of $235.6 million, up 26% from a year ago. The company reported a second quarter net loss of $33.4 million, or 25 cents a share. Non-GAAP earnings were 16 cents a share.
CEO Mark Mader said the company saw strong demand from enterprises for its work management suite. Customers with annual contract values topping $100,000 were 1,665.
As for the outlook, Smartsheet said third quarter revenue will be $240 million to $242 million, up 20% to 22%. Non-GAAP earnings will be between 8 cents a share to 9 cents a share. For fiscal 2024, Smartsheet projected revenue of $950 million to $953 million, up 24%, with non-GAAP earnings of 53 cents a share to 57 cents a share.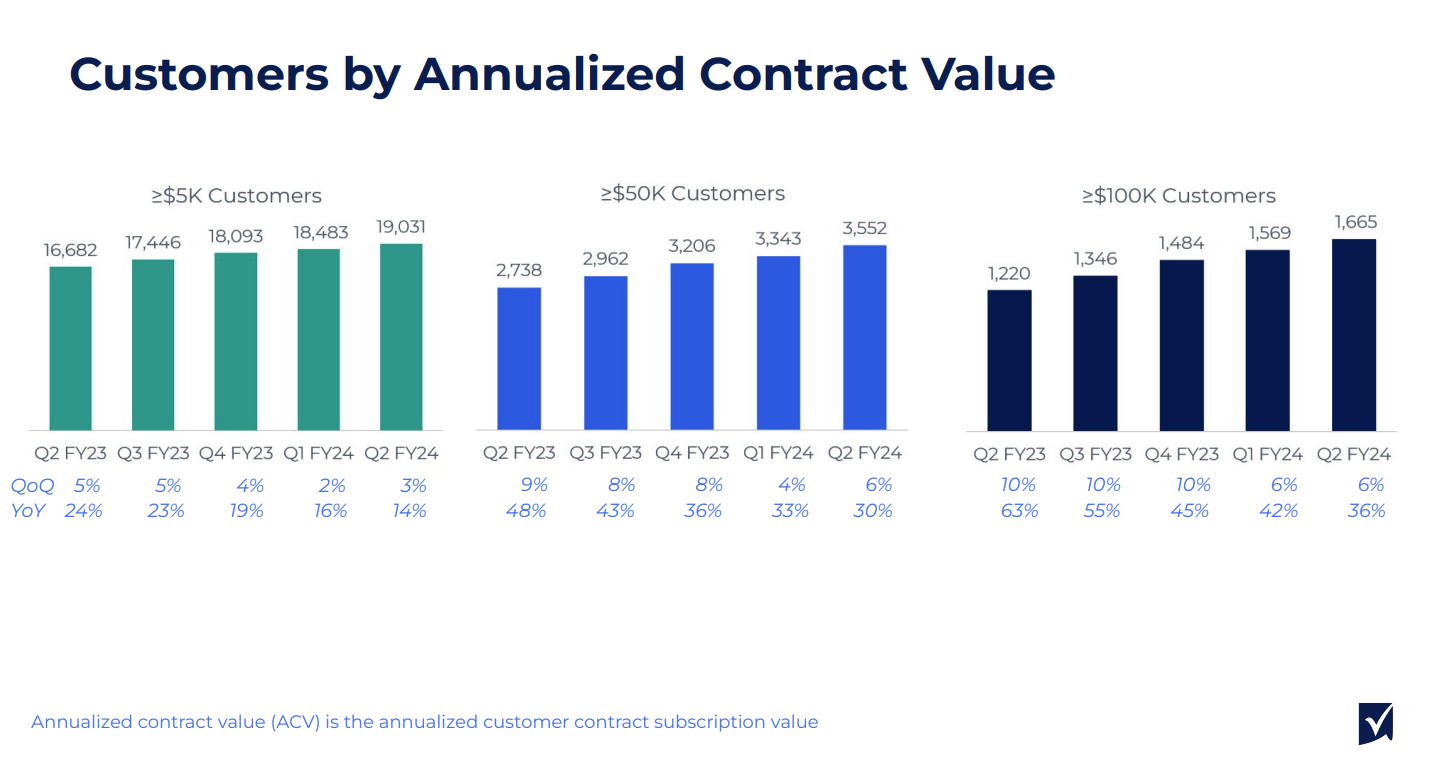 Here's what you need to know.
Momentum. While rivals have cited varying degrees of longer buying cycles and economic concerns, Smartsheet hasn't seen much of a slowdown. Mader said Smartsheet landed expansions with HPE, Airbus, Iron Mountain and Pacific Life. Smartsheet has more than 9,400 enterprise customers defined as companies with more than 2,000 employees.
Smartsheet executives noted that it saw stabilization among enterprise customers, but there is some caution about budgets.
AI. The company has launched a series of generative AI features in beta and plans to outline more at its Engage conference soon. Smartsheet is using generative AI to create charts quickly, write formulas and offer guidance and insights on the fly. AI Assistant and AI Solution Builder are products to watch.
"I do expect over Q3 that number to expand to many thousands of customers who are using this. The things we've heard so far are validating. People are saying that they are seeing a dramatic reduction in cost to doing things like building visualizations with dashboard widgets which is our AI Insights product," said Mader. "And we've started to now also show some of our customers what we are doing on those other premium AI theses around formula building and content generation."
Vision. Smartsheet is using its platform to offer a portfolio of products and capabilities. It has also been focused on scaling as it lands larger enterprises. Smartsheet recently increased compute and cross-sheet linking capacity to 30,000 to 500,000 per sheet to manage more interconnected projects. The company is also looking to automate and enable customers to discover insights and workflows.
Product. Smartsheet said a bevy of products led to wallet share expansion including Smartsheet Advance and Data Shuttle, which allows customers to pull information from disparate data sources to create reports without integrations.
Innovation. Smartsheet's Mader said Engage will be a forum where the company will outline its platform strategy, role of generative AI and scale. Mader said Smartsheet will keep innovating on many fronts to give people a reason to subscribe and get licenses. "We have a huge population measured in millions of people who are actively engaged, who do not pay us today, and we are giving them reasons to subscribe," said Mader.
Asana
Asana reported solid second quarter results with revenue of $162.5 million, up 20% from a year ago. The net loss was $71.4 million, or 33 cents a share. Non-GAAP loss per share in the quarter was 4 cents a share.
The company projected third quarter revenue of $163.5 million to $164.5 million, good for growth of about 16% from a year ago. Asana projected a third quarter non-GAAP loss of 10 cents a share to 11 cents a share.
For fiscal 2024, Asana projected revenue between $642 million to $648 million, up 17% to 18%. The non-GAAP loss for the fiscal year will be between 39 cents a share and 42 cents a share.
Here's what you need to know.
Momentum. CEO Dustin Moskovitz said Asana continues to expand its share at large enterprises, but budgets and seats are being scrutinized with expansion plans being pushed out. Moscovitz said:
"Even with continued macro headwinds and heightened budget scrutiny in the enterprise, sentiment seems to be stabilizing. Customers are looking for ways to consolidate their vendors, getting more ROI out of everything they're doing, and they're turning to Asana. Asana can help them to achieve their goals and objectives more efficiently and faster than ever before. In fact, we have seen an increase in multi-year commitments both year over year and sequentially, in the quarter."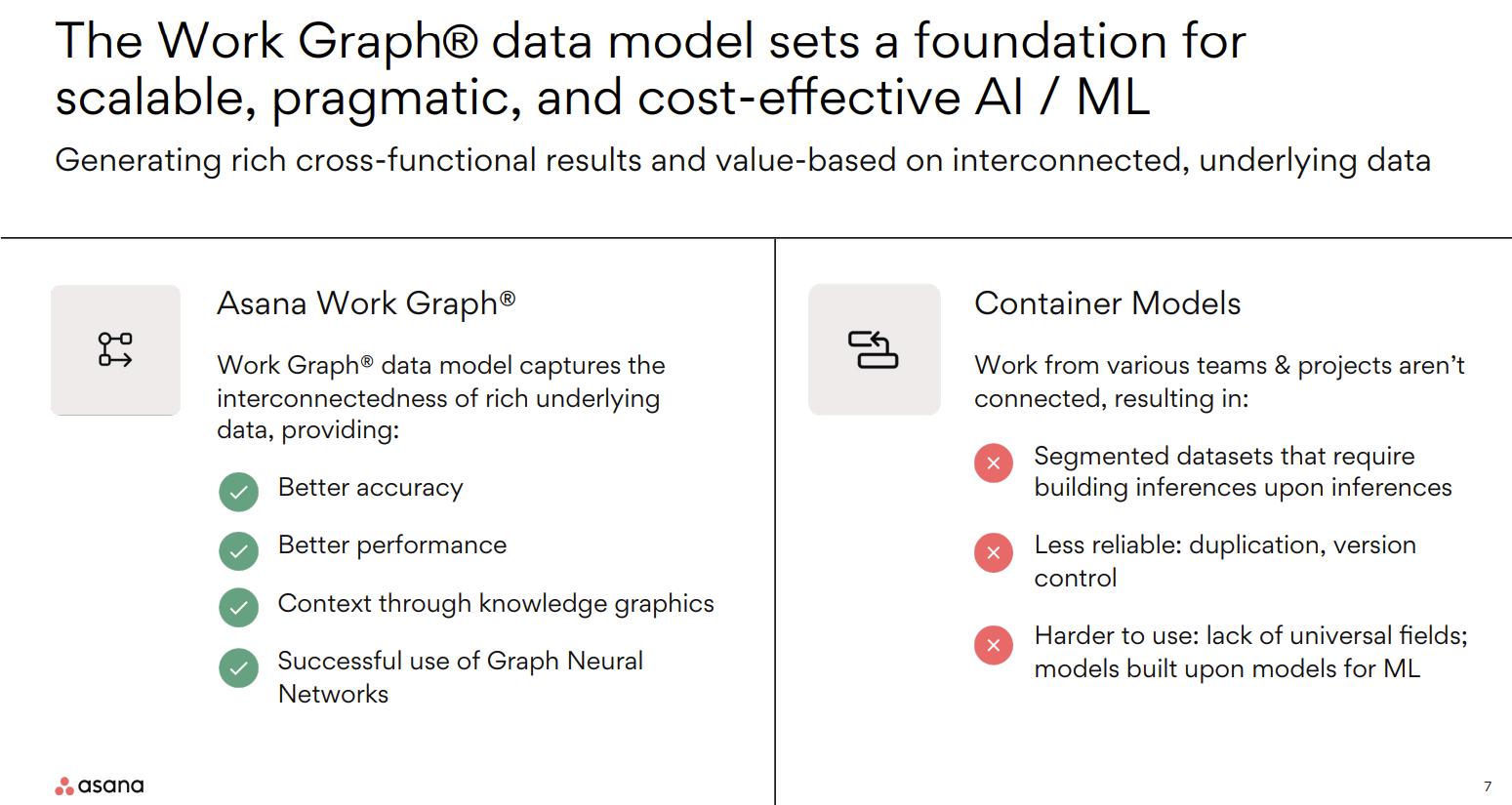 AI. Moscovitz said Asana was bullish on AI but argues that enthusiasm is waning for generative AI. "I believe chatbots are just demos, not really the end game. The real potential of AI is going to manifest when it gets deeply integrated into other software, making it possible for end users to get great results without themselves becoming prompt engineers, and for developers to radically accelerate their productivity," he said.
Vision. Asana's architecture is based on the Asana Work Graph data model and the company is betting that it will become the linchpin to future AI use cases. The goal: Make Asana Work Graph the single source of truth for work data so enterprises will know how work actually gets done.
Products. Aside from Asana's Work Management Platform and the Work Graph, Moscovitz touted Asana Intelligence, which will be a shared map that helps "align human intention with AI guidance." Asana also has scale with a platform that can scale up to 200,000 seats and companywide deployments.
Asana is adding a bevy of new AI features in beta including Writing Assistant, Instant Summaries and Work Organizer. Asana also has goal-based resource management and AI assisted smart workflows on tap.
Innovation: Asana has an event Oct. 3 in new York focused on work management across industries and functions. Asana will also share with customers a Work Innovation Score, powered by the Work Graph and AI.
Monday.com
Monday.com, which is best known for its work operating system, delivered second quarter revenue of $175.7 million, up 42% from a year ago. The company reported a net loss of 15 cents a share in the second quarter and non-GAAP earnings of 41 cents a share.
As for the outlook, Monday.com raised its outlook and projected third quarter revenue between $181 million to $183 million, up 32% to 34%. For 2023, Monday.com is projecting revenue of $713 million to $717 million.
Here's what you need to know.
Momentum. On Monday's earnings conference call co-CEOs Roy Mann and Eran Zinman were upbeat. "Demand from our customers remains healthy," said Mann. The company is adding a more scalable infrastructure to become a multi-product work suite.
AI. Monday has launched an AI Assistant and a series of new AI capabilities including automated task generation, formula builder, email composition and content generation. AI solution builder enables customers to build personalized Monday boards via an Azure OpenAI chatbot.
Vision. Monday.com has rebuilt the infrastructure behind its Work OS platform. It has launched the Monday DB 1.0 to all accounts so customers can load large boards 5 times faster and manage complicated workflows. Monday.com is also building out its developer marketplace to develop more AI applications. Monday.com is also optimizing its interface.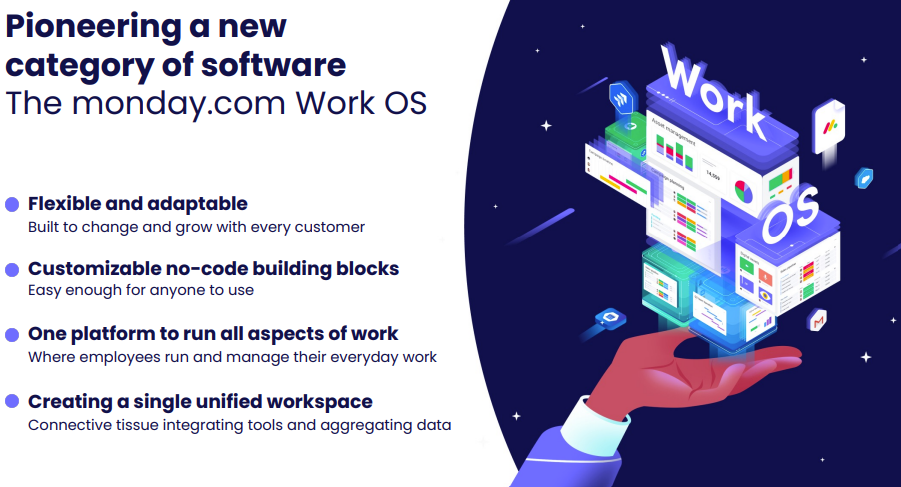 Products. Zinman said the company remains "focused on our multiproduct strategy and ensuring that our products can enable cross-functional collaboration. The company launched Monday CRM, mass emailing capabilities and the ability to reach multiple contacts. Monday Dev has been launched to track bugs and application development. Monday is also adding workflows as an add-on.
Innovation. Monday's plan is to provide an integrated platform that gives enterprises more capabilities and products. Mann said:
"The differentiator we see for Dev and all our products, also CRM and the work management the fact that we are in a platform. The products are built on top of the platform, which allows our customers to shape the solution to whatever they see fit and how their organization works. And we see this as a huge advantage also on deals and with customers when we talk with them, it's a major thing that it's built on top of the Work OS.