Hewlett Packard enterprise saw strong demand in the third quarter for its intelligent edge products and HPE Greenlake.
The company said HPE Greenlake ARR was up 48% in the third quarter compared to a year ago and intelligent edge, also known as HPE Aruba, saw revenue surge 50%.
HPE reported third quarter revenue of $7 billion, up 1% from a year ago, with earnings of 35 cents a share. Non-GAAP earnings for the quarter were 49 cents a share. Wall Street was looking for earnings of 47 cents a share on revenue of $7 billion
Antonio Neri, CEO of HPE, said "demand improved sequentially across all key business segments, with particular strength in our HPC & AI segment." At HPE Discover, the company outlined a bevy of GreenLake additions. The timing is notable since Constellation Research analyst Dion Hinchcliffe recently published a report outlining how CXOs are moving to private cloud models for cost savings. In a nutshell, public cloud providers haven't been passing on savings and encouraging enterprises to move workloads such as AI on premises.
Also see:
HPE has been able to offset slower compute demand with edge computing offerings.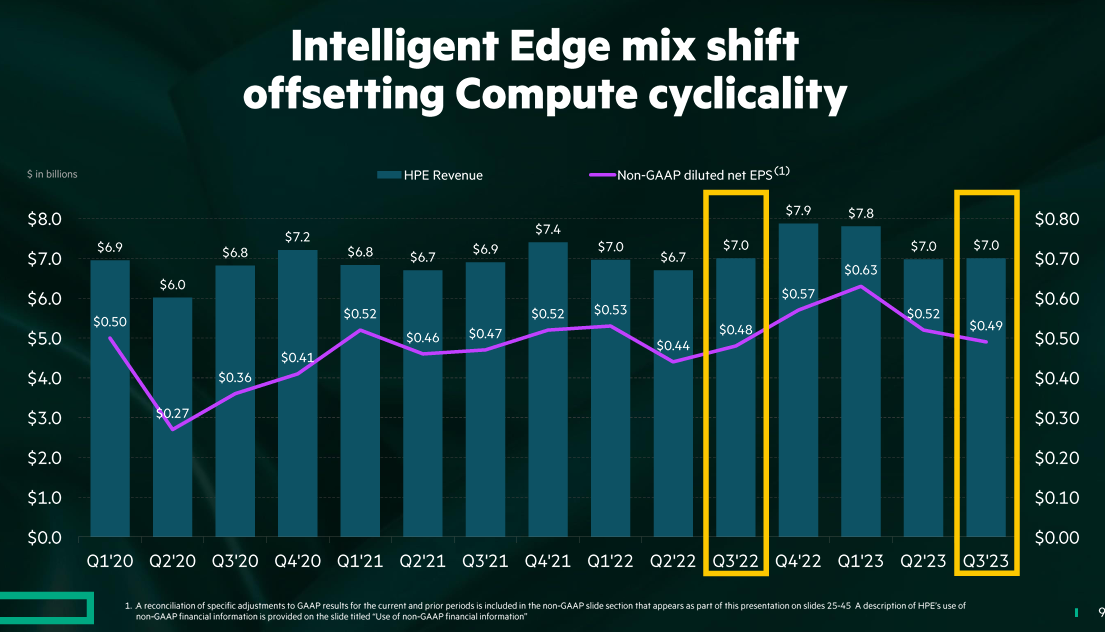 By the numbers for the third quarter:
HPE's intelligent edge revenue was $1.4 billion, up 50% from a year ago.
The company's third quarter HPC and AI revenue was up 1% from a year ago to $836 million.
Compute revenue was $2.6 billion, down 13% from a year ago, and storage revenue was $1.1 billion, down 5% from a year ago.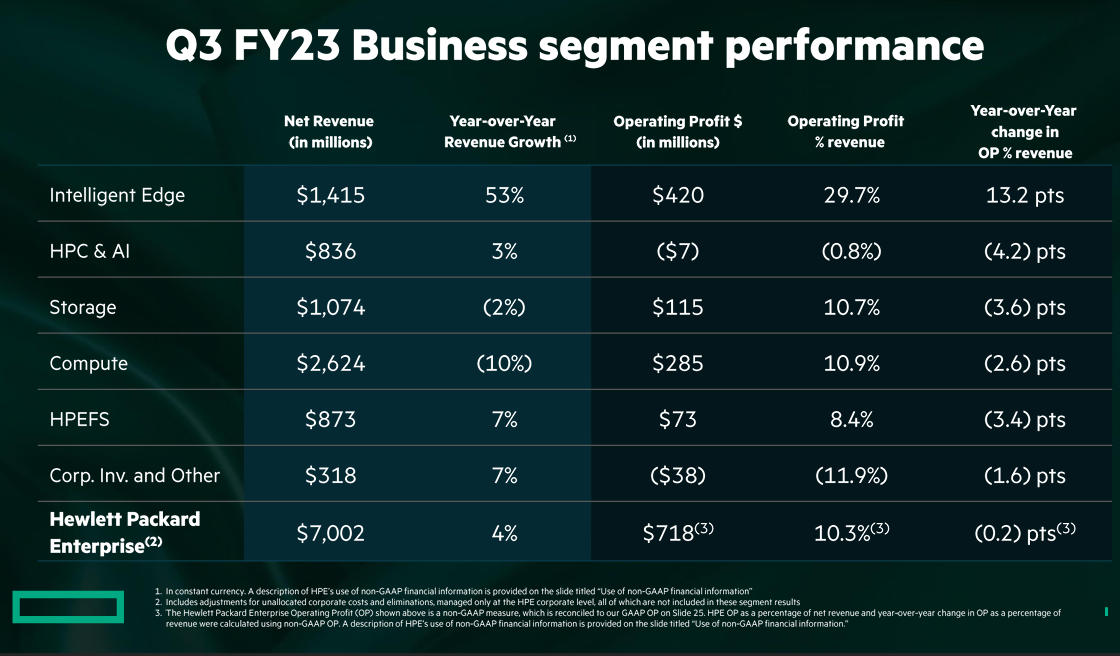 As for the outlook, HPE projected fourth quarter revenue between $7.2 billion and $7.5 billion. HPE said non-GAAP fourth quarter earnings will be 48 cents a share to 52 cents a share. For fiscal 2023, HPE is projecting revenue growth to be between 4% and 6% with non-GAAP earnings between $2.11 a share and $2.15 a share.