Hewlett Packard Enterprise saw strong fiscal second quarter growth from its intelligent edge and high performance computing and AI units as its earnings were better than expected.
HPE reported second quarter earnings of 32 cents a share on revenue of $7 billion, up 4% from a year ago. Non-GAAP earnings were 52 cents a share. Wall Street analysts were expecting HPE to report non-GAAP earnings of 48 cents a share on revenue of $7.31 billion.
As for the outlook, HPE said its third quarter revenue will be between $6.7 billion to $7.2 billion with non-GAAP earnings between 44 cents a share to 48 cents a share. For fiscal 2023, HPE sees revenue growth of 4% to 6% in constant currency with non-GAAP earnings of $2.06 a share to $2.14 a share.
Constellation ShortList™ Digital Transformation Target Platforms
HPE has been pivoting to more of an as-a-service company for software as well as hardware. The company's HPE Greenlake platform now has annual recurring revenue of $1.1 billion and total as-a-service total contract value topping $10 billion.
Antonio Neri, CEO of HPE, said the company's shift to higher margin products is paying off. Indeed, HPE's intelligent edge unit delivered second quarter revenue of $1.3 billion, up 50% from a year ago. The HPC and AI unit had revenue of $840 million, up 18% from a year ago. Compute revenue in the second quarter was $2.8 billion, down 8% from a year ago, and storage sales fell 3% from a year ago to $1 billion.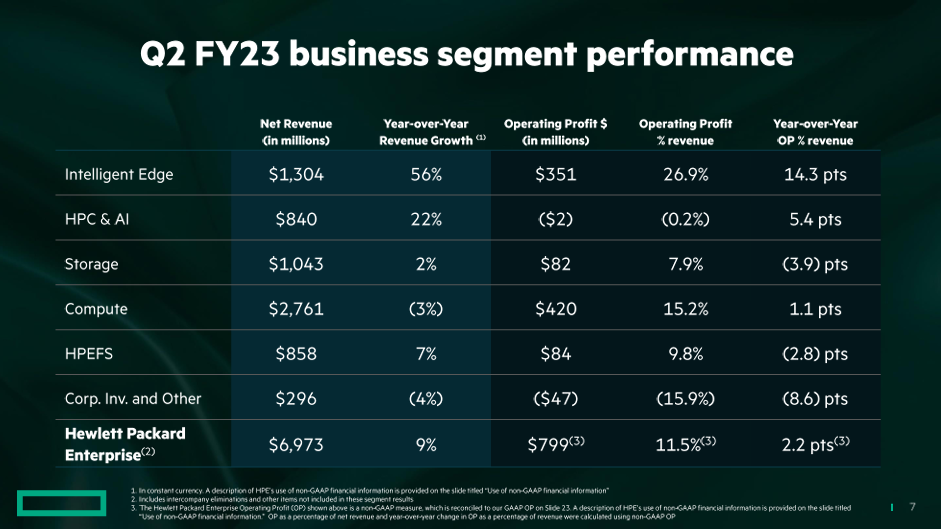 HPE's growth by business unit highlight technology investment trends. For instance, AI is driving HPC systems. HPE's HPC and AI unit delivers standard and custom hardware, software and data management systems for data-intensive workloads. The intelligent edge unit features platforms and services such as wireless local area networks, switching and software defined networking.
Speaking on a conference call, Neri said:
"In the second quarter, we saw some decline in the health of microeconomic conditions, causing unevenness in customer demand, particularly in general purpose compute. We also see unevenness when comparing customer size, industry, or geography. European, Asian, and mid-sized company deals are holding up better than expected, while large enterprise businesses and customers in certain sectors such as financial services manufactured in North America have been more conservative with our spend.

In the last few months, sales cycles have elongated because customers are more reluctant to quickly commit to large projects or some will seek additional internal approvals at the time of the order. We continue to focus on our soft processes to accelerate closing deals wherever possible."
Constellation Research analyst Holger Mueller said:
"HPE had a solid quarter, doing better than a year ago (4% up), but worse than last quarter (11%) revenue wise. Double digit less revenue in Compute, HPC & AI as well as Storage did not help Antonio Neri and team. But with good cost control, and even a reduction in cost of sales as well as total costs and expenses, both ToT and QoQ, show a better earnings per share  than a year ago – now all eyes are on Q3."
Among the takeaways:
Intelligent edge and HPC and AI units are now 30% of revenue.
Compute is 39% of HPE's revenue.
87% of HPE's second quarter operating profits were via the intelligent edge and compute units.
HPC and AI's order book is topping $2 billion in awarded contracts. HPE has four of the global top 10 supercomputers and three of the top 5.