Wayfair saw breakneck growth three years ago and an ensuing hangover that required a focus on operating margins and execution, but a technology transformation has the company thinking big again. The to-do list: build out a flexible technology infrastructure, drive revenue while saving the business money, and leverage years of experience in data analytics, artificial intelligence, and machine learning to create generative AI use cases.
During the COVID-19 pandemic, Wayfair became a home goods retailing giant as loyal customers and new ones outfitted home offices and decor. The numbers tell the tale. In 2020, Wayfair revenue surged to $14.1 billion from $9.1 billion in 2019 and it ended the year with 31 million active customers and 61 million orders delivered. In 2021, Wayfair revenue was $13.71 billion with 27 million active customers and 52 million orders delivered. By 2022, Wayfair revenue was $12.2 billion with 40 million active customers and 40 million orders delivered.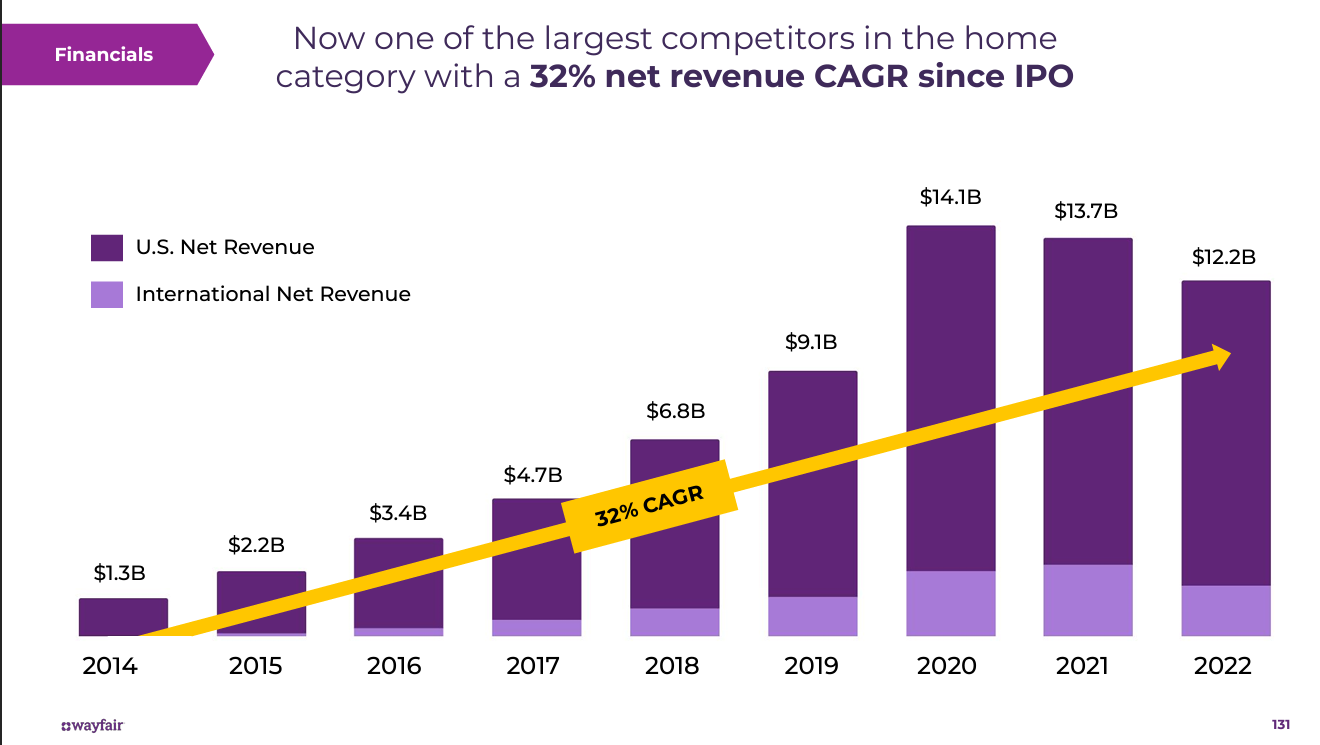 Niraj Shah, CEO of Wayfair, said 2023 was about returning to profitability, becoming more efficient, and investing in growth. On Wayfair's third quarter earnings conference call, Shah said, "I'm confident the overarching theme of 2023 will be execution. Our team came into this year with a plan, a plan to see our core recipe return to form, to return our business to profitability, and to continue pushing our major growth initiatives forward."
Get this customer story as a PDF
Indeed, Wayfair is delivering positive free cash flow and improving its active customer metric. Shah said Wayfair's plan is to "nail the basics--driving customer and supplier loyalty and cost efficiency." He added that Wayfair is focusing on what it can control, such as costs, amid a volatile economy and moving the needle on active customers, order values, repeat orders, and market share.
The average Wayfair shopper places about two orders per year totaling about $540. "This shopper isn't someone that's typically refitting an entire room or house but going through their home item by item, project by project making small updates on a much more frequent cadence," said Shah. "If our customers stay in their homes for longer, we're well-positioned to be their retailer of choice the next time they decide that they'd like a new lamp for the living room or want a new set of chairs for their dining table."
Shah said Wayfair's growth trajectory revolves around its specialty and luxury brands, international efforts, physical retail, supplier advertising, and professional services. Wayfair will be vigilant about the returns on these efforts relative to the investment thesis. "Even with a turbulent macro, we remain committed to being adjusted EBITDA profitable in good times and bad," said Shah.
Technology and business alignment
For Wayfair Chief Technology Officer Fiona Tan, a Constellation Research BT150 member, business alignment with information technology is critical--especially as conditions change. In an interview with Constellation Insights at Connected Enterprise, Tan said Wayfair's migration to the cloud paid off well during the COVID-19 pandemic since it was able to scale up when demand spiked.
Nevertheless, Wayfair, founded in 2002, invested heavily in supply chain, logistics, and scaling as demand surged in 2020. Wayfair wasn't alone as many pandemic winners invested in people, technology, and infrastructure only to scale back later.
"As we've seen the category pullback, it's been a good forcing function to make sure that we're going back to really being proficient with our costs, not only from a technology perspective, but also from an operational perspective," said Tan. "We've been able to focus on growth and profitability in a home market that's still depressed. The fact that we're able to grow our market share in this environment will really set us up well when people start buying more for their home again."
Tan said her team's goal is to work with the business to ensure Wayfair has the "right platform and infrastructure from a technology perspective to enable us to continue to grow in a flexible, scalable, and lean way," said Tan.
As of Wayfair's Investor Day in August, the company said it had more than 2,000 people focused on technology out of more than 13,000 employees.
Tan added that Wayfair is fortunate that it is a digitally native company when it comes to business and operations. "I think a lot of our stakeholders also realize that tech enablement of the business is super important," said Tan. "We're always very focused on the customer experience and what outcomes we're trying to drive."
Wayfair's platform also has to accommodate a model that aggregates suppliers on the back end, retails the product to the customer, and fulfills the orders. This orchestration means Wayfair has to be skilled at merchandising and curating products, fulfilling orders, and shipping and handling expensive, large items.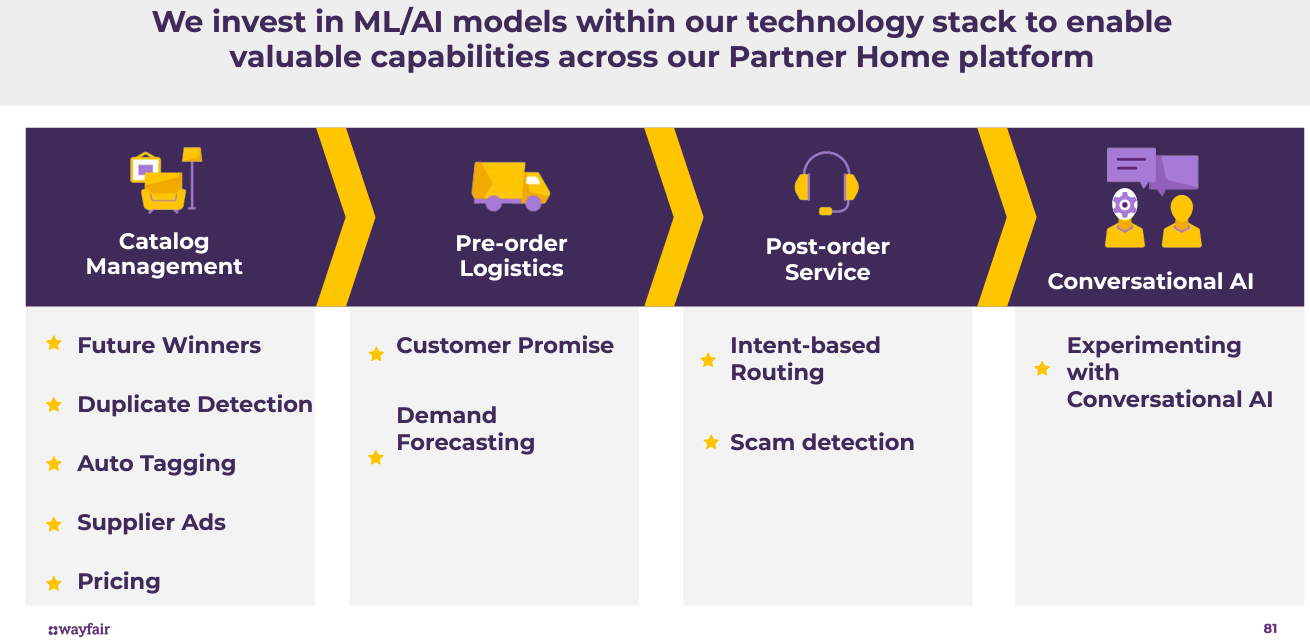 Tan's technology organization is improving customer experience by helping to deliver the right products at the right price at the right time, leveraging available technologies, and using analytics powered by artificial intelligence and machine learning. Her team also works on marketing technology and generative AI use cases powered by Wayfair's first party data.
In addition, Wayfair has to continually cut technical debt. "We've been doing a lot of work to pay down some of our technical debt," said Tan. "We also see some cool things that were written a long time ago with old code that can potentially reused."
The tech, data, and customer journey platform
Tan said the technology platform behind Wayfair's business is built around data driven insights, AI, and machine learning to create a personalized shopping journey and seamless experience for customers and suppliers. The main characteristic of Wayfair's technology platform is that it must be flexible.
"Everything we do with the tech platform has been custom built to enable our end-to-end customer journey," said Tan, who also said Wayfair's tech transformation is currently in flight and critical to scaling revenue going forward. "Our tech transformation encompasses both organization and technology improvements and we want to make sure that we're going to be able to build a world class platform while creating an environment where our teams can do their best work."
To date, Wayfair has moved from a monolithic model to cloud native microservices on Google Cloud. The move has enabled it to deploy and scale capabilities faster while being easier to maintain, she said. Moving to the cloud and a microservices model has enabled Wayfair to integrate machine learning, AI, and generative AI into the platform for everything from forecasting to marketing to UX.
Tan added that Wayfair is using Google's large language models for semantic searches and machine learning to help customers find products when they aren't exactly sure what they're looking for. "There is a considerable amount of machine learning that's powering the customer journey," said Tan.
On the supplier side, Tan said Wayfair uses machine learning to help suppliers automate and manage pricing, inventory merchandizing, and post-service needs. . "With machine learning, we are actually able to extract, augment, and correct the information that we get from our suppliers," said Tan.
Technology drives experience
At Wayfair's Investor Day, Steve Conine, Co-Founder and Co-Chairman with Shah, said technology impacts every facet of the company's business including experience. "We have a massive product catalog and one of the things about home is it is shopped differently. It's very emotive and people often can't tell you exactly what they want, but need to be led to a solution," said Conine. "We've invested a lot in trying to figure out how do you help rationalize a massive catalog and make it exciting for consumers to shop."
Conine, who was CTO for Wayfair's first decade, added, "80% of ecommerce is really the operation side of it and it is very easy for us to throw up a website that promises everything's in stock and going to ship same day and be delivered to you seamlessly. It is very hard to durably deliver that and make it seamless to a customer. You come on and it feels just like the shopping experience you expect. To make that happen is really what differentiates great retailers from mediocre retailers or retailers that go out of business."
According to Paul Toms, Wayfair Chief Marketing Officer, the customer experience is designed to address multiple life stages, budgets, and ages. "It could be everything for your first dorm room, really reflecting who you are and who you want to be when you go away to college or could be an empty nester couple who are redecorating their child's room and turning it into a guest room. And anything in between and frankly after," said Toms.
Data informs how Wayfair approaches different emotional states, financial needs and constraints, and life stages. "We want them to have good feelings about Wayfair early so that as they grow in their spending power, size of their home, or size of their family that they're thinking about Wayfair as being there for them along that journey," said Tams, who noted that Wayfair has 85 million contacts and can disintermediate media companies and talk to people directly.
Wayfair has a proprietary attribution and measurement platform called Themis, which aggregates customer history and offline activity and allocates incremental revenue to each touchpoint such as Google, Instagram, Facebook, Pinterest, and TV. Tams said Themis is powered by more than 4,000 machine learning models and 5 years of continuous investment.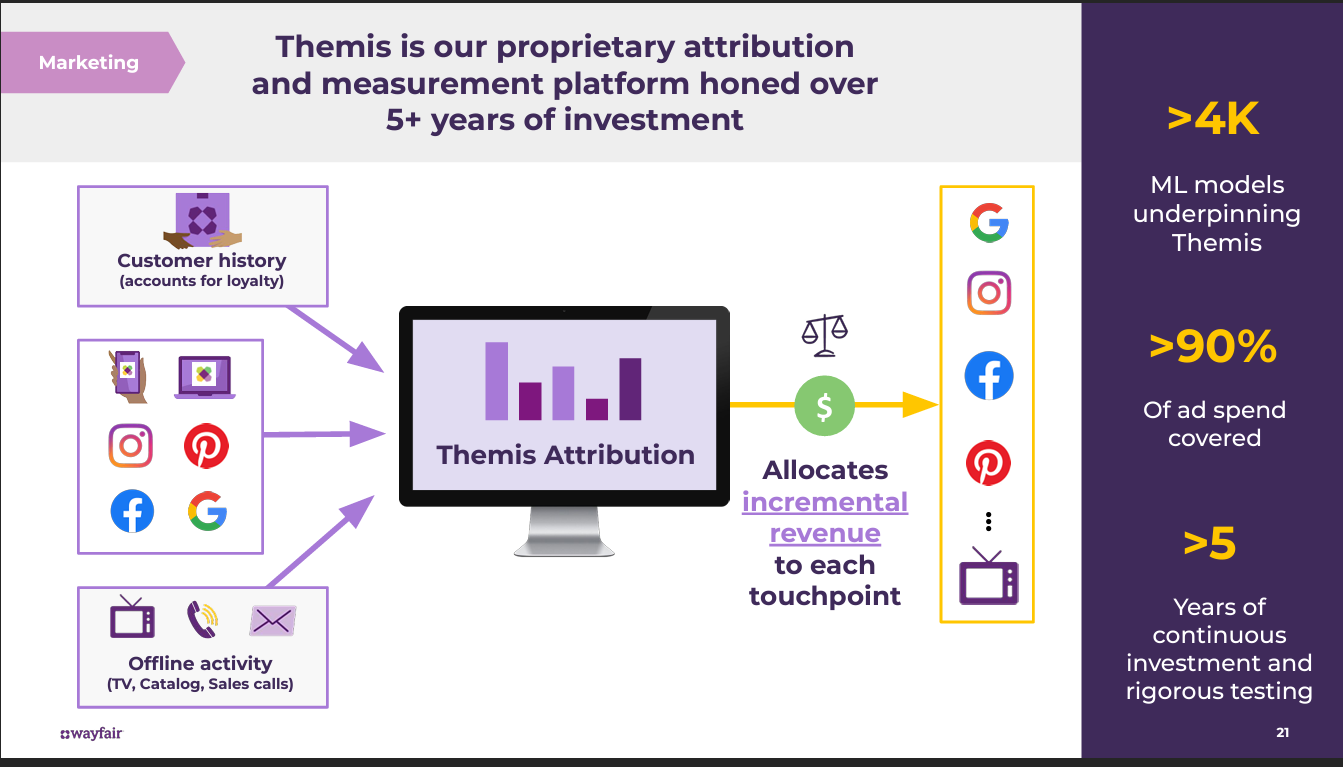 Once the connection to a customer is made, Wayfair's merchandising engine kicks in where the retailer along with supplier partners identify the highest potential SKUs, merchandise them well with images and reviews, and show those products across various touchpoints.
"It starts with identifying the best items and the highest potential skews in our catalog. This is not just today's winners, but tomorrow's winners. We do this with both algorithms and merchants. So, we have human eyes on all of these products," explained Liza Lefkowski, Vice President of Curated Merchandising, Brands and Store at Wayfair.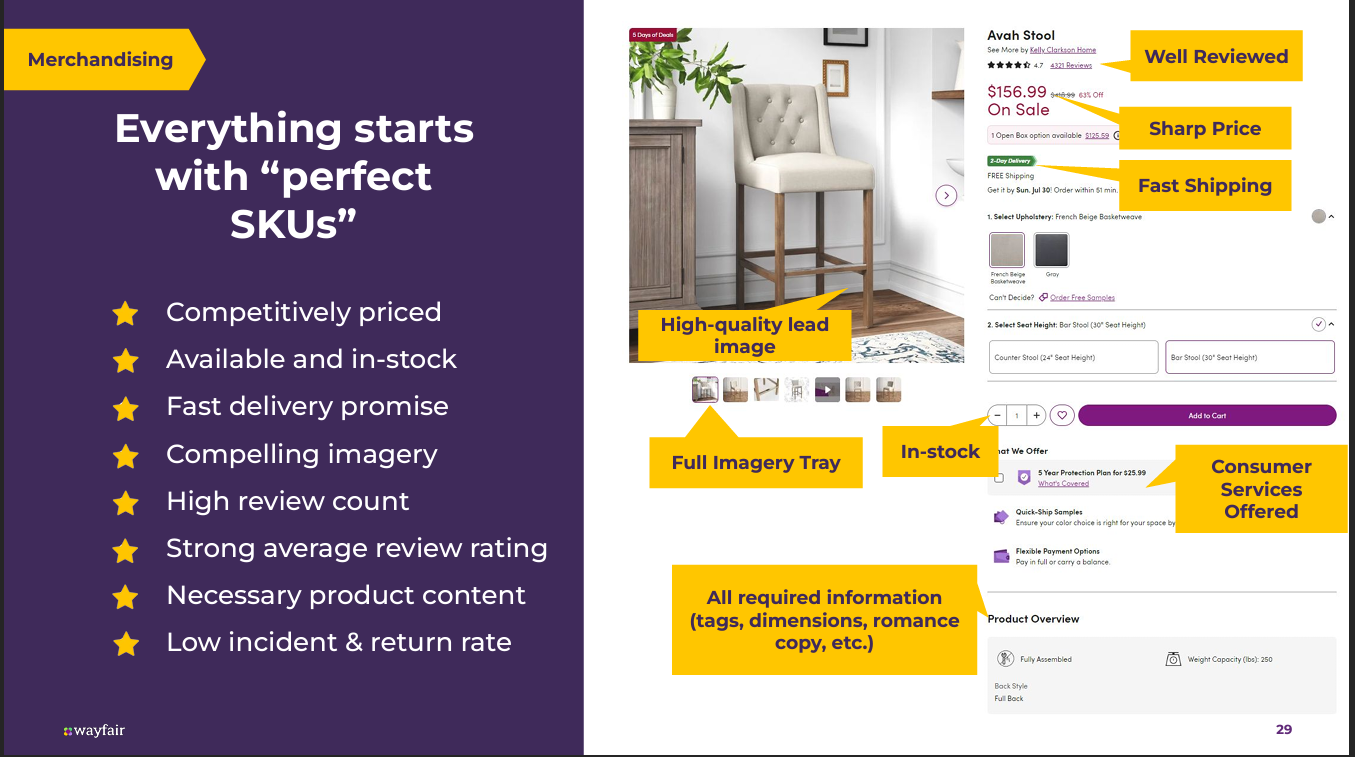 Lefkowski, speaking at the company's Investor Day, added that Wayfair is opening physical locations to serve as retail labs where it has staged floor sets for every department.
Pricing also matters and Wayfair tests and models price levels to create optimal margins while competing in the market.
Once a sale closes, Wayfair's proprietary supply chain takes over. "We built that supply chain because we truly believe it is core. It is a key enabler for the business. And without that supply chain, we are not able to provide the quality, the convenience, and the cost base for the business to be successful," said Thomas Netzer, Wayfair's chief operating officer.
Wayfair's proprietary supply chain capabilities include in-house logistics, partnership management, and information management. Wayfair has also invested in robotics and algorithms designed to cut costs with "profit aware sorts," which prioritize products with low costs and low incident rates delivered at high speeds. Wayfair has more than 70 initiatives in supply chain designed to save more than $500 million.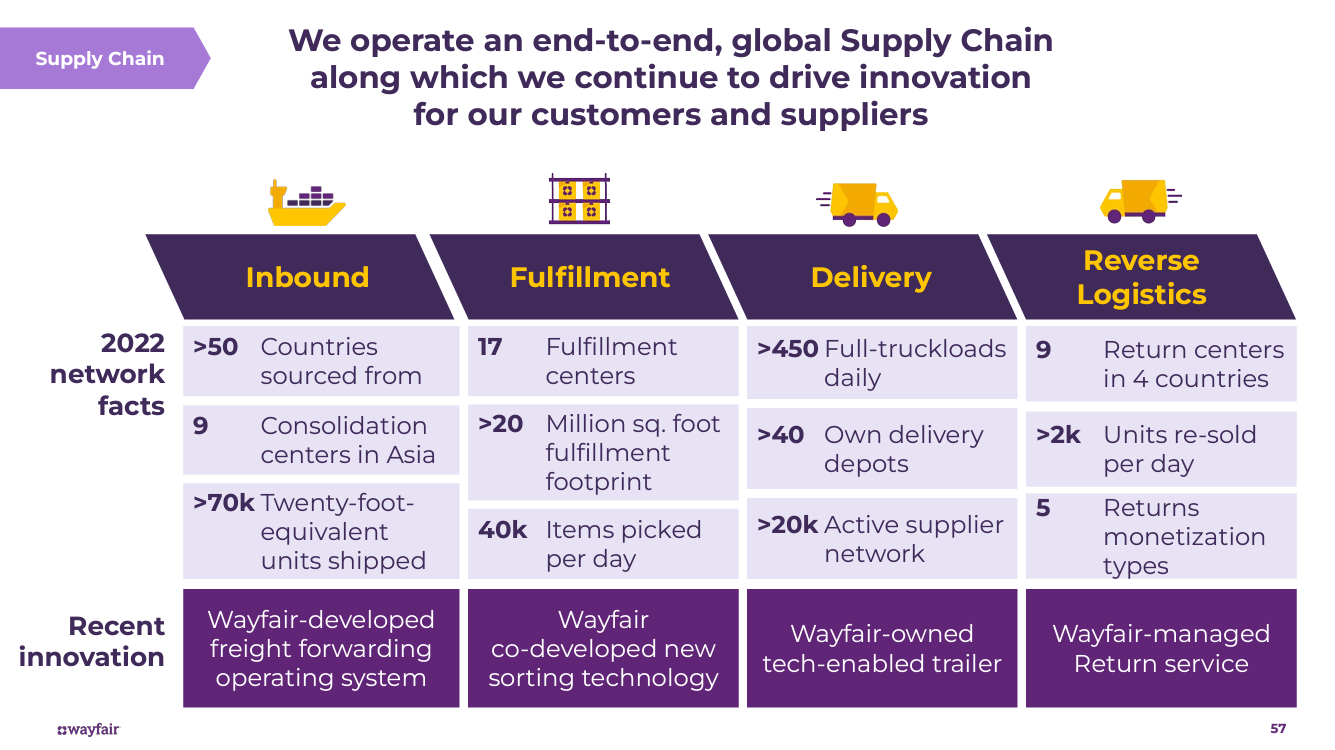 Closing the experience is a sales and service team that is broken up into specialties to guide customers to the best items for their homes. Wayfair has more than 3,000 sales and service agents behind more than 15 million interactions a year. Machine learning and AI drive everything from intent identification to channel routing, agent matching, and follow-ups.
What's next?
Tan said the biggest item on her 2024 to-do list is enabling Wayfair's transformation by enabling new capabilities such as experiences powered by generative AI and large language models.
"I think there are going to be some interesting changes to how customers interact with their user experiences," said Tan, adding that the home category requires new experiences. "It's an interesting category where you can filter with visual searching and conversational searching together. I think that's interesting for us because it's both text and imagery on Wayfair."
At Wayfair's Investor Day, Tan said the company is looking at generative AI "in a very pragmatic way." Specifically, generative AI use cases are framed around experiences and productivity. Wayfair also has a framework for generative AI use cases based on whether there will be a human in the loop to evaluate output before going to a customer or supplier.
One proof of concept revolves around customer sales and service and generated response text. Results have shown a reduction in call resolution time as well as improvements in agent productivity and customer satisfaction, said Tan. Another effort revolves around developer productivity using Microsoft GitHub CoPilot as well as Google's Duet AI. "We are excited about how some of this code completion and generative code can actually help accelerate our tech transformation efforts," she said.
Tan also said that generative AI can play a role in the customer design experience. There are tests with customer facing generative AI in controlled environments. "We believe that some form of conversational search or AI guided assisted shopping will become prevalent in the next couple of years," said Tan. "Our goal is always to make sure that our search experience is the best in the home category. So, customers come to us first and come back whenever they want to search for something for their home."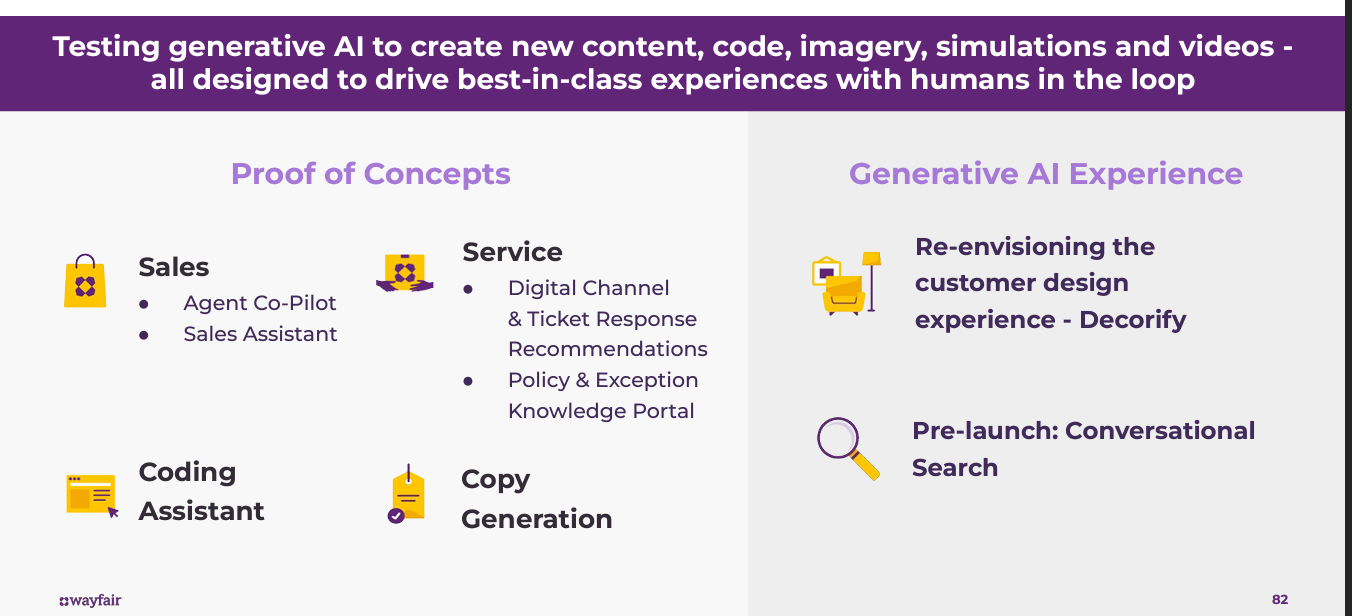 Generative AI can also be used for the design experience so customers can imagine spaces and style preferences by combining text and images and create photorealistic spaces just based on uploading a picture of a room.
"We believe that we have multiple distinct advantages when it comes to our ability to win using generative AI. We have a very large, rich, and proprietary first party data set that is unique to us and can be used to fine tune and train these foundational LLMs specific to our use cases," said Tan.
According to Tan, Wayfair can leverage pre-trained models as a service and then tailor them to use cases. "Our ability to figure out good use cases for this capability is going to be important," she said.
Wayfair's technology strategy in recent years has revolved around digesting an investment surge and then becoming more efficient. Going forward, Wayfair's technology focus will be more on experience and the art of the customer journey. "We'll really be focused more on the art and that'll be an emphasis as well," said Tan.
In any case, Tan said Wayfair's technology platform will be ready.
Watch the full interview here: