The week before IBM Connect 2016 I wrote about the things I hoped to hear IBM address at their annual collaboration-focused conference. At that time I summarized my thinking with "I look forward to this new rebooted IBM Connect. I believe it will pay homage to the past while forcing an awakening for the future." Having returned from the event I can now definitively tell you, it did just that.

In this post I will look back at each of the points I brought up and how IBM did in each. For those looking for some quick take-aways, here's are some high-level thoughts:
IBM Connect 2016 was the best IBM collaboration event in several years. It was filled with positive news (as a conference should be) but I am worried that once the shine and polish of the event wears off, things will go back to normal. We've all witnessed IBM over commit and under-deliver before. I won't say I have no faith in IBM to deliver, instead I'll say I challenge them to prove they can. I think IBM learned a lot about the design processes, marketing, and product delivery over the last year with Verse. Insert the cliche of your choice, "Fool me once, shame on you. Fool me twice, shame on me." , "One bitten, twice shy", etc. Hopefully, this time around things will be different. They have to be, because there isn't a third chance.
The most important news of the entire conference came at the end, when Inhi Cho Suh was announced as the new GM of IBM Collaboration Solutions (ICS). Note the word collaboration is back, no more "social". For those of you unfamiliar with Inhi, she's one of the driving forces behind 30+ acquisitions that IBM has made in the data and analytics space. Most recently, she was in charge of the Weather Channel acquisition. IBM placing Inhi here shows serious commitment to getting ICS back on track.
While there was very little in the way of product announcements (seriously if another IBM tells me that Connections now has nested folders I am going to scream) Verse and Connections showed improved user experiences, new integrations with partner applications, and glimpses of how they will leverage IBM Watson's "cognitive" capabilities to help automate common tasks to help people get work done. Connect 2016 was more about what's coming and less about what's available now.
IBM has started working on a new collaboration tool, currently called Project Toscana, which seeks to provide a more modern take on how people perform core collaborative tasks such as sharing images, videos, files and notes, creating project teams, answering questions, etc. than IBM's current offerings. Think of it as "if you were going to build a collaboration app in 2016, where would you start" as opposed to "what should we add/change to our decade old platform."
Terms like IBM Watson, IBM BlueMix, Cognitive Computing and IBM Design are everywhere. It's a new vocabulary for some of the long time attendees/customers, but necessary to learn if you plan on proceeding in the ICS world. Long time customers and partners, don't expect a lot of news around Notes/Domino. IBM is certainly not ending them, but they are not the core of ICS's future. Verse is the new email client. BlueMix is the new platform for building collaborative applications. Toscana is (could be) the new Connections.
Now let's dive into detail about the points I made before the conference. You're going to see below that the individual scores are not that great. However, I don't want them to take away from the fact that IBM Connect 2016 was a good event and for the most part very positively received by the customers and partners I spoke with. That said, as an industry analyst I don't just experience one event a year or deal with a single vendor. My ranking are based on my knowledge of the industry as a whole and provide IBM guidance on where they need to improve.
Vision - First and foremost, I want to sit in the audience and pretend I have no previous knowledge and see if I leave with a clear understanding of how IBM helps personal productivity and team collaboration (both internal and external). I want to hear how the IBM collaboration tools fit into the larger IBM vision, not just how other parts of IBM (like Watson and BlueMix) are helping collaboration. How does collaboration fit into cognitive computing? How does collaboration fit into application development? Not the other way around. Microsoft has made their vision clear, "Reinvent productivity and business process in this mobile-first, cloud first world". I'd like to see something like that from IBM. I know IBM's company vision revolves around the Cognitive-era, so I expect we'll be hearing a lot about this at Connect.
Score (7/10) - As expected, IBM did a good job of explaining that cognitive computing is the way forward for the company. After all, Watson is currently one of their main differentiators. Other vendors such as Microsoft (CNTK) and Google (TensorFlow) certainly have their own Artificial Intelligence tools/platforms, but they are not household (or should I say boardroom?) names the way IBM Watson is. I would have liked to have seen more indications of how ICS is important to IBM, not just how other IBM technologies play a role in ICS. For example, IBM has made a big deal of their partnership with Apple to create iOS business applications. Why not embed collaboration into all of those and show them off at IBM Connect?
IBM showed two new projects that show the direction they are taking. The first called Orient Me, revolves around their existing Verse and Connections products. Orient Me is user experience that:
Adds the "Important to me" banner that is currently at the top of IBM Verse to IBM Connections
Expands "Important to me" to include groups (rather than just people)
Adds a new Action Centre that shows notifications, outstanding tasks and favourite items
Provides a new home page for all of IBM's cloud offerings that surfaces the content that is most important to each person. For those of you familiar with Microsoft Delve, Orient Me provides similar functionality. For example, if you log on it may show you all the people, pages, posts and files associated with a project that you're currently working on, even if those objects are spread across a variety of IBM Connections communities.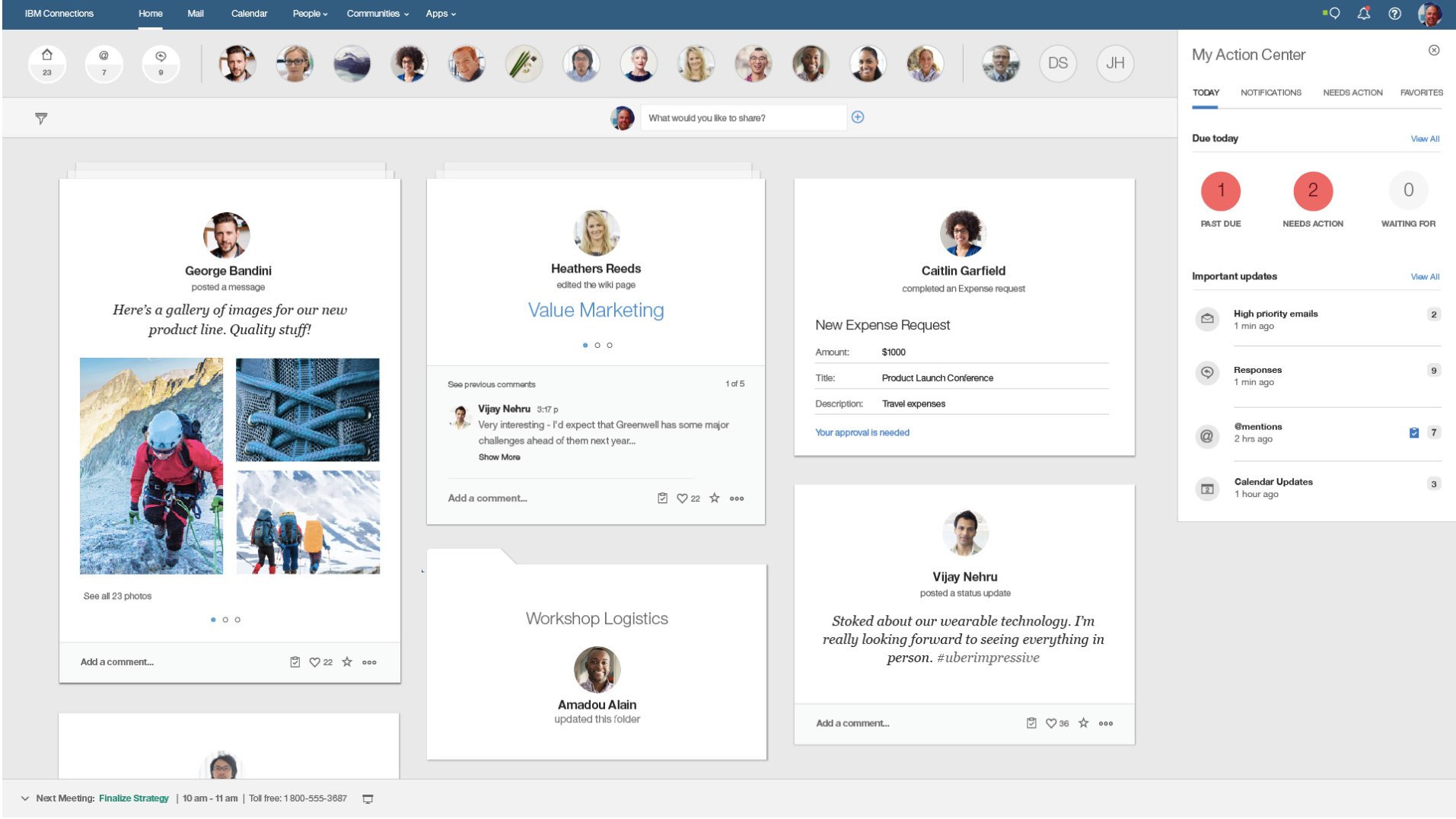 The second is called Project Toscana. Toscana is the result of IBM taking a look at the core collaborative functions that people do such as sharing statuses, asking questions, sharing files and creating content, and reimagining how you would assemble those into a product if you were starting today. To put it simply, IBM Connections is showing it's age and seams, and Toscana is a way to modernize the collaborate elements of IBM's portfolio by reassembling them in different ways. Toscana will also allow developers and 3rd parties to add new features and functions.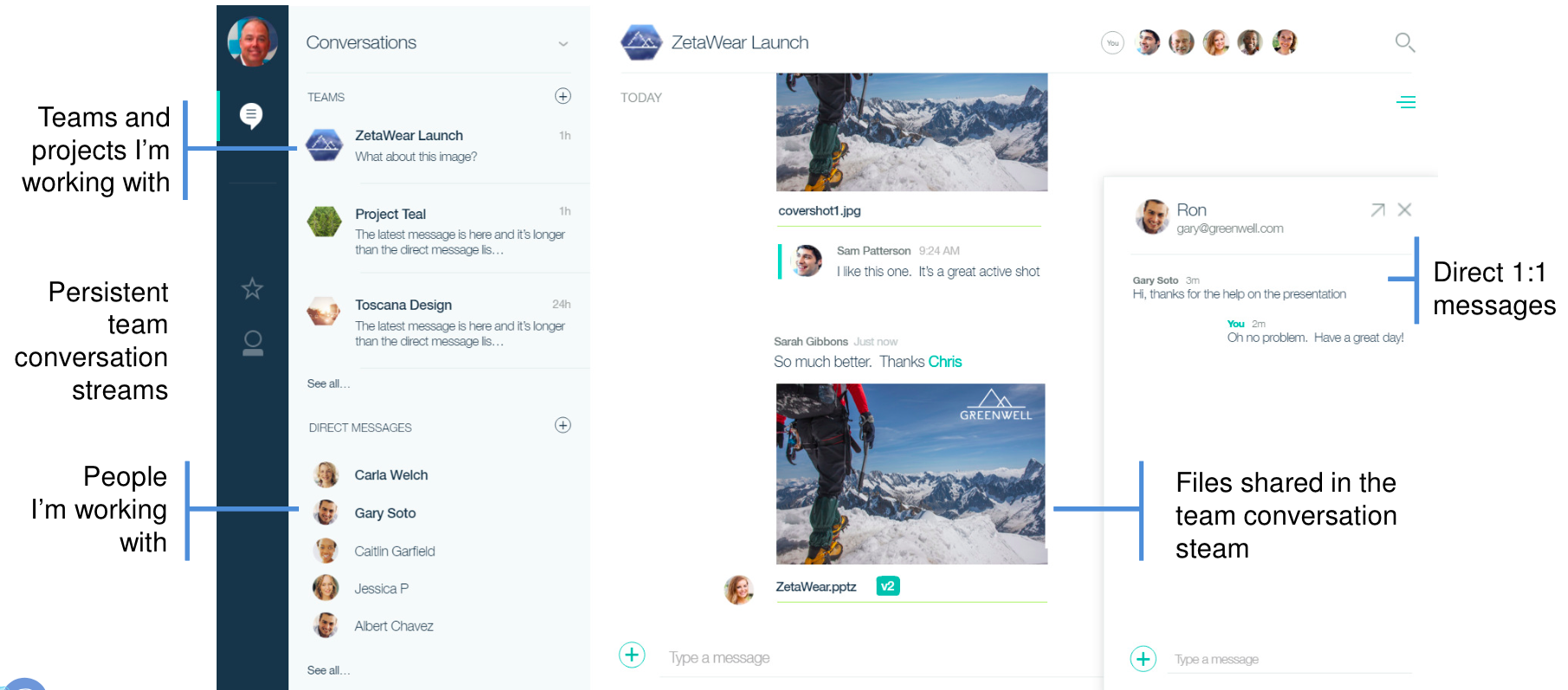 As part of Toscana IBM also showed a lightweight collaborative document editor. While this is nice, IBM is way behind Microsoft OneNote, Evernote, DropBox Paper, BoxNotes, Google Keep and several others in this area.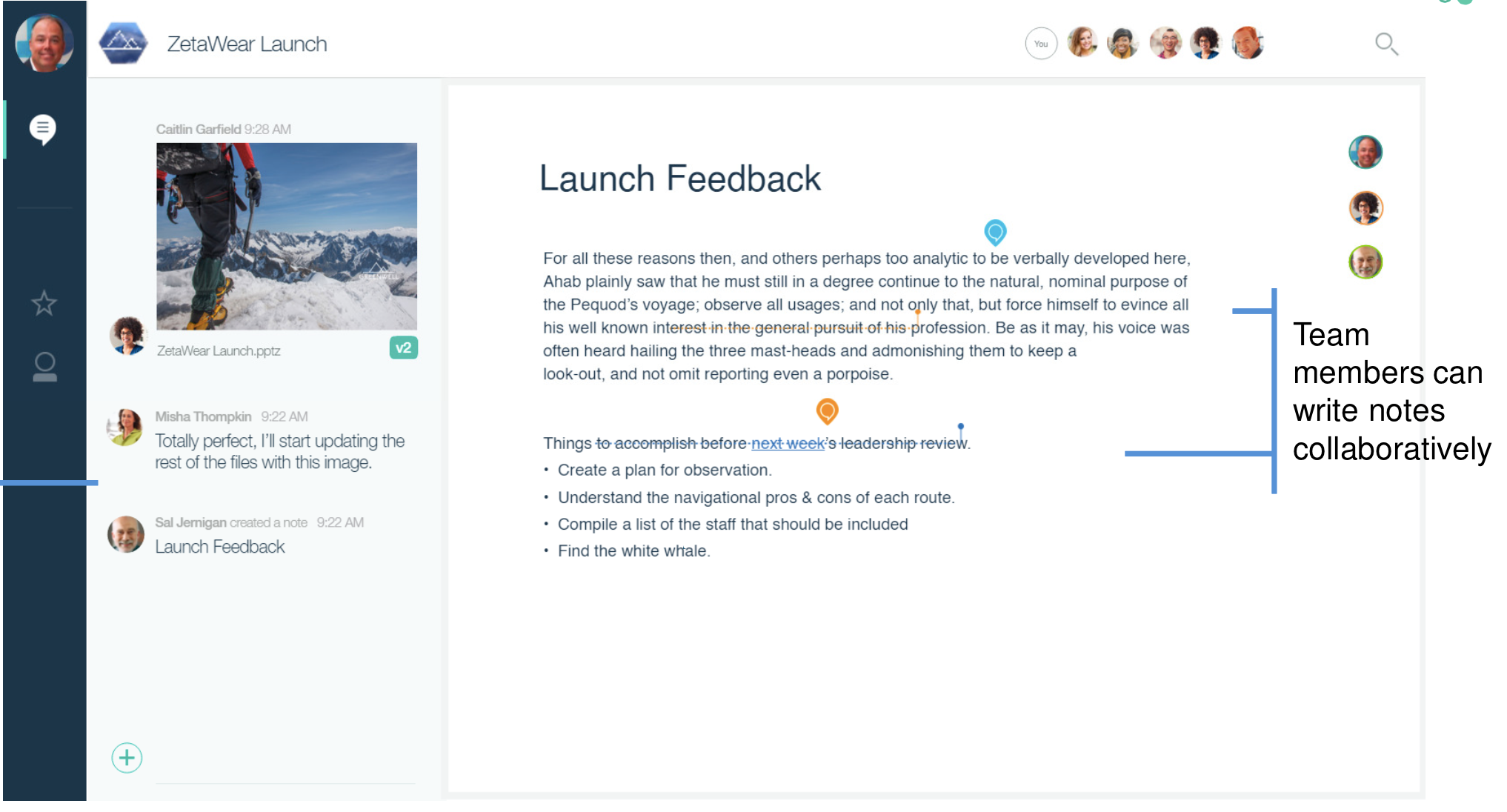 My thoughts: Over the next few years IBM could bring together Verse and Connections into a single product, surfaced with the work they are doing in Toscana. Instead of multiple products with multiple user experiences, Toscana could be the single communication and collaboration platform from IBM. No more Notes/Domino/Verse versus Connections versus Sametime versus IBM Docs versus IBM Files, etc, etc, etc. Just one tool that adjusts to the context, needs and preferences of the person using it.
Customers - I want to hear new customer references. Big ones. Name brands. Not upgrades. New customers. Nothing proves success like customers.
Score (7/10) - IBM did an ok job here. The marque customer of the week was Lufthansa Group, who will be deploying IBM Connections to 120,000 people, 40,000 of which are switching from Jive Software. They also mentioned Flex Contact Center which will be deploying IBM Verse to 11,000 employees. Also long standing customers like Bosch, TD Ameritrade, Colgate Palmolive and others presented on their deployment. This is a very important area, especially with Facebook already citing Royal Bank of Scotland, Caldwell Banker, Club Med, Heineken and Lagardère as customers and their product has not even shipped to the public yet.
Business Partners - One of the keys to Microsoft, Google, Salesforce and even Slack's success is size and momentum of their business partner ecosystems. These vendors have a large number of companies building addons and integrations for their tools. Those vendors each have robust application catalogs/stores/marketplaces that enable people to extend their products with a few simple clicks (and maybe a credit card). In almost every product briefing I am in new products support "Exchange and Gmail" or "work with Office365", but I very rarely hear IBM mentioned. I'd like to learn if IBM Verse and/or Connections has made any progress in these areas.
Platform - Similar to the point above about add-ons, what is IBM doing to help developers build stand-alone collaborative applications? The IBM application platform is BlueMix, I hope to leave with a good understanding of how developers use it to build collaborative applications. Vice versa, what components of IBM collaboration can be embedded into other applications? What incentive do developers have to build on IBM technologies versus Salesforce1, AWS, Azure, etc?
Combined Score (5/10) - IBM did a nice job during the keynote of highlighting integration with Box and Salesforce, two very important partners. While several times during the week I saw IBM talking about how many integration they have and showing a long list of connectors, they usually neglected to mention these are created by IBM Business Partner AppFusions, not IBM. The partner pavilion looked better than it did in 2015, and the partners I spoke with said they had a much better week this year. IBM announced integration with TrustSphere, which queries LinkedIn for relationship data about Connections profiles. I saw some really nice demos from companies like Actiance, Ephox and Kaltura and Kudos which I suggest all IBM customers take a look at. There were a few sessions for developers to learn about Xpages, BlueMix and Watson, but the event was missing the massive buzz of something like Salesforce's Trailhead developer zone. IBM says there will be more emphasis on partners at their IBM InterConnect conference in Vegas, but I think they missed an opportunity here. Salesforce, Microsoft, Google and even Slack are growing their partner ecosystems. IBM needs partners to make Verse, Connections and Toscana a success. I look forward to eventually seeing a "runs in Verse" logo.
Investments - IBM's largest investments these days are around data and analytics. Their various acquisitions and partnerships with companies like Twitter (which they should buy now since the stock is so low), The Weather Company, and Box are all part of a strategy to get their hands (well algorithms) on as much data as possible. That data is then fed into IBM Watson to hopefully derive insights which can help improve business outcomes. I'd like to see IBM show similar commitment to analyzing the vast amounts of employee interactions that take place in email, calendar, contacts, social networking, etc. Google (with Google Now), Microsoft (with Delve Organization Analytics), and Salesforce (with SalesforceIQ) are far ahead of IBM in these areas. Microsoft is on a productivity/collaboration buying spree lately, having acquired Accompli, LiveLoop, Sunrise, Wanderlust, VoloMetrix, MileIQ and most recently Talko. I'd like to see IBM show some sign of investment in collaboration.
Score (1/10) - There were no announcements of this type at IBM Connect, however I am hopeful the 1/10 will quickly increase. As mentioned above, the announcement of Inhi Cho Shu as the new GM of ICS could be a massive game changer. In Inhi's previous role as VP of IBM's Analytics division she was part of over $20B, yes that's billion, in investment via dozens of acquisitions. Let's hope IBM provides her this type of opportunity in the ICS division.
Business Outcomes - One of the strengths that SAP, Oracle, Salesforce, Microsoft and Infor have is that their social tools are deeply integrated with their business process software (such as CRM, HR, ERP, Finance, Legal, etc). IBM has done a good job integrating social into Kenexa, but what are they doing in the other areas? How does IBM's collaboration software help a sales team close a deal or a supply chain discuss a shipment? Will IBM be partnering in any of these areas? Acquiring? Building? Will IBM provide any templates for specific business processes and/or integrations? Similarly, what about industry verticals? IBM has always had strong sales/services around verticals, so how about having tailored collaboration offerings for healthcare, manufacturing, energy, media, etc.?
Score (5/10) - During the keynote IBM played out a scenario that revolved around Marketing, however it did not include integrations with any of the most common marketing tools like Marketo, Eloqua, Constant Contact, HUbSpot, ExactTarget, or even Hootsuite which IBM does have integrations with. Repeat that sentence for things like supply chain, manufacturing, or any other industry. IBM keeps talking about "New Way To Work" but they are not showing it. Verse and Connections are certainly improving the way people communicate, connect with colleagues and share information, but they are not yet fundamentally changing the way business professionals do their jobs. IBM has great offerings in these areas with their Apple and IBM business applications. I'd love to see those apps be infused with components of ICS's portfolio. That would make for some truly fantastic demos.
Innovation - When I think back over the last decade or so of the tours I've had of IBM Research's Innovation Labs, I can't think of anything that has made it into shipping software, or even into the hands of the public to look at. Microsoft on the other hand releases new "garage" products all the time. Microsoft is also rapidly adding new products such as Delve, Sway, Planner (beta) and GigJam (beta) that truly change the way people work. IBM Verse has done a nice job at integrating frequent contacts, email and calendar on a single screen, but it's time to do more than just make a better email client. I'd like to see IBM redefine the way we create content, share information, connect with colleagues/prospects, plan/attend meetings, organize and execute projects, etc. I've not seen any improvement in calendar nor IBM Activities in many years. That needs to change. For more on this topic, see my report: Collaboration Vendors Shaping the Future of Work.
Score (5/10) - Once again the IBM Innovation Lab was one of my favourite parts of the week. As expected several of the projects revolved around Watson/AI such as "Enterprise Cognitive Assistants" and "eAssistant: Cognitive Assistance for Conservation Auto-Triage and Briefings". While these projects are exciting, unfortunately I didn't see anything that I've not seen from IBM's competition… many of which are already well past the lab stage and are already shipping. I didn't see anything about how the integration of IoT and collaboration is going to change the future of work. There were no large touch screens, virtual/augmented reality glasses, motion sensitive controllers, clear/curved glass surfaces or modular furniture stretching my imagination about the future workspace. IBM's researchers are some of the smartest on the planet, they need to be given free reign to push the envelope of what comes next in personal productivity and team collaboration.
In Conclusion
Overall (7/10) - The title of my original blog post was "IBM Connect 2016 - A New Hope Awakens". Star Wars references aside, I do think Connect 2016 did just that… it gave customers and partners hope that things are improving for IBM Collaboration Services. For the first time in a few years IBM feels like they are not only on a better path but they also have a better attitude about it. IBM Connect 2016 put a little bit of swagger back into IBM's step, but they have a very short window to prove they can deliver.
UPDATE Feb 9, 2016: I should have included IBM Design. They are critical to the success of ICS products. They had a great Design Lab, and ran several interactive design sessions. People have also asked me about Notes/Domino and Sametime. Honestly, I didn't attend any sessions about them or really hear IBM mention them much. If you have info you want to share about these areas, please leave a comment.