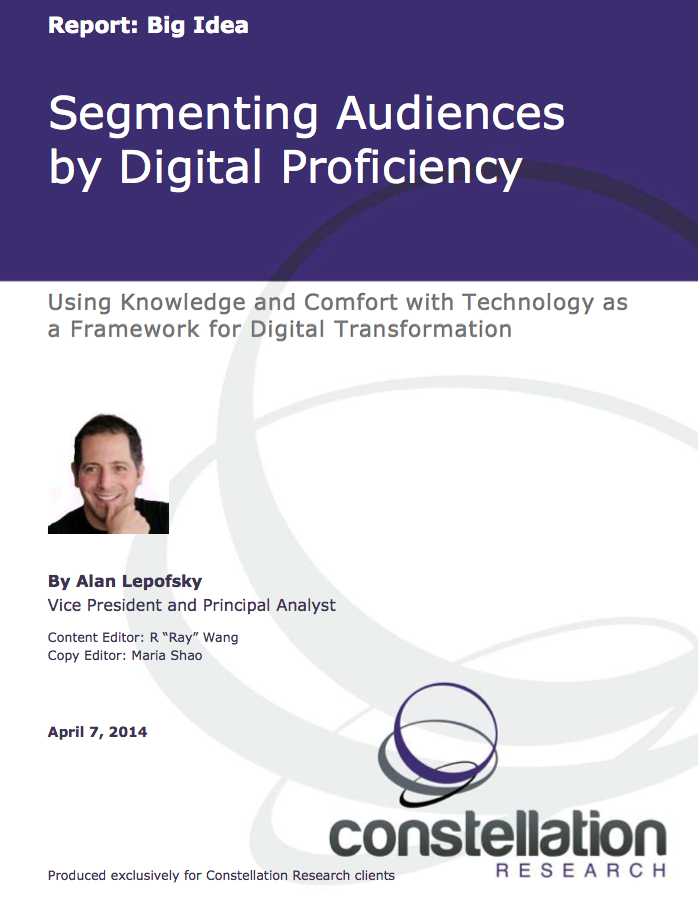 Research uncovers catering to five generations of digital workers yields higher levels of engagement
Toronto, Ontario – April 9, 2014 Constellation Research, announced today the publication of "Segmenting Audiences By Digital Proficiency" by Constellation Vice President and Principal Analyst, Alan Lepofsky. This Big Ideas report reveals that segmenting audiences by digital proficiency yields more effective engagement strategies than segmenting by age. The report establishes five levels of digital proficiency, and provides a digital proficiency-centered framework for readers to utilize in the creation of their own engagement strategy. A free snapshot of the report is available for download.
Report highlights:
The way people interact with technology can be broken down into three primary components: content, people and actions

Five Digital Proficiency categories: Digital Holdouts, Digital Disengaged, Digital Voyeurs, Digital Immigrants and Digital Natives

Example scenarios of how Digital Proficiency can be used as a framework to plan improvements in employee collaboration and customer support.
Commentary: Alan Lepofsky, report author
"The proliferation of digital technology is causing businesses to go through one of the largest shifts since the Industrial Revolution. This digital transformation forces organizations to rethink everything about the way they do business - from the way they manufacture products to their sales and marketing strategies, even the way they communicate with employees and customers. Unfortunately, many companies start planning their digital transformation by discussing the needs of the various generations of people that will be affected by this change. While people of different generations may indeed have different wants and needs, age alone should not be the determining factor used in planning these transformation projects. Instead, Constellation recommends using a combination of a person's knowledge and comfort level with technology, a characteristic referred to as Digital Proficiency. This report looks at five types of digital proficiency and helps guide organizations on how to tailor their digital transformation to each category.

It's time to put the "Millennials are different" conversation to bed. When companies make broad assumptions about people based solely on age they are not painting accurate pictures of their employees or customers. Instead, Digital proficiency uses a combination of skill level and comfort with technology to segement audiences into five categories."
This report fits into Constellation's business-focused research themes: The Future of Work, Next Generation Customer Experience, and Digital Marketing Transformation
ABOUT Alan Lepofksy
Alan Lepofsky is Vice President and Principal Analyst covering collaboration platforms and practices, project management and analytics. Alan's current research focuses on the evolution of tools and processes that help people get their jobs done.
COORDINATES
Profile: http://www.constellationr.com/users/alanlepo
Twitter: https://twitter.com/alanlepo
Linkedin: https://www.linkedin.com/in/alanlepo
Geo: Toronto, Ontario
THE REPORT
Segmenting Audiences by Digital Proficiency
ABOUT CONSTELLATION RESEARCH
Constellation Research is a research and advisory firm that helps organizations navigate the challenges of digital disruption through business models transformation and the judicious application of disruptive technologies. This renowned group of experienced analysts, led by R "Ray" Wang, focuses on business-themed research including Digital Marketing Transformation; Future of Work; Next Generation Customer Experience; Data to Decisions; Matrix Commerce; Technology Optimization and Innovation; and Consumerization of IT and the New C-Suite.
Constellation's collection of prestigious analysts and Orbits members bring real world experience, independence, and objectivity to client solutions that span cross-role, cross-functional, and cross-industry points of view. Clients join Constellation Research for a fresh and business focused perspective.
Unlike the legacy analyst firms, Constellation Research is disrupting how research is accessed, what topics are covered, and how clients can partner with a research firm to achieve success. Over 225 clients have joined from an ecosystem of buyers, partners, solution providers, c-suite, board of directors and vendor clients.
***
Constellation Research, Constellation SuperNova Awards, Constellation Orbits, Connected Enterprise, Constellation Cosmos, and the Constellation Research logo are trademarks of Constellation Research, Org. All other products and services listed herein are trademarks of their respective companies.
Press Contacts:
Contact the Media and Influencers relations team at [email protected] for interviews with analysts.
Sales Contacts:
Contact our sales team at [email protected].