Influencer marketing is one of the most useful and efficient ways for businesses to reach potential customers for their products and services.
According to a study by Adweek, 75% of brands engage with influencers as a part of their main marketing strategy.
Businesses know that today's consumers are knowledgeable and not easily swayed by traditional marketing. Consumers also look to peers to help them make purchase decisions.
Influencer marketing can increase brand awareness, build an audience and help boost sales. Most importantly, it often costs significantly less than conventional advertising.
If you're looking ideas on how to work with influencers for your digital marketing campaign, you should learn from the best.
So here is a list of some of the best innovative examples of companies that nailed their influencer marketing campaigns and what you can learn from them.
Use "regular" people to spread the word
Manhattan-based beauty startup Glossier has owed their overnight cult status to their ever-growing group of super fans and micro-influencers.
Instead of paying big name celebrities to promote their skincare and cosmetics, the brand relies on "regular women" to spread brand awareness.
90% of Glossier's revenue doesn't come from paid or build marketing spend, but comes from their highly engaged fans.
There is an army of Glossier girls that closely follow the brand's product announcements, social media posts, event invitations, and forwards the brand's messages to their followers on social media and in real life.
According to Glossier CEO Emily Weiss, "What's very motivating to us is this idea of every single woman being an influencer. That power of the individual person—just the girl—is infinite."
Collaborate with other companies 
Nikon formed a strategic partnership with Warner Music Group to become the title sponsor of their SXSW Music Festival using the platform to showcase the quality and capabilities of Nikon cameras.
At the festival, Nikon HD-SLR cameras were used to capture live performances that were live streamed over the three nights. Stations and roaming photographers also gave people the chance to use the cameras and directly share pictures to their Facebook.
In addition, artists performing at SXSW used Nikon cameras to capture and share their experiences leading up to the show to get their fans excited about the event.
Using the hashtag #NikonWarnerSound, it created a widespread buzz during the festival and became one of the top trending topics on Twitter during all three nights of SXSW Music.
Their success was driven by strong fan engagement both online and offline. The campaign made over 46 million media impressions through coverage from popular publications and over 166 million social impressions.
Over 500,000 people watched the live stream shot, 1,100+ photos were captured and shared by the people that attended the event, and over 15,000 social posts featured the hashtag #NikonWarnerSound with positive responses.
Look for fresh perspectives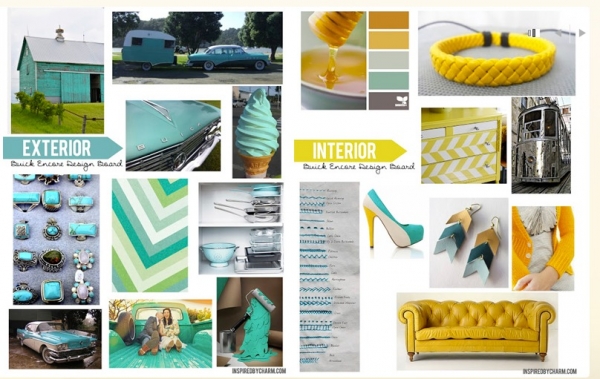 Buick worked with prominent Pinterest influencers (referred to as Pinfluencers) in the fields of design and style to help create a new brand image for their new Encore luxury model.
The campaign was called "Pinboard to Dashboard" and instead of partnering with influencers in the automobile industry, they chose outsiders who could showcase the brand from a different perspective.
Pinfluencers shared their visions of how the exterior and interior of the new luxury model would look on their Pinterest board, encouraging people to look at the brand with fresh eyes.
The "Pinboard to Dashboard" campaign generated over 17 million unique visitors and followers across Pinterest, Twitter, Facebook, and Instagram.
It was a success as it helped to promote Buick's Encore to younger car buyers and at the same time maintained Buick's image as a luxury brand, while also showing a more whimsical side.
Stick with brand values
Boxed Water may sell water, but the company also highly values environmental conservation. They collaborated with the National Forest Foundation to create the "Retree Project" campaign.
For every photo Instagram photo that is posted using the hashtag #Retree, Boxed Water would plant two trees.
The company reached out to famous Instagram influencers to post in support of the campaign and also encouraged their followers to repost.
The campaign is currently ongoing and the brand has planted over 500K trees in Sierra National Forest, Stanislaus National Forest, and Uinta-Wasatch-Cache National Forest.
Leverage authenticity
Sephora a French chain of cosmetics stores built a community of insiders called "Beauty Talk," who leave honest product reviews and help people to make purchasing decisions based on their needs.
Sephora also sends free cosmetic samples to popular beauty vloggers/bloggers, but the reviews they get in return are always authentic and genuine.
The community is successful because Sephora gives their influencers the freedom to be unbiased, helping to develop a genuineness that their customers appreciate.
Showcase real stories and powerful imagery
On International Women's Day in 2016, Microsoft used National Geographic's enormous social media audience to build an Instagram marketing campaign called "Make What's Next."
The goal of the campaign was to encourage young girls to work in STEM (Science, Technology, Engineering, Math).
30 photos were posted on five of National Geographic's Instagram channels and the photos were taken by popular adventure photographers. Each photo featured the story of a prominent female scientist or adventurer. The photo captions also included: @Microsoft – Empowering girls to change the world, stay in STEM, and be the ones to #MakeWhatsNext.
Microsoft created sponsored posts around stories of human experiences, with real faces with real stories. This strategy helped the company connect and engage with audiences on a deeper level and built long term brand awareness.
At the end of the campaign, Microsoft received over 3.5 million likes on the 30 photos with over 1,000 fan posts on Instagram using the hashtag #MakeWhatsNext.
Don't focus on your brand or product
Four years later, British Airway's "UnGround Innovation Lab" campaign is still being discussed today.
In 2013, a flight took off from Silicon Valley with 100 thought leaders, influencers and prominent thinkers from Google, RocketSpace and Silicone Valley Bank. They were put together to use their brainstorming skills for the greater good and show how great ideas can be created when people work together.
On the flight, 22 concepts were developed in less than five hours. The ideas were all geared towards helping STEM-driven people to find opportunities to use their skills.
The campaign worked because they were able to get big names to join the experiment, which automatically brought media attention to the campaign. The focus wasn't on the company, but British Airways still got their name in the news in an authentic and positive way.
Influencers don't need to be humans
Mercedes joined forces with an Instagram famous dog and VR technology to create their latest marketing campaign #MCPhotoPass. It involved creating cinematic video content for Mercedes' YouTube Channel and used professional photographers to produce photos for their Instagram.
Mercedes invited Loki the Wolf Dog and his owner Kelly Lund to drive a 2017 Mercedes GLS through the snowy mountains of Crested Butte Colorado. The car had 3D cameras attached to give viewers the experience of Loki the Wolf Dog running through the snowy terrain, while the other cameras give an inside look of the GLS.
The main strategy for the #MBPhotoPass campaign was to create videos that brought together a variety of different influencers to give fresh perspectives on Mercedes-Benz cars. They worked with world class chef Chris Coombs to Loki the Wolf Dog, targeting different customer segments.
The second part of the strategy was letting the best Instagram photographers capture photos of the excitement and glamour associated with the Mercedes brand.
Their Instagram generated 173 million impressions, 2.3 million likes/comments and $4 million worth of earned media. The campaign worked because Mercedes took advantage of the growing popularity of VR technology and of course, people's love of cute animals.
Give your brand a "human face"
TD Ameritrade's "Human Finance Project" campaign was created to change the negative perceptions of the finance industry by featuring stories of real registered investment advisors on their website.
The goal was to showcase the work that financial advisors do and put them in a positive light by showing investors, they aren't in it for the money, but focused on helping people meet their life goals through money management. It gave advisors the opportunity to share their stories, specifically about what inspires them and what drives them to do what they do.
The company gave the financial industry a human face by putting the spotlight on individuals with relatable stories, making it easier for people to feel connected with them.
They used regular people as influencers to connect with the public, reminding us that influencers don't need to be famous celebrities. They just need to be relevant to your audience and campaign.
Hand over creative control
Clothing retailer Zara worked with top fashion-focused Instagrammers on the design project #iamdenim campaign to highlight their latest products by showcasing them in a way to appeal to their target audience.
By working with Instagram fashion influencers like Teesh Rosa, they were able to give the impression that their products are more accessible compared to high fashion clothing brands. The message behind the #iamdenim campaign was the brand worked with real people to produce clothing for real people.
Zara's Instagram posts look like photos from the pages of a fashion catalog, where people can look for ideas and tips on what's trendy in the fashion industry.
In just eight months Zara's Instagram gained 4.6 million new followers, that's quite an impressive feat!
The success behind Zara's influencer marketing campaign was handing over the creative control of the brand to their influencers. Due to the accomplishments of their campaign, many competitors also started to copy their strategies hoping to gain the same success.
Key Takeaways
Influencers don't always need to be celebrities, they can be just regular people or even non-human. As long as they are relevant to your campaign and target audience.
Collaborate with non-competitor companies to reach and target potential new customers by leveraging their large social media audience.
Work with influencers who aren't a part of your industry in order to gain new ideas and ways to promote your brand.
Give your influencers the freedom to provide honest and unbiased reviews of your products or services to enhance the authenticity of the brand and gain the trust of your customers.
Influencer campaigns don't always need always need to be focused on the brand or product. Think outside of the box and find different ways to promote your business without being too gimmicky and in-your-face.
Let your influencers have creative control over the campaign. They know their audience the best and the best ways to engage with them.
Looking for more help with your influencer marketing campaigns? Check out our Influence Marketing Services to learn more and be sure to contact us!
The post 10 Examples of Innovative Influencer Marketing Campaigns appeared first on Sensei Marketing.