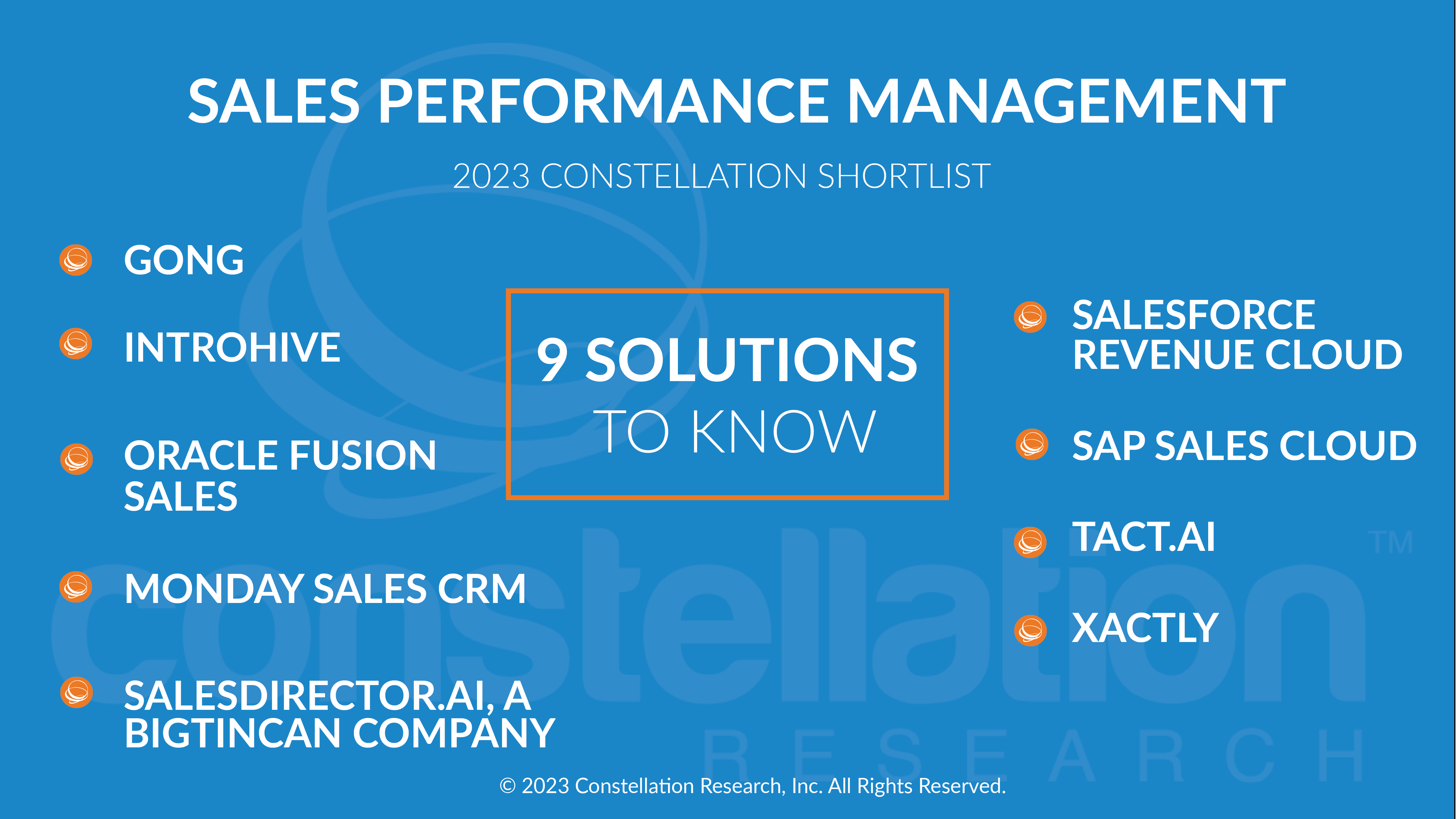 About This Constellation ShortList™
Sales performance management systems focus on the progress and process of driving a successful sales organization. These tools consolidate internal and external sources of information into an integrated view of complex sales ecosystems highlighting important insights, intelligence and best practices leading many of them to be called revenue intelligence or revenue optimization tools.

Artificial intelligence (AI) is increasingly used to capture, cleanse and process data, presenting intelligence in context through highly actionable recommendations, specific coaching and training opportunities, prioritizing opportunities, recommending next actions or automating process work- flows to optimize the work of sales. These solutions automate selling pro- cesses, activity logging as an example, typically captured within a customer relationship management (CRM) system. Many include digital assistants that present account insights and input new actions or updates. This results in dramatically improved forecast accuracy as well as higher conversation rates, shorter sales cycles and increased revenue.

On a management level, sales performance management provides the opportunity to analyze and evaluate overall operational efficiencies and the effectiveness of individual sellers, identify and recognize success, improve timing and content of coaching, establish contextual and personalized seller training based on identified team wide best practices. In many cases, these tools also tackle broader challenges of territory management and commis- sion or compensation management. Tools focused solely on Incentive and Compensation Management (ICM) were not included in this review.
Threshold Criteria
Constellation considers the following criteria for these solutions:
Consolidate account and customer insights from across internal data sources

Incorporate external data sources for market context

Leverage AI to process data

Integration to CRM and other enterprise systems

Automated activity capture across channels

Digital assistant that supports text and voice interaction

Mobile accessible

Recommended actions in customer account context

Cross functional collaboration

Data and performance-based coaching

Territory management and planning

Commission/compensation and incentives management

Quota management and planning

Robust reporting on performance, objectives and goals, and conversion analytics

Integrated training and coaching environment with recommendations for improvement or course correction
The Constellation ShortList™
Constellation evaluates around 20 solutions categorized in this market. This Constellation ShortList is determined by client inquiries, partner conversations, customer references, vendor selection projects, market share and internal research.
GONG
INTROHIVE
ORACLE FUSION SALES
MONDAY SALES CRM
SALESDIRECTOR.AI, A BIGTINCAN COMPANY
SALESFORCE REVENUE CLOUD
SAP SALES CLOUD
TACT.AI
XACTLY
Frequency of Evaluation
Each Constellation ShortList is updated at least once per year. Updates may occur after six months if deemed necessary.
Evaluation Services
Constellation clients can work with the analyst and the research team to conduct a more thorough discussion of this ShortList. Constellation can also provide guidance in vendor selection and contract negotiation.
Download Research
Click to Download Report