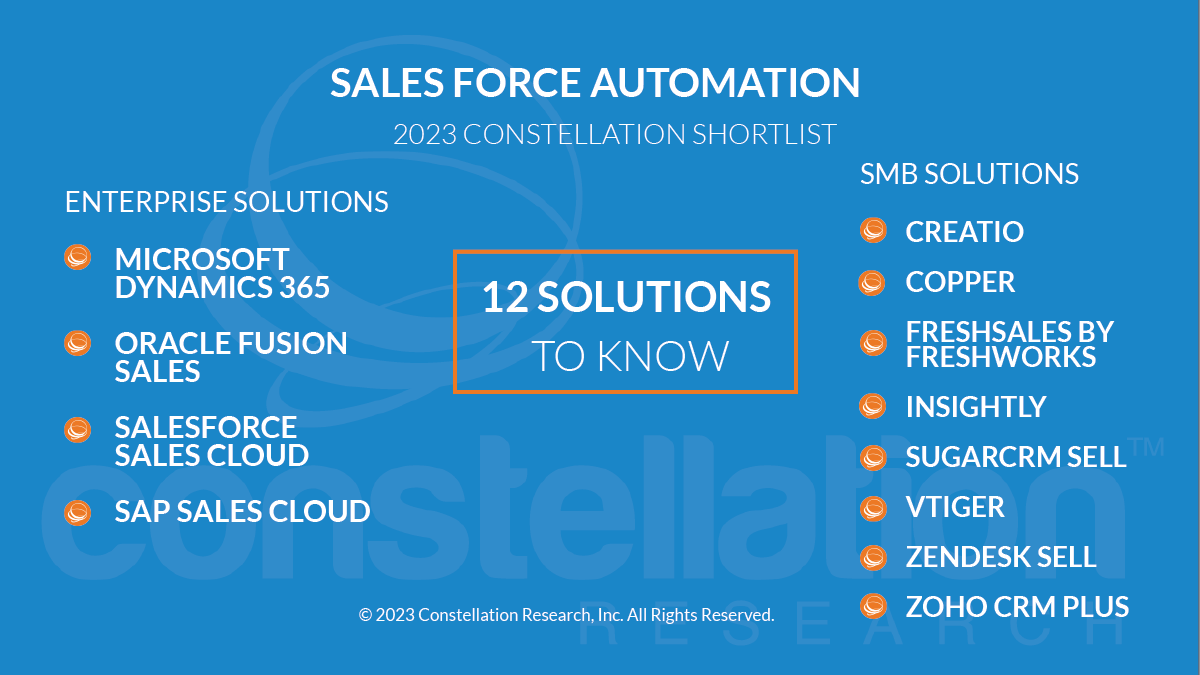 About This Constellation ShortList™
Traditionally, sales force automation solutions have focused on documenting and addressing the entirety of the sales process, automating and recording the specific stages, actions and outcomes of the process and productivity of the sales force. Modern SFA tools are extending this focus on recording and automating core SFA competencies (e.g., lead, contact, account, opportunity tracking) to also address advanced analytics, data enrichment, extensibility, scalability, and usability that can directly impact organizational usage and adoption.

One major challenge with SFA solutions has been ensuring that the system is adopted and used appropriately by sales teams. Incorporating mobile solutions that allow for easy and readily accessible access along with more robust account analytics and insights that directly benefit salespeople has improved adoption rates. Increasingly, leading solutions have deployed Artificial Intelligence (AI) and machine learning (ML) powered interactive digital assistants that reduce manual data entry and surface actionable insights for optimized performance.

Vendors highlighted on this list have also addressed the impact that data flows and inconsistencies between SFA and other major systems such as marketing automation and customer service can have on productivity and outcomes. SFA solutions have also begun to "right-size" based on size and scope of a sales organization, reflected here in solutions identified as being best suited for SMBs as opposed to the more complex demands of a large enterprise deployment.

Regardless of organization size, teams are actively seeking solutions that are highly intuitive and usable. SFA vendors have answered this call by introducing drag-and-drop tools to create and automate customer workflows quickly and easily, customizable canvases sales teams can personalize and customize to fit their specific work style, and smart assistants and tools to remove repetative, mundane tasks that pull attention away from the act of selling.
Threshold Criteria
Constellation considers the following criteria for these offerings:
Ease of use, user interface

Ability to track leads, prospects and customers through sales cycle

Marketing integration for full prospect engagement visibility

Customer support integration and visibility to effectively manage post-sale engagement 

Extensibility through ecosystem of third-party integration apps

Productivity tools and extensions to increase usage and adoption

Focus on mobility and collaboration

Advanced analytics and role-based reporting

AI/ML powered virtual assistants

Product vision and roadmap

Pricing packages

Post-sale support and community
The Constellation ShortList™
Constellation evaluates more than 70 solutions categorized in this market. This Constellation ShortList is determined by client inquiries, partner conversations, customer references, vendor selection projects, market share and internal research. Constellation also considered client company size and marketing resources to recommend solutions suitable for enterprises and small-to-midsize businesses (SMBs).
Enterprise Solutions
The enterprise category is defined as companies with a broad geographical reach, multiple lines of business and/or over 5,000 employees. These are the best-of-breed vendors that provide application and services without bundling into another platform:
Microsoft Dynamics 365

Oracle Fusion Sales
Salesforce Sales Cloud
SAP Sales Cloud
SMB Solutions
SMBs have limited resources and budget, which is factored into the selection criteria. As SMBs grow, the solution needs the ability to scale accordingly. These are the best-of-breed vendors that provide applications and services without bundling into another platform:
Creatio
Copper
Freshsales by Freshworks
Insightly
SugarCRM Sell
Vtiger

Zendesk Sell

Zoho CRM Plus
Frequency of Evaluation
Each Constellation ShortList is updated at least once per year. Updates may occur after six months if deemed necessary.
Evaluation Services
Constellation clients can work with the analyst and research team to conduct a more thorough discussion of this Constellation ShortList. Constellation can also provide guidance in vendor selection and contract negotiation.
Download Research
Click to Download Report