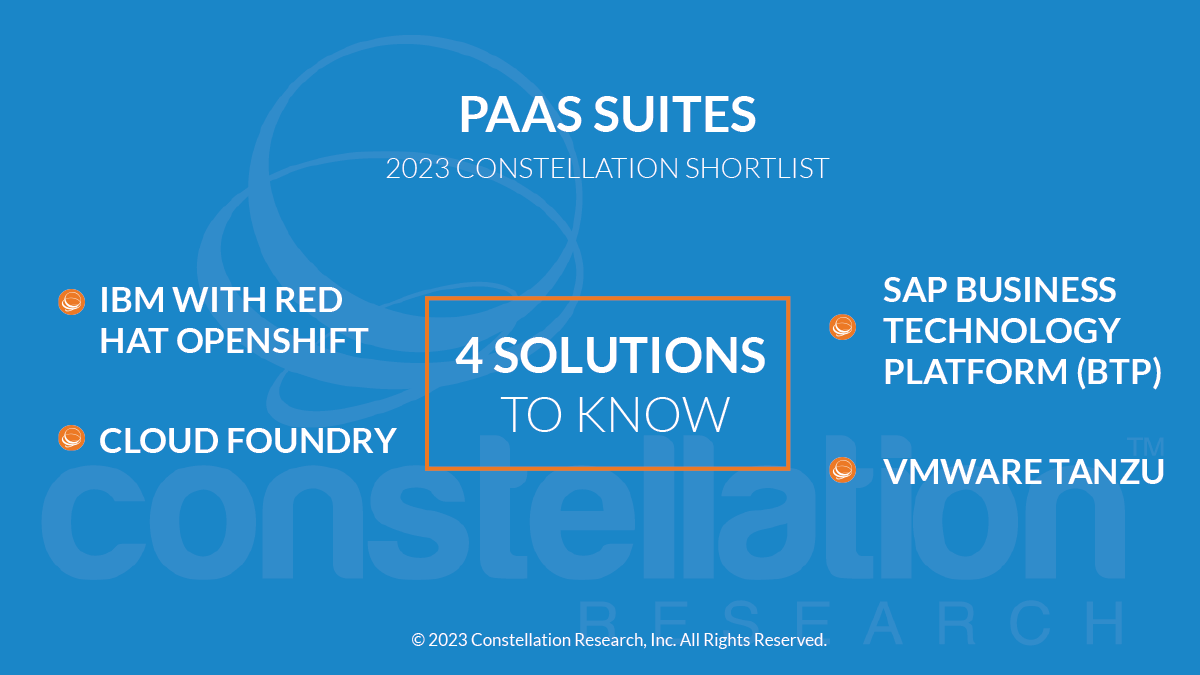 About this Constellation ShortList™
When CxOs decide to build next-generation applications for their organizations, they can choose between packaged platform-as-a- service (PaaS) tool suites that provide separate, atomic offerings with separate versions, or PaaS suites that allow installation/prod- uct/services and offerings as a single suite with a defined version/ release number.

While both can build the same use cases, the path, value proposition and licensing are fundamentally different. PaaS suites allow for a version-based installation, training, certification and build platform, which offers a more shrink-wrapped, repeatable and scalable experience for the enterprise. PaaS suites usually allow for building new offerings faster because they don't have to integrate and test all services with each other. On the flip side, it is not always easy to replace a functional member and/or product in a PaaS suite, even to the point that a replacement is not possible. Leaders need to be aware of these trade-offs. Finally, CxOs should also look at the Constellation ShortList for PaaS tool suites.

PaaS suites are the platform that powers next-generation applications for enterprises (for more, see here).
Threshold Criteria
Constellation considers the following criteria for these solutions:
More than 2K production installations

Over 1.5K production installations in at least three of the Constellation 7 Next-Gen Application use cases

Customers on at least five continents

Availability on at least five continents

Some CI/CD support

Substantial high availability/disaster recovery for production applications

Advanced logging/observability support

Some additional DevOps support
The Constellation ShortList™
Constellation evaluates more than 20 solutions categorized in this market. The Constellation ShortList is determined by client inquiries, partner conversations, customer references, vendor selection projects, market share and internal research.
IBM with Red Hat OpenShift
Cloud Foundry
SAP

Business Technology Platform (BTP)

VMware Tanzu

Frequency of Evaluation
Each Constellation ShortList is updated at least once per year. Updates may occur after six months if deemed necessary.
Evaluation Services
Constellation clients can work with the analyst and research team to conduct a more thorough discussion of this Constellation ShortList. Constellation can also provide guidance in vendor selection and contract negotiation.
Download Research
Click to Download Report