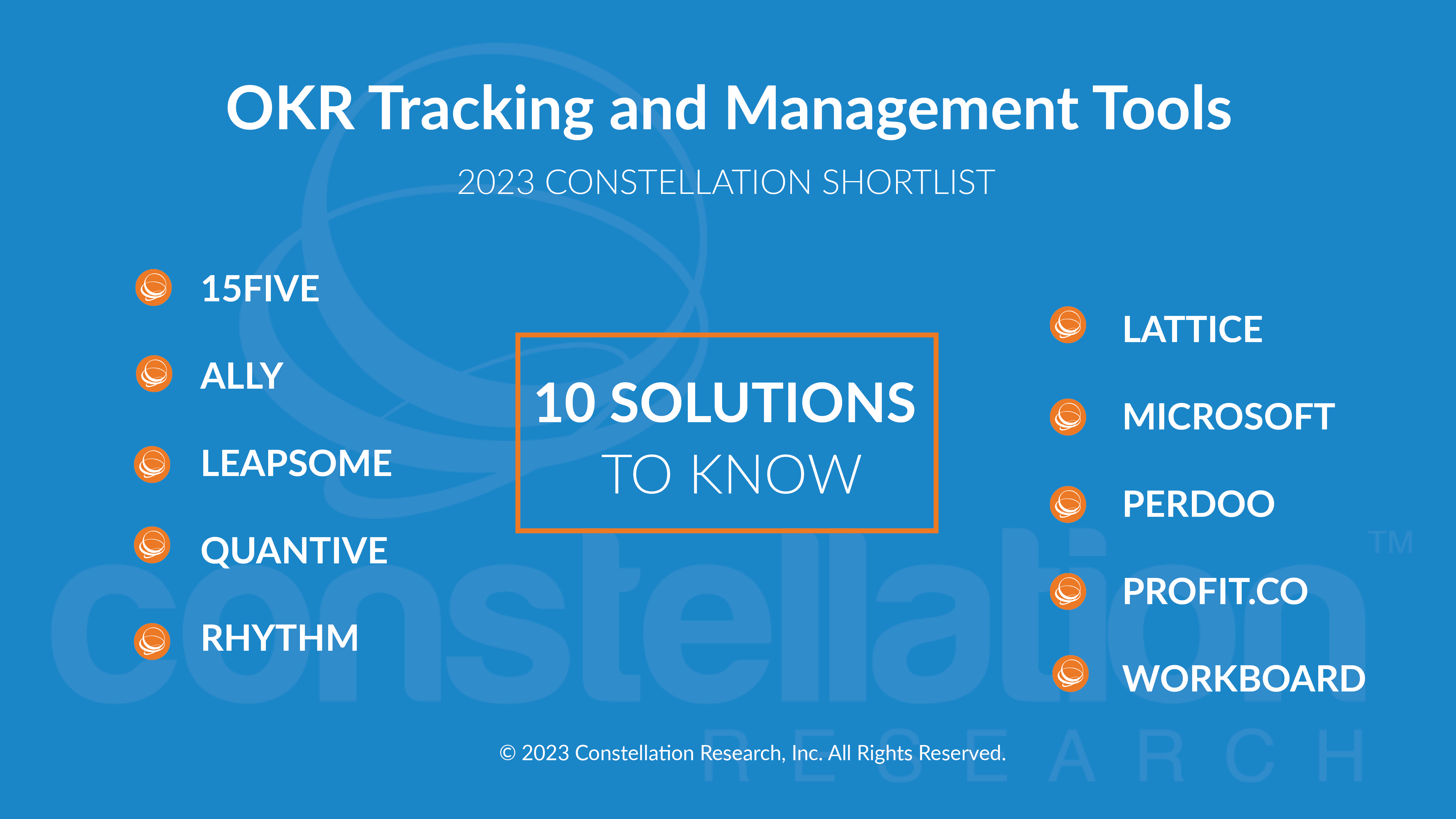 About This Constellation ShortList™
OKR tracking and management tools are digital solutions that help apply the popular goal-setting framework for defining and tracking objectives as well as their outcomes. While some tools provide a shared environment to track and monitor OKRs but little else, others provide an extensive array of management capabilities to use OKRs as the basis of how to operate their organizations.
Effective OKR solutions allow continuous performance tracking as users define their objectives and desired results and then record results manually, while more advanced solutions have automatic results tracking of OKRs or enable strategic management capabilities that can ensure alignment and goal attainment at the enterprise level.
Analysis, visualization, prediction and prescriptive features are available in more sophisticated OKR solutions that allow organizational diagnostics, business performance management and other high-leverage outcomes. Integration with other systems including task management, work coordination and personal development tracking/HCM are also highly useful to ensure a consistent and efficient OKR management system.
Threshold Criteria
Constellation considers the following criteria for these solutions:
Administrative controls and configuration/customization features
Analytics/metrics/dashboards/visualizations of OKR progress
Work automation and workflow · Business partner ecosystem
Client options: desktop, mobile, tablet, large screen, wearables, embedded in other applications
Performance management features
Compliance/governance features and certifications
Extensibility (APIs/SDKs, documentation, samples, training)
Licensing options (freemium, premium, enterprise, external access)
OKR features: templates, design, creation, prioritization, tracking, organization and analysis
Strategic management capabilities with goals, alignment and KPIs
Integration with other business tools/platforms, including human capital management
Search and discovery capabilities
Security (access roles, administration roles, transport and storage, encryption key ownership)

 

The Constellation ShortList™
Constellation evaluates more than 50 solutions categorized in this market. This Constellation ShortListis determined by client inquiries, partner conversations, customer references, vendor selection projects, market share and internal research.
15FIVE
ALLY
LEAPSOME
QUANTIVE
RHYTHM
LATTICE
MICROSOFT VIVA GOALS
PERDOO
PROFIT.CO
WORKBOARD

 

Frequency of Evaluation
Each Constellation ShortList is updated at least once per year. Updates may occur after six months if deemed necessary.
Evaluation Services
Constellation clients can work with the analyst and the research team to conduct a more thorough discussion of this ShortList. Constellation can also provide guidance in vendor selection and contract negotiation.
Download Research
Click to Download Report