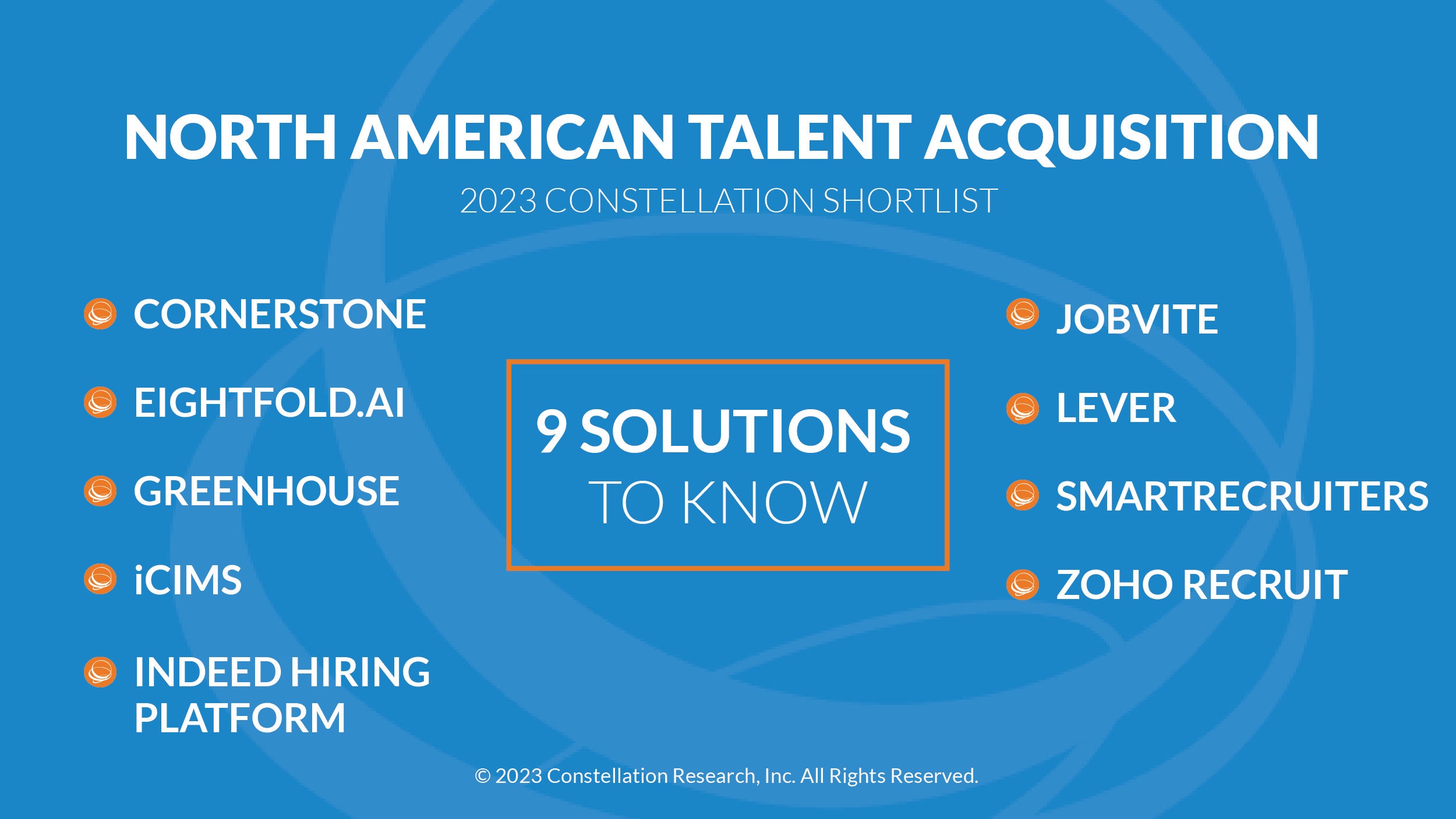 About this Constellation ShortList™
The war for talent is being waged harder than ever, with the U.S. economy growing at a faster rate than expected. Midwest towns offer relocation credits to attract workers. Sign-on bonuses are on the rise. This environment requires talent acquisition software for enterprises to be more strategic than ever. People leaders are under pressure to deliver the hires for growth as well as replacements for a retiring workforce.
For inclusion in the Constellation Shortlist, vendors need to be dedicated to the talent acquisition space. They are not talent management suite vendors but can offer one or two adjacent talent management modules. Automation in candidate screening, candidate pre-evaluation and assignment are required. Interview scheduling needs to have at least rudimentary support. Additionally, these providers offer AI/ML to screen, find and assign the best candidates.
Threshold Criteria
Constellation considers the following criteria for these solutions:
A cloud-based solution
Best-of-breed candidate experience, including branding
Candidate screening and pre-evaluation
Interview scheduling next-generation applications
Some capabilities for AI/ML to screen, find and assign the best candidates
Increased onboarding capabilities—in product or on road map
At least 750 customers
Offer at least one adjacent talent management function
Not a full talent management suite and maintain focus on talent acquisition
Ability to implement successfully from 1,125+ employees all the way to the largest enterprises
The Constellation ShortList™
Constellation evaluates more than 40 solutions categorized in this market. The Constellation ShortListis determined by client inquiries, partner conversations, customer references, vendor selection projects, market share and internal research.
CORNERSTONE
EIGHTFOLD.AI
GREENHOUSE
ICIMS
INDEED HIRING PLATFORM
JOBVITE
LEVER
SMARTRECRUITERS
ZOHO RECRUIT
Frequency of Evaluation
Each Constellation ShortList is updated at least once per year. Updates may occur after six months if deemed necessary.
Evaluation Services
Constellation clients can work with the analyst and the research team to conduct a more thorough discussion of this ShortList. Constellation can also provide guidance in vendor selection and contract negotiation.
Download Research
Click to Download Report