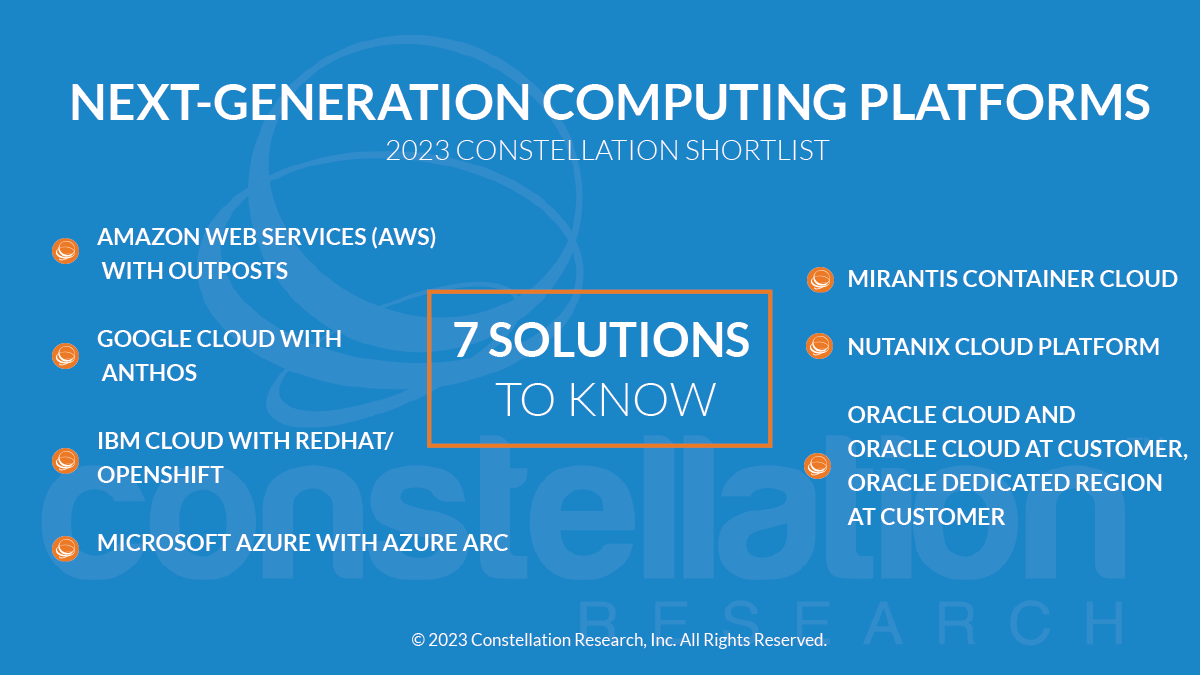 About this Constellation ShortList™
Enterprises look for ways to run their next-generation applications across public clouds and on-premises in their data center(s). To achieve this flexibility, CxOs need a high degree of Identicality be- tween the cloud and on-premises-based technology stacks.

This Constellation ShortList evaluates the Next-Generation Com- puting Platforms available and includes the leading offerings that meet the requirements of today's CxOs. They need these platforms to offer workload portability and a single pane of glass to manage environments and workloads of their next-generation applications (for more, see here). These platforms also provide advanced services to help manage, maintain and operate these complex technology stacks. Innovation speed and elastic commercial terms are also re- quired to keep these vendors competitive in the Infinite Computing era (for more, see here).
For more information, please review the Market Overview report: "Next-Gen Computing: The Enterprise Computing Model for the 2020s."
Threshold Criteria
Constellation considers the following criteria for these solutions:
Technology stack capabilities deployed on-premises, offline

A public IaaS—either directly owned or through partners where the same set of capabilities (or more) are running

Sufficient capabilities to operate at least three of the seven next-generation application use cases

Coverage in at least five continents from an availability perspective

At least 400+ customers

Availaility of at least 2,500 service professionals (direct or partners)
The Constellation ShortList™
Constellation evaluates over 20 solutions categorized in this market. The Constellation ShortList is determined by client inquiries, partner conversations, customer references, vendor selection projects, market share and internal research.
AMAZON WEB SERVICES (AWS) WITH OUTPOSTS
GOOGLE CLOUD WITH ANTHOS
IBM CLOUD WITH REDHAT/OPENSHIFT
MICROSOFT AZURE WITH AZURE ARC
MIRANTIS CLOUD CONTAINER
NUTANIX CLOUD PLATFORM
ORACLE CLOUD AND ORACLE CLOUD AT CUSTOMER, ORACLE DEDICATED REGION AT CUSTOMER
Frequency of Evaluation
Each Constellation ShortList is updated at least once per year. Updates may occur after six months if deemed necessary.
Evaluation Services
Constellation clients can work with the analyst and the research team to conduct a more thorough discussion of this ShortList. Constellation can also provide guidance in vendor selection and contract negotiation.
Download Research
Click to Download Report