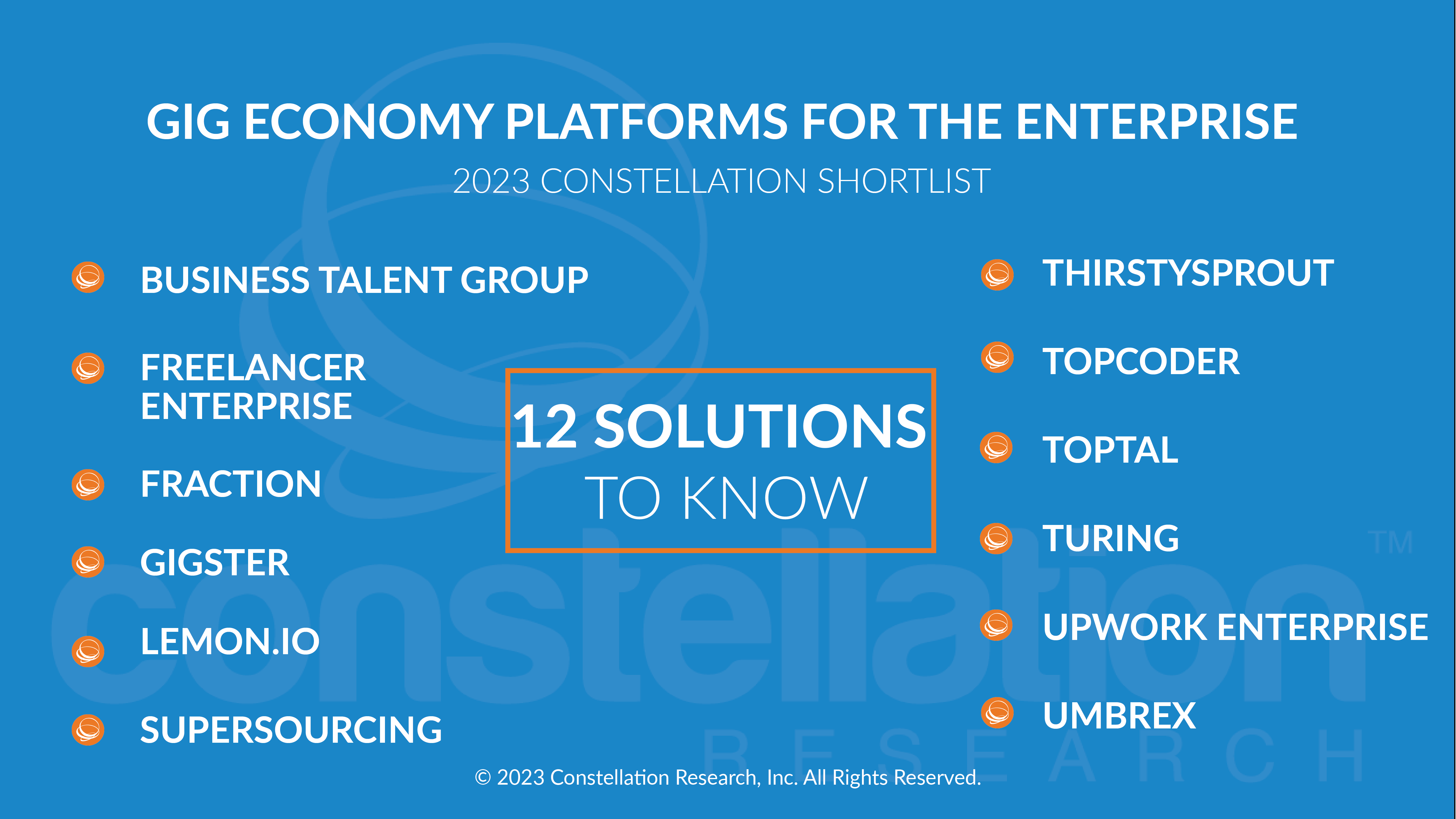 About This Constellation ShortList™
Gig economy platforms for the enterprise bring together online hiring and employment processes with supporting features such as recruitment, onboarding, task tracking and project management. These are combined with supporting business models, employer demand signals and operational analytics to deliver on a newer, richer, nimbler form of employment.
A more capable and mature version of online freelancing services, these platforms focus on matching employers with individuals and teams ready to work in professional services, information technology (IT) and other white-collar jobs. They also stay closely involved during the "gig" itself, handle many of the matching, transaction, tracking, tax, compliance, communications and payment details for each of the respective parties.
Effective gig economy platforms for the enterprise also have analytics to track work progress over time, provide useful insights to improve quality of work, as well as project management features to track work across matrixed groups of full-time and gig workers on a given effort. Reputational and historical performance features ensure that both gig workers and employers are matched based on their prior ability to deliver.
Threshold Criteria
Constellation considers the following criteria for these solutions:
Administrative controls and configuration/customization features
Analytics/metrics/dashboards/visualizations of gig work and projects
Responsive user experience and mobile apps
Performance management features
Compliance/governance features, tax withholding, background checks, and certifications
Extensibility (APIs/SDKs, documentation, samples, training)
Enabling business models for workers and employers
Gig work features: worker profiles, employer profiles, curation, gig listings, contracting, onboarding, task/project management, billing, reviews, offboarding
Portfolio management across gigs for workers, workers/teams for employers, including risk management and customer success
Integration with related business tools/platforms, including human capital management, accounting systems, etc.
Online problem resolution desk
Search and discovery capabilities
Spend and backlog tracking

Security (access roles, administration roles, transport and storage, encryption key ownership)
The Constellation ShortList™
Constellation evaluates more than 40 solutions categorized in this market. This Constellation ShortList is determined by client inquiries, partner conversations, customer references, vendor selection projects, market share and internal research.
BUSINESS TALENT GROUP

FREELANCER ENTERPRISE

FRACTION

GIGSTER

SUPERSOURCING

THIRSTYSPROUT

TOPCODER
TOPTAL
TURING

UPWORK ENTERPRISE

UMBREX
Frequency of Evaluation
Each Constellation ShortList is updated at least once per year. Updates may occur after six months if deemed necessary.
Evaluation Services
Constellation clients can work with the analyst and the research team to conduct a more thorough discussion of this ShortList. Constellation can also provide guidance in vendor selection and contract negotiation.
Download Research
Click to Download Report