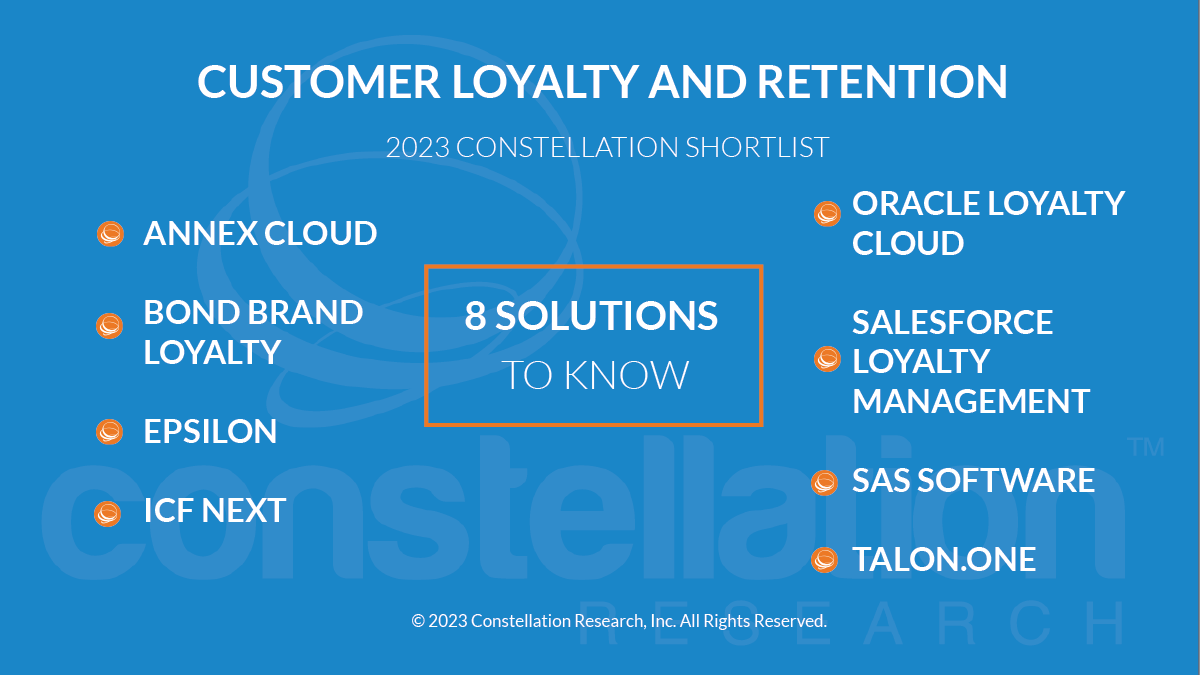 About This Constellation ShortList™
Constellation Research estimates a $11.7B software and services market for the global customer loyalty management market by 2027 growing at a 7.6% CAGR. Customer loyalty is a sub-segment of the overall customer experience market. Successful customer loyalty programs advance the relationship between an organization and its customers beyond the elementary transactional relationships concerned with pricing and convenience.

As organizations deliver on a brand promise, customers who believe in that mission or purpose will develop loyalty that results in the customer recommending products and services. Loyal customers will also continue the cadence of purchasing over a time and hold the belief that the brand or organization meets a higher purpose.

Customer loyalty solutions provide the capabilities to manage, track and influence the outcomes of loyalty.
Threshold Criteria
Constellation considers the following key criteria for these solutions:
Allows strategy design

Supports multiple loyalty programs

Website and e-commerce integration

Tracks loyalty currencies

Delivers customer profiling and preference management

Supports customer portals and communities

Easy reporting and complex analytics

Reward redemption

Installs in multiple industries

Integrates with leading CRM and POS solutions

Supports key privacy regulations

Applies ML and AI frameworks
The Constellation ShortList™
Constellation evaluates more than 35 solutions categorized in this market. This Constellation ShortList is determined
by client inquiries, partner conversations, customer references, vendor selection projects, market share and internal research.
Annex Cloud
Bond Brand Loyalty
Epsilon
ICF Next
Oracle Loyalty Cloud
Salesforce Loyalty Management
SAS Software
Talon.One
Frequency of Evaluation
Each Constellation ShortList is updated at least once per year. Updates may occur after six months if deemed necessary.
Evaluation Services
Constellation clients can work with the analyst and research team to conduct a more thorough discussion of this ShortList. Constellation can also provide guidance in vendor selection and contract negotiation.
Download Research
Click to Download Report