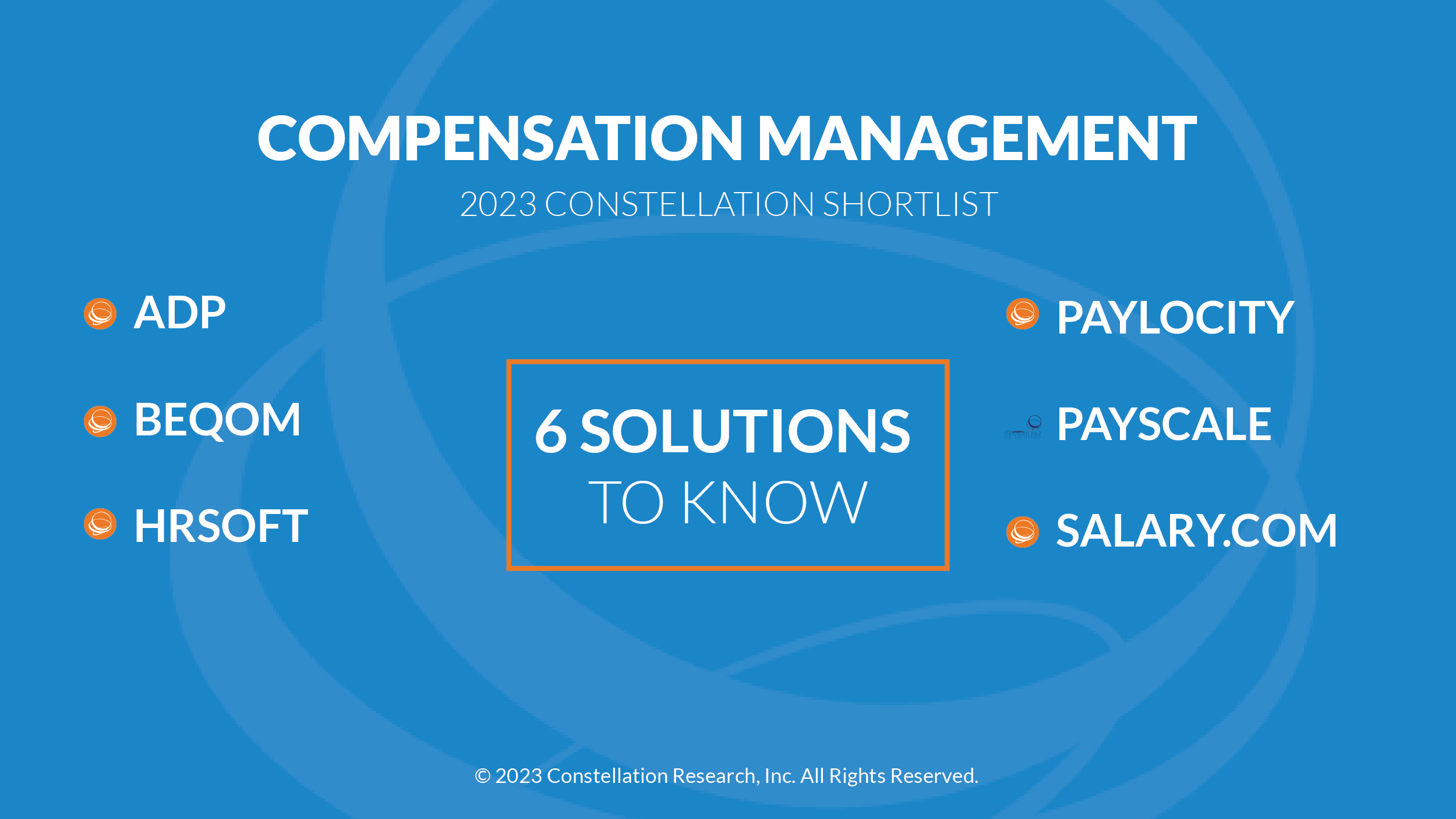 About this Constellation ShortList™
Because employee cost is the top cost category in almost all industries, enterprises need to raise the level of how they measure, plan and execute compensation management. The sad reality is that in many organizations, compensation decisions are made by people leaders using Microsoft Excel. With the war for talent waging and the next best (often also better paid) job is around the corner, enterprises need to give people leaders better tools to make their compensation decisions more effective.
To be a compensation vendor in this list, vendors must support compensation analysis, planning and the execution of compensation cycles. They also need to have interfaces with the popular human capital management (HCM) software suites (see the Constellation ShortLists for Global HCM Suites and North American SMB Payroll). With the push to global talent comes the need for global compensation, so the vendors need to be present/active on three continents. Their platforms need to be cloud-based, or they are in the process of migrating to a cloud-based platform in the next 12–18 months. Finally, they need to support the necessary analytics on central planning for finance and HR departments, as well as for line-of-business (LOB) leaders and managers to execute compensation cycles. This includes augmented analytics (e.g., flight risk, attrition risk, engagement impact) that the vendors need to support.
Threshold Criteria
Constellation considers the following criteria for these solutions:
Compensation planning capability for finance, HR departments and LOB users
Compensation cycle execution for finance, HR and LOB
Explanations of compensation changes to em- ployees
Out-of-the-box interfaces for popular HCM suites
Basic and advanced/augmented analytics with key KPIs
Cloud-based
Customers and support for at least three continents
Continuous improvement of the enrollment experience
More than 1000 customers and/or more than 1.60 million employees' compensation affected
Mobile support for people leaders and at least 275,000+ users

 
The Constellation ShortList™
Constellation evaluates more than 20 solutions categorized in this market. The Constellation ShortListis determined by client inquiries, partner conversations, customer references, vendor selection projects, market share and internal research.
ADP
BEQOM
HRSOFT
PAYLOCITY
PAYSCALE
SALARY.COM

 

Frequency of Evaluation
Each Constellation ShortList is updated at least once per year. Updates may occur after six months if deemed necessary.
Evaluation Services
Constellation clients can work with the analyst and the research team to conduct a more thorough discussion of this ShortList. Constellation can also provide guidance in vendor selection and contract negotiation.
 
Download Research
Click to Download Report