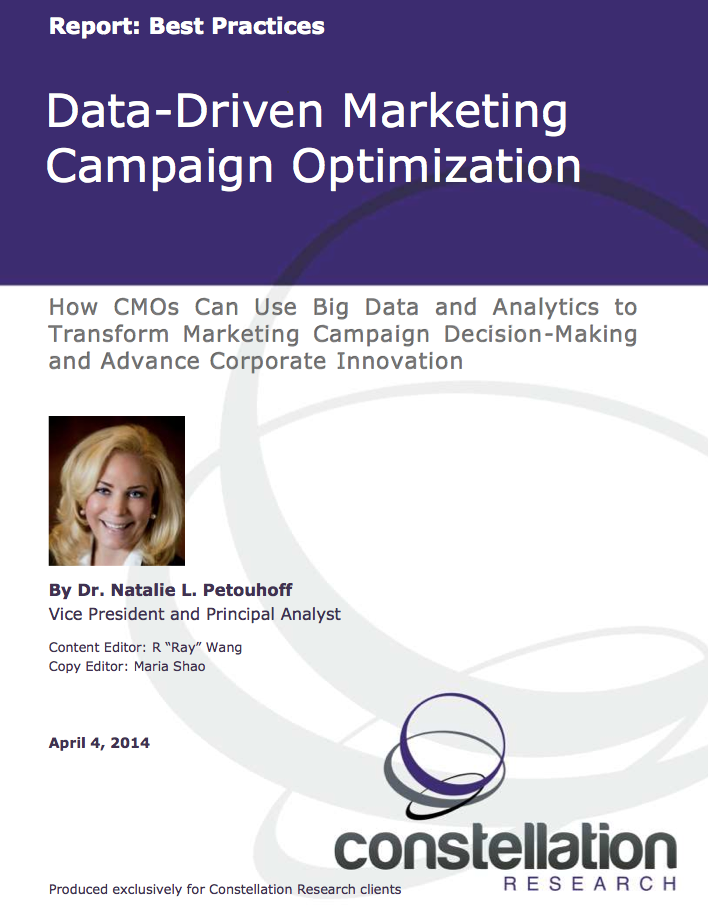 Report reveals how CMOs can use big data to enhance marketing decision-making and advance corporate innovation
Los Angeles – April 8, 2014 Constellation Research, Inc. the research and advisory firm focused on how disruptive technologies transform business models announced today the publication of "Data-Driven, Marketing Campaign Optimization" by Constellation Vice President and Principal Analyst, Dr. Natalie Petouhoff. This Best Practices research report teaches marketing professionals how to apply a data-focused ROI optimization method to elevate the efficacy of Marketing Campaign Automation.
"Data Driven marketing Campaign Optimization" contains an evaluation marketers can utilize to test how well they incorporate data analytics into their marketing efforts. The results of this assessment enable marketers to select the right staff, process, and technologies to enforce their strategy, reduce internal politics and generate the best ROI for the company.
"The value of combining marketing campaign automation with analytics and Big Data means Marketers can continuously compare and contrast campaign scenarios before sending them out, increasing the relevance to the customer, optimize the business results and create an uncontested marketplace, thereby making the competition irrelevant", commented report author, Petouhoff.

This report fits into Constellation's business-focused research theme, Digital Marketing Transformation, NextGen Customer Experience and Data to Decisions.

ABOUT Dr. Natalie Petouhoff
Dr. Natalie Petouhoff is Vice President and Principal Analyst covering Marketing, Customer Service and the Gap Between Marketing and Customer Service Dr. Natalie Petouhoff current research focuses on maturity capabilities of companies and how well they implement software to get the best possible return on investment. Previously a Forrester Analyst, Petouhoff wrote the world's first social media ROI model.

COORDINATES
Twitter: www.Twitter.com/drnatalie
Linkedin: www.linkedin.com/in/drnataliepetouhoff/
Analyst Profile: http://www.constellationr.com/users/nataliepetouhoff
Geo: Los Angeles, CA

THE REPORT
Data-Driven Marketing Campaign Optimization
A free report snapshot is available for download: 

ABOUT CONSTELLATION RESEARCH
Constellation Research is a research and advisory firm that helps organizations navigate the challenges of digital disruption through business models transformation and the judicious application of disruptive technologies. This renowned group of experienced analysts, led by R "Ray" Wang, focuses on business-themed research including Digital Marketing Transformation; Future of Work; Next Generation Customer Experience; Data to Decisions; Matrix Commerce; Technology Optimization and Innovation; and Consumerization of IT and the New C-Suite.
Constellation's collection of prestigious analysts and Orbits members bring real world experience, independence, and objectivity to client solutions that span cross-role, cross-functional, and cross-industry points of view. Clients join Constellation Research for a fresh and business focused perspective.
Unlike the legacy analyst firms, Constellation Research is disrupting how research is accessed, what topics are covered, and how clients can partner with a research firm to achieve success. Over 225 clients have joined from an ecosystem of buyers, partners, solution providers, c-suite, board of directors and vendor clients.
For more information about Constellation Research, visit ConstellationR.com
***
Constellation Research, Constellation SuperNova Awards, Constellation Orbits, Connected Enterprise, Constellation Cosmos, and the Constellation Research logo are trademarks of Constellation Research, Org. All other products and services listed herein are trademarks of their respective companies.
Press Contacts:
Contact the Media and Influencers relations team at [email protected] for interviews with analysts.
Sales Contacts:
Contact our sales team at [email protected].