AI adoption highest among IT; Customer Service; and sales and marketing departments
Firms are investing in AI to help improve the customer experience and drive growth reveals the
Constellation Research 2018 AI Study
. C-level executives surveyed by Constellation reported the highest levels of investment and adoption in the following departments: information technology; customer service/commerce; sales and marketing; and employee productivity.
Fifty-two percent of respondents report AI projects in production or in pilots in the IT department, 50 percent report production or pilot AI projects in customer service/commerce, 46 percent report AI projects in production or pilots in sales and marketing, and 36 percent report AI projects in production or in pilots in employee productivity (excludes manufacturing employee productivity).
Driving this trend, explains Cindy Zhou, a Constellation Research principal analyst, is the ease with which firms can acquire AI capabilities for these departments. Packaged apps with AI capabilities are widely available for sales, marketing, employee productivity and commerce. As stated earlier, packaged apps with AI capabilities are often features of existing software or a platform that can simply be "turned on."
"As far as sales, marketing, and customer service organizations are concerned, AI is already here," says Zhou. "Salesforce and Microsoft for example, sell applications with AI capabilities rolled into the core product, or they are sold as add-ons. Salesforce Lightning platform customers automatically get basic Salesforce Einstein capabilities with their contract. If customers need more robust AI capabilities, they can upgrade," she explains, speaking about Salesforce Einstein, the company's AI layer within the platform, which powers a variety of built in and, in some cases, optional skills and application capabilities.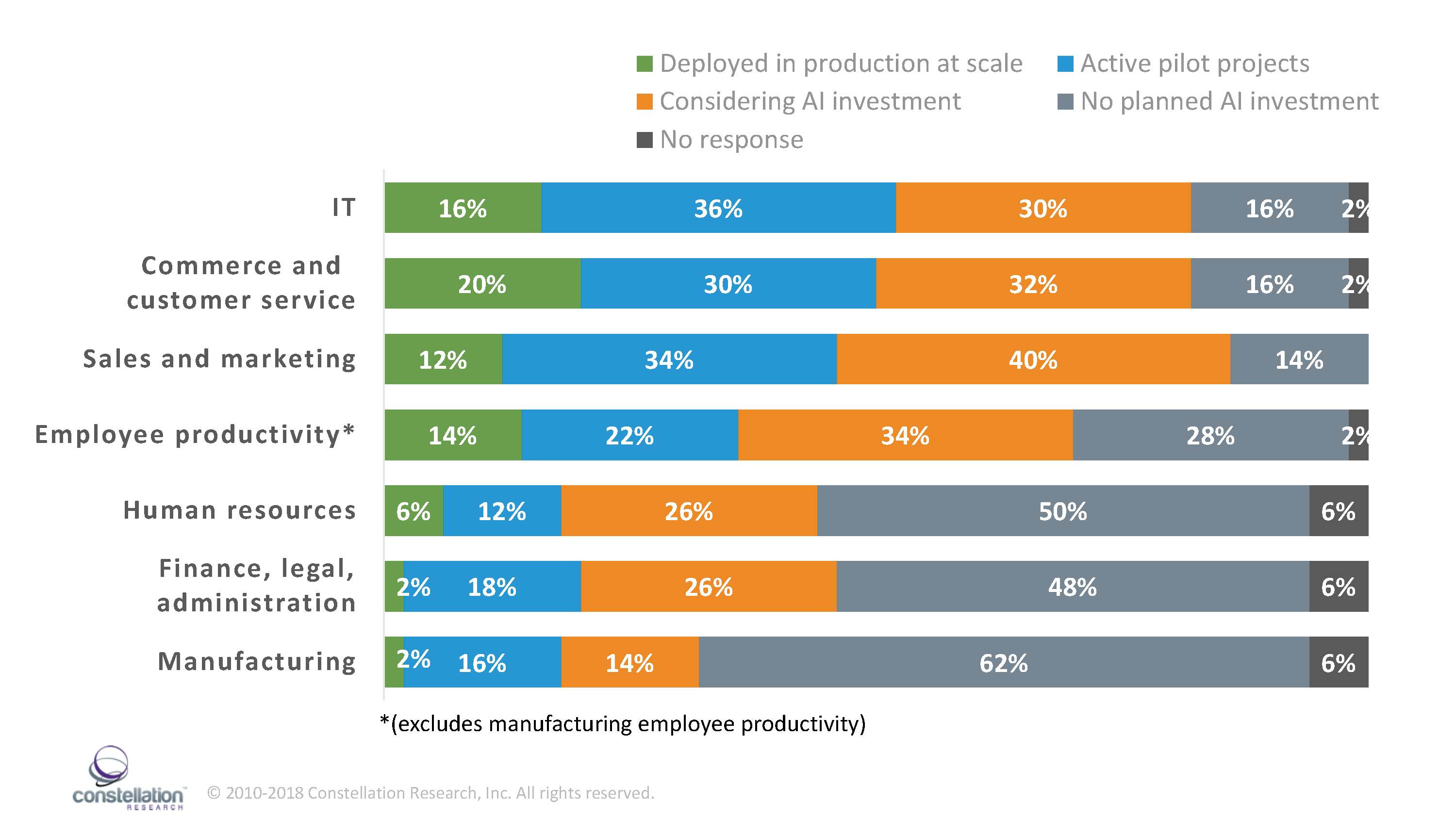 About the Study
The Constellation Research 2018 Artificial Intelligence Study leverages findings from the 2018 Constellation Research Artificial Intelligence Survey which assesses the state of AI among the first movers, early adopters, and fast followers that comprise Constellation's subscriber base.
The Survey asked C-level executives about the state of AI investment and deployment in their organizations, budgets for AI investment, technologies driving AI development, how AI might impact executives and the workforce, sources of internal resistance to AI, and privacy.
For the purposes of both the Survey and the Study, Constellation defines artificial intelligence as the culmination of technologies including deep learning, neural networks, natural language processing, and big data/predictive analytics to produce software that is self-improving, automatic, and emulates human intelligence.
The Survey was conducted in January 2018. The final sample consisted of 50 C-level respondents with influence over technology purchasing decisions. Respondents were limited to senior managers with purchasing authority. Seventy-four percent of responses came from the C-suite, with CEOs making up 26 percent of the sample; CIOs, 20 percent; CTOs, 10 percent; CDOs, 6 percent; CMOs, 2 percent; and other C-level executives, 10 percent. There were no CFOs in the survey sample.
The sample consists of respondents from twelve different sectors, mostly in the United States. Sectors include automotive; consumer electronics; consulting/systems integration; finance/insurance/real estate; government; healthcare/medical/pharmaceutical; media/interactive/PR agency; news/entertainment; retail; technology–hardware, software, services; and telecommunications or travel/hospitality.
Total revenue of respondents' firms in 2016 range from less than $10 million to more than $1 billion. Twenty-nine percent of respondents reported revenue of less than $10 million; 14 percent reported revenue between $10 million and $50 million; 29 percent reported revenue between $50 million and $500 million; and 29 percent reported revenue of over $1 billion.
This report is part of the Constellation's open research library. Readers may download a complimentary copy of the report here.