Workday raised its fiscal 2024 subscription revenue outlook as the company said it has more than 65 million users under contract.The company also said it will preview generative AI tools at Workday Rising.
The HCM and financials software company reported fiscal second quarter net income of 30 cents a share on revenue of $1.79 billion, up 16.3% from a year ago. Non-GAAP earnings were $1.43 a share in the second quarter.
Wall Street was expecting Workday to report second quarter non-GAAP earnings of $1.26 a share on revenue of $1.59 billion.
Workday's operating cash flow in the second quarter was $425.3 million, up from $114.4 million a year ago. 
Key points:
Workday said it has more than 5,000 core Workday Financial Management and Workday HCM customers.
The company saw retail and hospitality generating $1 billion in annual recurring revenue to join financial services.
Workday ended the quarter with cash, cash equivalents and marketable securities of $6.66 billion.
As for the outlook, Workday raised its fiscal 2024 subscription revenue guidance to $6.57 billion to $6.59 billion, up about 18% from the previous year. Third quarter subscription revenue will be about $1.68 billion. The company added that it is raising its non-GAAP operating margin target to 23.5%.
On a conference call, Carl Eschenbach, co-CEO, Workday, said the company is seeing deal scrutiny and has been focused on building out its management bench. Workday appointed Emma Chalwin, a former Salesforce executive, to chief marketing officer and last quarter hired Zane Rowe, formerly of VMware, as CFO.
Eschenbach also said that Workday has been focusing adding Financials customers and expanding its footprint. The US represents 75% of Workday's revenue. The company has been honing its sales, partner and go-to-market ground game. 
Workday's Aneel Bhusri, co-founder, co-CEO, said it has more than 3,000 customers sharing data with its machine learning models. Bhusri added that Workday will outline generative AI developments next month at Workday Rising.
Bhusri said Workday will preview copilot use cases as well as content generation and document understanding. "We believe that the enhanced AI and generative AI will enhance our win rates," he said. 
The co-CEO added that Workday plans to "offer generous usage based entitlements" for customers that opt-in to generative AI functionality. That approach could resonate with enterprise buyers, who are about to get hit with a bevy of generative AI upsells and add-ons.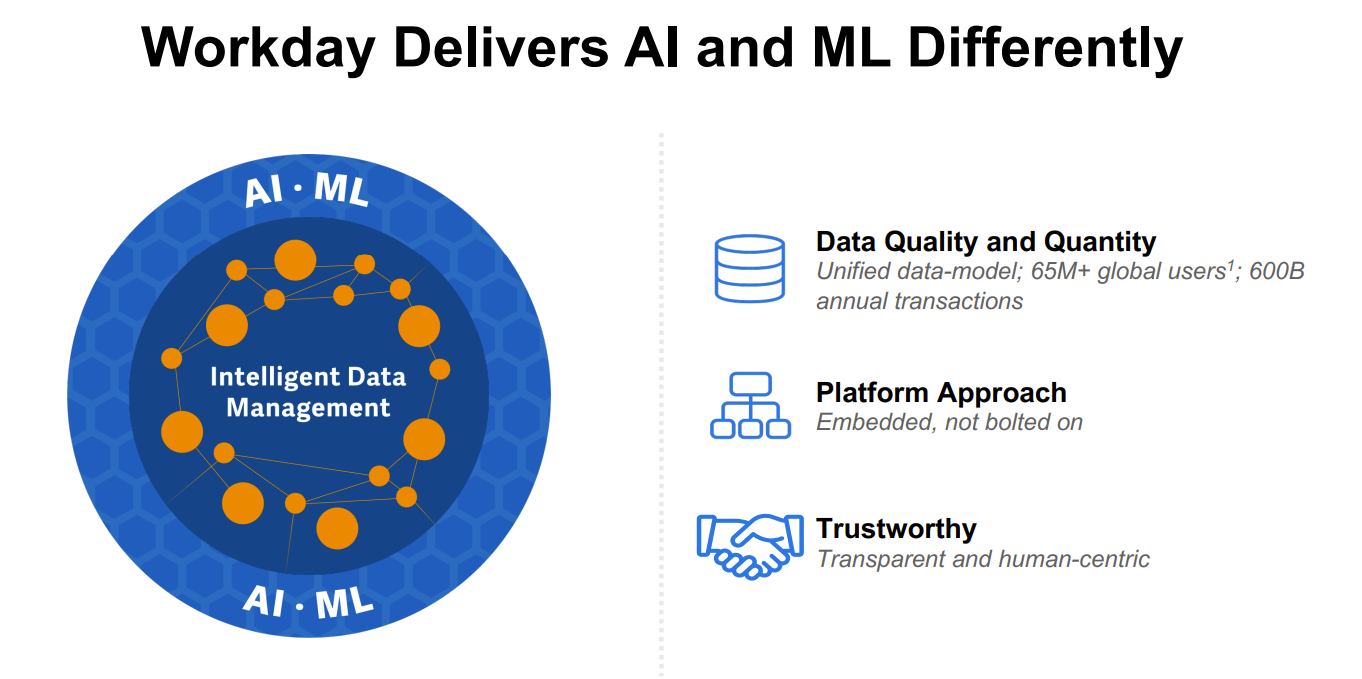 Bhusri said Workday isn't necessarily looking to charge for generative AI add-ons. Why? Because customers are sharing anonymized data in return for insights. Workday can use that data to train models. 
"The data is valuable to train LLMs and domain specific LLMs. We turn around and make our products more competitive," said Bhusri, who added that Workday is likely to create new products based on models. 
Constellation Research CEO Ray Wang said Workday's approach to data and generative AI makes sense. 
"Customers know that their ERP and HR systems securely store a lot of the training data that will power future AI innovations. It's good to see that Workday recognizes that this is the customer's data being used to create derivative insights and allow customers to remain loyal to Workday."