HP's PC business in the second quarter was down 29% from a year ago a consumer and commercial units fell. HP's second quarter earnings were better than expected.
The company's results highlight the pandemic PC hangover that tech vendors are facing. HP reported second-quarter earnings of $1.07 a share on revenue of $12.9 billion, down nearly 22% from a year ago. Non-GAAP earnings in the second quarter were 80 cents a share.
Wall Street was expecting non-GAAP second quarter earnings of 76 cents a share.
Enrique Lores, CEO of HP, said the company is focused on "disciplined execution and strong innovation in a tough macro environment." Lores said on a conference call that it'll move to lower channel inventory.
On a conference call, Lores said:
"Like last quarter, we estimate that the sell-out to customers exceeded sell-in to the channel, which means that end-user demand was stronger than revenue shipments.

This helped us further reduce our channel inventory. There are still pockets where we need to improve, but we are making good progress as per our plan." 
By unit, HP's personal systems unit delivered second quarter revenue of $8.2 billion, down 39% from a year ago. Commercial PC units were down 23% and consumer units fell 28%. The printing division had second-quarter revenue of $4.7 billion, down 5%.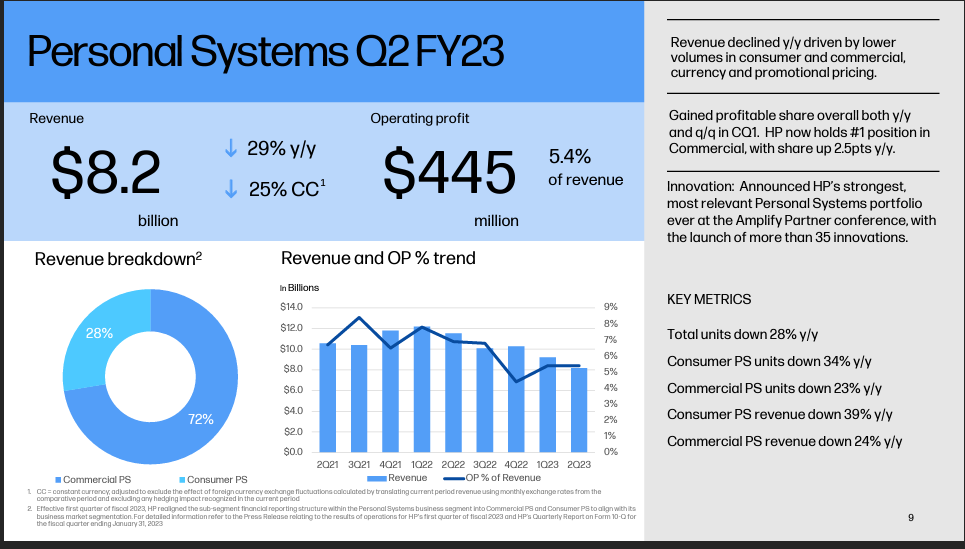 Lores said generative AI has the potential to boost PC sales as customers look for new architectures and designs.He argued that the personal systems unit remains a strong long-term growth driver. "AI will transform the role PCs play in our lives," he said.  
For the third quarter, HP projected non-GAAP earnings of 81 cents a share to 91 cents a share. For fiscal 2023, HP projected non-GAAP earnings between $3.30 a share to $3.50 a share. Lores said that the PC unit is expected to improve due to lower channel inventory and seasonality along with its cost savings efforts. 
According to HP, 46% of its second quarter revenue was commercial PC sales with 17% consumer PCs. Printing supplies were 23% of revenue with commercial printing at 9% and consumer printing 5%.