Kinetic is a company aiming to transform the aftermarket for electric vehicles (EVs) with a business model that rhymes with cloud infrastructure-as-a-service.
The effort is worth watching since Kinetic blends physical and digital services as automobiles evolve from mechanical systems to digital ones that resemble data centers on wheels. Who is going to maintain and repair all those EVs? While charging infrastructure is an issue, maintenance and repair could be just as critical.
Kinetic, which raised $10 million in Series A funding from Lux Capital and Construct Capital as well as early-stage venture capitalists, has a bevy of big backers with experience with disruptive models as well as the auto industry. Kinetic will use the money to expand its engineering team and scale its Kinetic Hubs. The company has one service hub in Orange County, CA with another one planned to launch in Las Vegas.
I caught up with Kinetic CEO and Co-founder Nikhil Naikal to talk shop. Naikal previously was CEO of Mapper.ai, which was an end-to-end provider of high-definition machine-readable maps. That company was sold to Velodyne Lidar, which makes lidar sensors for autonomous vehicles, robotics and other industries. Here are the key points from the conversation.
The transformation of the automobile industry. The core thesis behind Kinetic is that the aftermarket for automobiles will have to transform from one focused on internal combustion to one focused on digital systems and sensors. "If you strip down an electric car, half of it is what it used to be--brakes, tires, steering column--the other half isn't the same. The drive trains are different, there's more compute, more sensors, more self-driving," he said. "The infrastructure that is needed for repair and maintenance is going to be rethought and reimagined just because of the makeup of these new cars."
According to the International Energy Agency there were 26 million electric cars on the road in 2022, up 60% from 2022.
The problem Kinetic aims to solve. Today, an accident involving an EV or sensor-heavy auto involves a car to an insurer, who then orchestrates a drop-off for repair and a rental car. The repair center returns the car to its original state physically, but then gets hampered by what Naikal calls "last mile digital aspects." These digital repairs and calibration of systems today often require a house call and potentially days where the automobile sits in a lot. The repair center may have to eat the cost of the rental car for repair delays. Simply put, today's digital repair last mile is akin to a doctor making a house call. Kinetics is more like an urgent care facility. "You can start working with us and be done in an hour," said Naikal, who noted that Kinetic will operate behind the scenes. "We see ourselves slotting into the existing framework and we work with existing collision repair centers and dealerships."
Kinetic's plan. With the opening of the company's hub--each hub is about 5,000 square feet and looks more like a clean room than an auto shop--Naikal said Kinetic will focus on sensor repair and safety systems. Automobiles have millions of lines of code and sensors have proliferated. Those systems also need repair, reprogramming and recalibration that require robotics, software and AI to fix. "We are providing physical and digital infrastructure and there's already a vibrant market," said Naikal. "You'd be hard pressed to find a car without adaptive cruise control or lane changing sensors. It's real business today."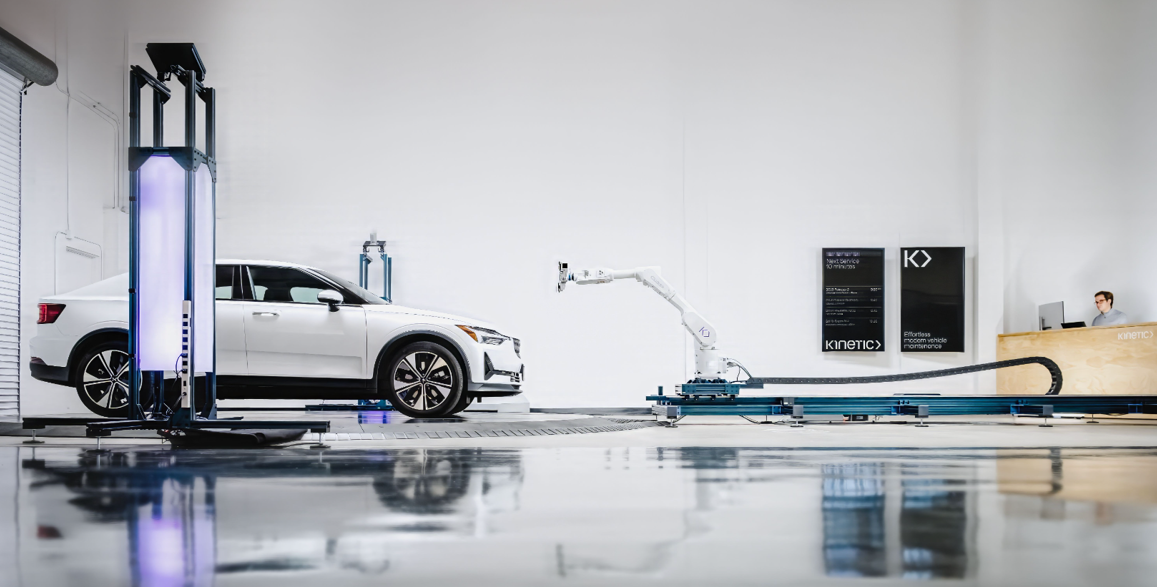 As EVs and ultimately autonomous vehicles gain share, Kinetic's business will evolve, said Naikal. That decision is smart since EV domination may be delayed by charging infrastructure and other hurdles. "We made an early decision to start focusing on an aspect of vehicles that lies at the intersection of both ICE (internal combustion engine) and EV," he said.
Simply put, Kinetic's hubs will have plenty of work to justify a build out today since cars of all types are only getting more sensors and digital systems. Each hub will serve a 10- to 12-mile radius and service auto repair shops, dealers, collision centers and other auto aftermarket players who need digital servicing. Kinetic will charge based on consumption of services and the benefit to customers is a 60-minute repair turnaround. Kinetic's goal is to halve the cycle time from pickup to digital repair, calibration and return as it scales.
Business model inspiration. Naikal said Kinetic's model rhymes with infrastructure as a service player such as AWS. Kinetic is a B2B company that will enable dealers, manufacturers, auto repair shops and aftermarket companies transform. Kinetic's hubs are multitenant and save the food chain upfront costs to equip their facilities with digital repair services. 
And like AWS, Naikal said Kinetic will continually add on services and evolve. "We do see the possibility of satellite locations and a shop within a shop approach to help consumers understand the digital system," said Naikal, who said a digital-based aftermarket for autos is inevitable. "There will also be an ecosystem of third-party applications." If successful, companies will be built that use Kinetic's infrastructure, added Naikal.
You could call Kinetic an EV aftermarket as a service company. 
Data and digital twins. One of the more interesting aspects of Kinetic's model is the potential data play. Naikal said Kinetic is "reconstructing digital twins of the cars we capture." "The data in the vehicle itself improves the experience," he added. Indeed, Kinetic could be in a position to help automakers determine the wear and tear of a model after a few years or provide data the improves engineering processes going forward. Kinetic could also provide insights that inform future models from automakers.
"When cars come into our centers, we'd be capturing 4 to 5 million data points on the car and supporting an ecosystem," he said.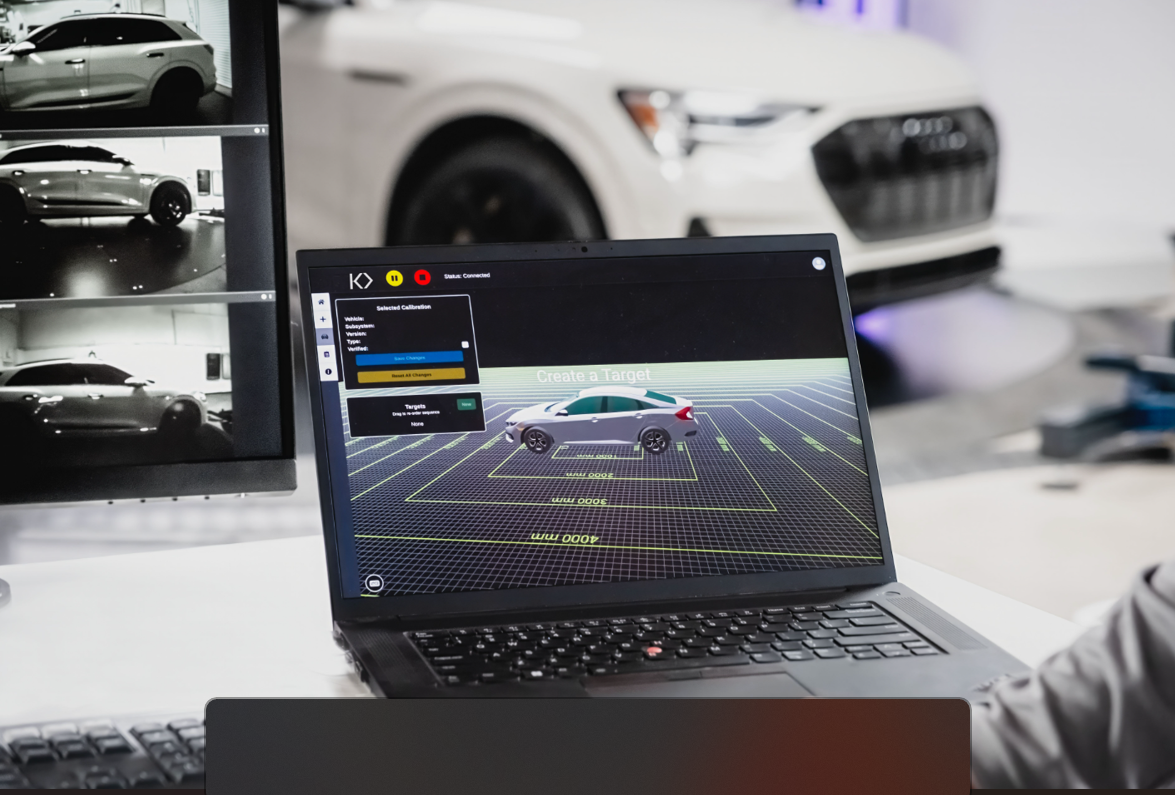 Challenges ahead. Naikal said much of the focus for Kinetic is on finding locations and scaling locations. There's also a supply chain element where Kinetic must procure robots and automation tools in advance. "We want to scale as fast as possible. So, I think that's one of the challenges. The second challenge, of course, is we're basically a software company and a last mile integrator of hardware," said Naikal.
What the digital automotive aftermarket may look like. Naikal said it's likely that car companies and consumers will look to upgrade memory, install new driving models and add localized features. And yes, the auto aftermarket will have to solve for battery swaps. "If in 5 years, the technology changes so you can extend range there should be the ability to slot that in," said Naikal. "This will require automation since you just can't change a 700-volt battery easily. It's going to look a lot like slotting in memory on a much larger scale."
Going forward, it's also possible that consumers will want to change the body of a car, said Naikal. How that model evolves with automakers remains to be seen. "We are trying to think about consumer pain points today and build with an eye on tomorrow," said Naikal.
Related: