Cisco Systems reported better-than-expected first quarter results, but its fiscal 2024 outlook fell short of expectations. Cisco said it saw "a slowdown of new product orders in the first quarter of fiscal 2024."
The company reported first quarter earnings of 89 cents a share on revenue of $14.7 billion, up 8% from a year ago. Non-GAAP earnings were $1.11 a share. CEO Chuck Robbins said the first quarter was a "solid start" to the fiscal year. 
Wall Street was expected to report first quarter earnings of $1.03 a share on revenue of $14.63 billion. Cisco recently announced plans to acquire Splunk to expand its observability, AI and cybersecurity footprint.
The issue for Cisco is its second quarter outlook. CFO Scott Herren said customers are implementing "large amounts of recently shipped product." "We expect to see product order growth rates accelerate in the second half of the year," he said.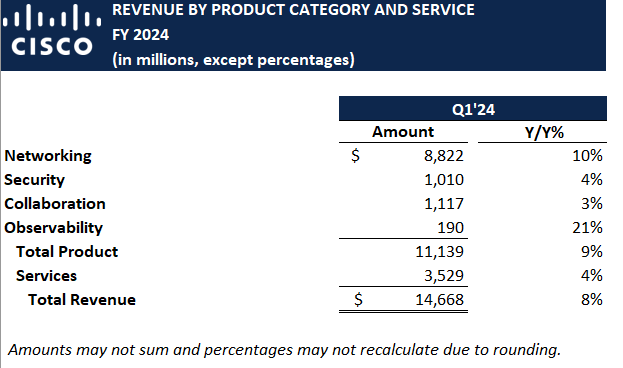 Cisco added that it believes the primary reason for the slowdown hitting the second quarter is that customers are digesting "exceptionally strong product delivery over the past three quarters." Cisco estimated that there are one to two quarters of shipped product orders waiting to be implemented. 
As for the outlook, Cisco projected second quarter revenue of $12.6 billion to $12.8 billion with non-GAAP earnings of 82 cents a share to 84 cents a share. For fiscal 2024, Cisco is projecting revenue of $55.8 billion to $55 billion with non-GAAP earnings of $3.87 a share to $3.93 a share. Analysts were expecting second quarter revenue of $14.2 billion and fiscal 2024 revenue of $57.8 billion and non-GAAP second quarter earnings of 99 cents a share and $4.05 for the fiscal year. 
By the numbers:
Americas revenue was up 14% with EMEA flat from a year ago and APJC down 3%.
Networking revenue in the first quarter was up 10%.
Security revenue in the first quarter was up 4%.
Observability revenue was up 21%.
Collaboration was up 3%.
Cisco closed five acquisitions in the first quarter: Accedian, Working Group Two, Oort Inc., SamKnows, and Code BGP.