DisrupTV is a weekly Web series with hosts R "Ray" Wang and Vala Afshar. The show airs live at 11:00 a.m. PT/ 2:00 p.m. ET every Friday. The audience can expect A-list guests, the latest enterprise news, hot startups, insight from influencers, and much more. Tweet questions to #DisrupTV or @DisrupTVShow. We broadcast live on Zoom. 
Show Link: https://www.youtube.com/user/ConstellationR
Featured Guests:
James Altucher
Founder at "The James Altucher Show" podcast
James is a Top 10 Linkedin Influencer, prolific writer, successful entrepreneur, chess master, and venture capitalist. He has started and sold several companies and is actively invested in, or advises, over 30 different companies in areas ranging from tech to energy to healthcare to biotech.

He is the author of the Wall Street Journal Best Selling books: 'Choose Yourself', and The Power of No (co-author), as well as "The Choose Yourself Guide to Wealth" (most recent book), "The Choose Yourself Stories", SuperCash, Trade Like Warren Buffett, Trade Like A Hedge Fund, The Forever Portfolio, 40 Alternatives To College, and I Was Blind But Now I See.

Because of the popularity of the book "Choose Yourself", Choose Yourself Meetups, helping people network, come up with ideas, and actively contribute to each other's success, have sprung up all over the world.

USA Today ranked James: "Choose Yourself" second among the 12 Best Business Books of All Time.

James is the Co-founder of 20 companies, including some that have sold for large exits. Previously he was a hedge fund manager.

He is currently on the board of a public company with a billion dollars in revenue and advises several others.

James' writing has been featured in The Financial Times, Forbes, The Wall Street Journal, TechCrunch, and The Huffington Post.

He hosts two highly ranked podcasts: The James Altucher Show (which include guests such as Mark Cuban, Peter Thiel, and Tony Robbins etc) and, Ask Altucher, in which he answers direct questions from the audience. Collectively the shows have been downloaded 12 million times.
Follow him on Twitter: @jaltucher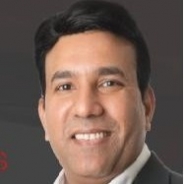 Praveen Moturu
VP, Chief Enterprise Architect
MARS
Praveen Moturu drives Enterprise Digital Transformation at Mars Inc. He is an innovative, accomplished business and technology leader, visionary with strategic leadership experience in transformation, technology and operations, promoting significant business and revenue growth within global and Fortune 500 multinational corporations.

Prevenn has had exceptional performance in global enterprises, start-up organizations, turnaround situations, cost-cutting mandates, IT systems/technology rationalization, and growth-oriented endeavors. He is able to create enterprise strategies that cascade throughout an organization. He has an elite understanding of technology and IT environment, with expertise in strategy, planning and service delivery. He has a proven ability to leverage technical background to create new business opportunities. Praveen has a significant record of inspiring and motivating individuals or teams to consistently achieve results. He is approachable, effective communicator who interacts at all levels to foster comfortable work culture.

Praveen is a decisive, action-oriented, leader who is able to build teams, drive change, improve productivity, and reduce costs. he is adept at organizational development, financial planning / analysis, and strategy alignment.
Follow him on Twitter: @praveenmoturu

Brian Solis
Global Innovation Evangelist at Salesforce & 8x Best-Selling Author, Keynote Speaker
Brian Solis is Global Innovation Evangelist at Salesforce, the global leader in Customer Relationship Management (CRM). Brian's work at Salesforce focuses on thought leadership and research that explores digital transformation, innovation and disruption, CX, commerce, and the cognitive enterprise.
Brian Solis has been called "one of the greatest digital analysts of our time." Brian is also a world renowned keynote speaker and an award-winning author of eight best-selling books including, X: The Experience When Business Meets Design, What's the Future of Business and The End of Business as Usual.
In his latest book, Lifescale: How to live a more creative, productive and happy life, Brian tackles the struggles of living in a world rife with constant digital distractions. His model for "Lifescaling" helps readers overcome the unforeseen consequences of living a digital life to break away from diversions, focus on what's important, spark newfound creativity and unlock new possibilities.
For almost 30 years, Solis has studied and influenced the effects of emerging technology on business and society. His research and books help executives, and also everyday people, better understand the relationship between the evolution of technology and its impact on people and also the role we each play in evolution. As a result of his work, Solis also helps leading brands, celebrities, and startups develop new digital transformation, culture 2.0, and innovation strategies that enable businesses to adapt to new connected markets from the inside out.
With a loyal online audience of over 700,000 people online, his work makes him a sought-after thought-leader to leading brands, celebrities such as Oprah, Shaq and Ashton Kutcher and over 1,000 startups around the world.
Brian also hosts (r)evolution, a popular online video series that examines technology, trends and best practices and introduces viewers to the thought leaders who are blazing the trail. Guests have included Katie Couric, Mark Burnett, Shaq, Billy Corgan, and Adrian Grenier.
Follow him on Twitter: @briansolis